Hotel Subaru
Hotel Subaru is a hot spring retreat in Totsukawa village north of the Hongu area. It is well known for its excellent onsen baths and quiet natural surroundings. The Kohechi Kumano Kodo pilgrimage route runs through the grounds making it a preferred stop for hikers; to the south is the Hatenashi-toge pass to Hongu and to the north is the Miura-toge pass. There is rental car service based at the hotel for those that wish to explore nearby sites, including the mountain-top Tamaki-jinja shrine and its giant trees.

Hotel Subaru

Outdoor hot spring

Sample meal

Sample Japanese guestroom

Sample Western style guestroom

Restaurant

Lobby

Outdoor hot spring bath

View from guestroom

Onsen bath
Price Plans
Description
Yaen Bridge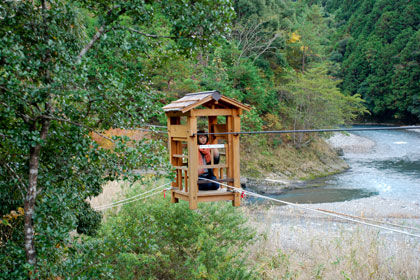 A Yaen "bridge" is a self-propelled cable car. The passenger sites in the cart and pulls along with rope. This is the old fashion of crossing the steep gorges and rivers in the area. Yaen is written with the characters "野猿", which directly translated means "wild monkey".

Yaen are now used more for visitors to experience than for actual transportation use. This Yaen is located behind the Subaru Hotel.

Give it a try and you too may feel like a wild monkey!
Access
Address
909-4 Hiratani, Totsukawa-mura, Yoshino-gun, Nara Prefecture, 637-1554

Access

Busses run daily to Totsukawa from Shingu Station (via Kawayu Onsen, Yunomine Onsen, Hongu) and Gojo (Yamato-yagi).
● Nearest bus stop is "Hotel Subaru ホテル昴"
● ~1 hours and 30 minutes by bus from JR Shingu Station (bus timetable 3)
● ~4 hours and 30 minutes by bus from Yamato-yagi station (bus timetable 4)

More bus timetables >>

※Not all busses stop at Hotel Subaru. Shuttle service from "Totsukawa Onsen十津川温泉" bus stop to Hotel Subaru available. Please contact us for details.

Totsukawa Onsen Area Map Totsukawa Onsen Map

Map


Shuttle Service

Shuttle buses bound for "Totsukawa Onsen" bus stop available. Please inform us in advance if need be.

Parking

Up to 100 vehicles (free)
Guestrooms
| Western Style | Japanese Style | Mixed Style | Other Style | Number of Rooms | Maximum Guests |
| --- | --- | --- | --- | --- | --- |
| Yes | Yes | No | No | 27 | 126 |
| | |
| --- | --- |
| Facilities | Television, Refrigerator, Air conditioning, Telephone, Safe |
| Amenities | Shampoo, Hair conditioner, Body-wash, Soap, Toothbrush set, Hair drier, Face towel, Bath towel, Yukata Japanese bathrobe, Slippers, Tea |
Japanese style room (no ensuite bath): 24 rooms
Japanese style room with ensuite bath (Deluxe room): 1 room
Western style room (no ensuite bath): 2 rooms
Ensuite toilet: All rooms
Baths
| Shared Indoor | Shared Outdoor | Shared Sauna | Privately Reserved | Ensuite Indoor | Ensuite Outdoor |
| --- | --- | --- | --- | --- | --- |
| Yes, Onsen | Yes, Onsen | Yes, Onsen | No | Yes | No |
Bath hours: 12:00~24:00, 6:00~9:30
Day use for non-staying guests 12:00~17:00, Adult 800 yen, Child 400
Rental towels for non-staying guests: Bath towel/ rental 200 yen, hand towel/ 150 yen
Meals
Supper
Meals served in restaurant from 18:00~19:00 (Japanese style/ Western style)
Breakfast
Meals served in restaurant from 7:00, 8:00, and 9:00 (Japanese style/ Western style)
Other

● Please choose between Japanese or Western breakfast when you check-in.
● Location for meals may change.
● Vegetarian meals available (Please let us know in advance of what you can and cannot eat in detail)
Facilities & Services
Facilities
Gift shop, Banquet hall, Meeting room, Coin laundry, Restaurant, Lounge/Bar, Indoor pool, Massage chair, Vending machine, Alcohol vending machine

Services
Shuttle service, Luggage storage, Shipping, International calling

Internet
Wireless LAN (Lobby)

Credit Card
VISA, MasterCard, JCB, AMERICAN EXPRESS

Traveler's Cheques
Not accepted

Language
Basic English

Others

Onsen pool hours: 9:00~20:00
Restaurant hours: 11:30~13:30
Coin washing machine: Available until 23:00 (washing/ 100 yen, drying 60 min/ 100 yen, washing detergent/ 100 yen)
Pet house available (only for cats or dogs which are well-behaved). Please contact us for details about Pet house.
Times
| Check-in | Check-out | Curfew |
| --- | --- | --- |
| From 15:00 | By 10:00 | None |
Rating & Reviews
| Overall | Guestroom | Baths | Meals | Location | Reception & Service |
| --- | --- | --- | --- | --- | --- |
| | | | | | |