Nan-in Temple
| | |
| --- | --- |
| Koyasan | Shukubo Temple Stay |

Nan-in is an immaculate temple north of the Tourist Information Center, near the Tokugawa Reidai Mausoleum and Nyonindo women's hall. It is marked by a large tree in the entrance way and has elegant gardens scattered throughout the grounds, which can been seen from the hallways and many of the guestrooms. The quiet solitude of these refined green spaces is soothing to the soul. The fierce glare of a giant dragon painted on the ceiling of the main hall looms over worshippers. Legend has it that if you clap under its menacing scowl you can make it roar. The sacred space of the special guestroom highlights the temple's traditional sensibilities.

Entrance

Worship hall

View of garden from guestroom

Sample guestroom

Roaring Dragon

Hallway

Washing area

Bath

Tile art in bath

Sample dining room
Price Plans
Description
Object of Worship
The principal object of worship of Nan-in Temple is Namikiri-Fudo-Myoo, a National Important Cultural Property. It is said that the Buddhist monk Kukai, the founder of Shingon Buddhism in Japan, carved the image in 806 AD. Legend has it that on his return from China, Kukai prayed to this statue for help during a storm at sea. It is believed to have miraculous powers. Namikiri-Fudo-Myoo can be viewed by the general public every year on June 28th.
Temple Layout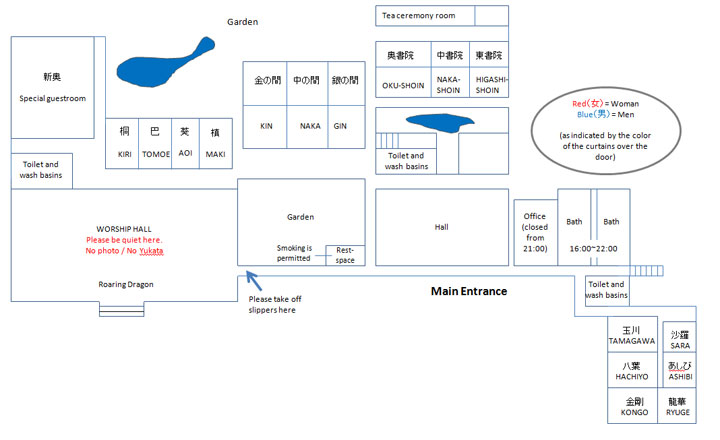 Access
Address
680 Koyasan, Koya-cho, Ito-gun, Wakayama Prefecture, 648-0211

Access

Osaka Namba (Nankai) to Koyasan
● 90 min by train from Nankai Osaka station to Gokurakubashi (極楽橋) station (Nankai Railways)
● 5 min by cable car from Gokurakubashi to Koyasan
● 8 min by bus from Koyasan bound for Okunoin (奥野院). In front of the "Namikiri-Fudo-Mae (浪切不動前)" bus stop.
Nankai Railway website >>

Kii-Tanabe (via Ryujin Onsen) to Koyasan
● ~ 3 hr 30 min by bus from Kii-Tanabe Station to Koyasan via Ryujin Onsen (there is a transfer at Gomadanzan) (bus timetable 7)
※ This bus service does not run from the beginning of December to the end of March.
●~10 minutes walk from "Senjuin-bashi (千手院橋)" bus stop.
More bus timetables >>

Map


Shuttle Service

Not available

Parking

Up to 30 vehicles and 5 oversized vehicles (free)
Guestrooms
| Western Style | Japanese Style | Mixed Style | Other Style | Number of Rooms | Maximum Guests |
| --- | --- | --- | --- | --- | --- |
| No | Yes | No | No | 20 | 60 |
| | |
| --- | --- |
| Facilities | Air conditioning, Kotatsu heated table |
| Amenities | 2 in 1 shampoo, Body-wash, Soap, Toothbrush set, Hair drier, Face towel, Yukata Japanese bathrobe, Slippers, Tea |
Guestrooms are separated by either Fusuma or walls
Ensuite bath: No
Ensuite toilet: No
TV in the room: 6 rooms
Baths
| Shared Indoor | Shared Outdoor | Shared Sauna | Privately Reserved | Ensuite Indoor | Ensuite Outdoor |
| --- | --- | --- | --- | --- | --- |
| Yes | No | No | No | No | No |
Bath hours: 16:00~22:00
●One bath is made of a 500 year old Koyamaki Japanese Umbrella Pine.
●There is a tile picture of the main Konpon Daito pagoda of Koyasan.
●Not available in the morning

How to take a Japanese bath >>
Meals
Supper
Meals served in guestroom or dining room from 18:00 (Buddhist vegetarian Shojin-Ryori)
Breakfast
Meals served in guestroom or dining room from ~7:00 (after the morning ceremony) (Buddhist vegetarian Shojin-Ryori)
Other

●Vegetarian meals only (Shojin-Ryori)
●Breakfast will be served after the morning ceremony
●Meals are served in different rooms depending on the schedule of services at the temple
Facilities & Services
Facilities
Public telephone

Services
Wheelchair

Internet
Wireless LAN (Guestroom), Wireless LAN (Lobby)

Credit Card
Not accepted

Traveler's Cheques
Not accepted

Language
There are no native English speakers at this temple, but they have prepared English language tools and speak some basic English.

Others

Kotatsu heater (available during winter seasons)
Barrier free toilet: Yes
Western style toilet: Yes
Times
| Check-in | Check-out | Curfew |
| --- | --- | --- |
| From 15:00 | By 10:00 | None |
Check-in by: 18:00
Front office closes at 21:00.
Morning Buddhist Ceremony
Every morning there is a Buddhist ceremony held in the worship hall called "Asa-no-Otsutome". It usually starts at 6:30 in the morning and lasts for about 40 min. The temple bell is rung before the start of the service. Everyone is welcome. Please feel free to join this peaceful Koyasan experience. A "Goma-taki" fire ritual is held irregularly.
●Both are not available on New Year's Day

Please Note:
● The morning ceremony is solemn.
● Please be quiet and respect this holy site and other worshippers.
● Taking photos and videos are prohibited.
● Please do not enter the worship hall wearing yukata or slippers.
● During the sutra chanting, please relax and enjoy the calming, enchanting atmosphere.
Rating & Reviews
| Overall | Guestroom | Baths | Meals | Location | Reception & Service |
| --- | --- | --- | --- | --- | --- |
| | | | | | |