Minshuku Tsugizakura
| | |
| --- | --- |
| Chikatsuyu/Nonaka, Nakahechi | Minshuku |

Minshuku Tsugizakura is named after the nearby Tsugizakura-oji, an ancient shrine with centuries old trees along the Kumano Kodo pilgrimage route. The Nonaka-no-Shimizu spring, one of Japan's 100 famous waters, is just around the corner. Minshuku Tsugizakura is a simple home that was turned into a guesthouse at the beginning of 2011 by the Yuba family. Mr. Yuba is a professional chef and worked all over Japan before returning to his hometown in the mountains to open this minshuku - which is why the traditional Japanese meals here are so delicious!

Minshuku Tsugizakura

Sample guestroom

Owners

Kitchen sitting area

Entrance

Tsugizakura-oji shrine

Bath

Toilet

Washing machine

The cat "Taro"
Price Plans
Description
Minshuku Tsugizakura is closed from December 26th, 2014 to March 31th, 2015.
Kumano Kodo Pilgrimage Route Guide >>
Walking options from Tsugizakura-oji to Kumano Hongu Taisha >>
Access
Address
403-1 Nonaka, Nakahechi-cho, Tanabe City, Wakayama Prefecture, 646-1401

Access

By public bus (Nearest bus stop is "野中いっぽう杉 Nonaka-Ipposugi")
Busses run daily to Nonaka-Ippousugi
●From JR Kii-Tanabe station: 65 minutes to Nonaka-Ipposugi, by Ryujin bus and 25 minutes walk. Bus timetable (bus timetable 1)
●From Hongu area: 45 minutes to Nonaka-Ippousugi, by Ryujin bus and 25 minutes walk. Bus timetable (bus timetable 2)

● One minute walk from Tsugizakura-oji and Nonaka-no-Shimizu spring
From Nonaka no Ippousugi: 3 minutes walk to Tsugizakura-oji
● In front of the thatched roof Toganoki-jaya, next to Tsugizakura-oji, is a staircase through the forest down to the road below and Minshuku Tsugizakura.

Nakahechi East Area Map Chikatsuyu Map

Map


Shuttle Service

Pick-up/drop off available from/to Kumano Kodo Nakahechi Michi-no-Eki, Chikatsuyu-oji, and Kobiro-oji. Please make arrangements in advance.

Parking

Free parking is available near the minshuku. (up to 10 vehicles)
Guestrooms
| Western Style | Japanese Style | Mixed Style | Other Style | Number of Rooms | Maximum Guests |
| --- | --- | --- | --- | --- | --- |
| No | Yes | No | No | 3 | 7 |
| | |
| --- | --- |
| Facilities | Television |
| Amenities | Shampoo, Hair conditioner, Body-wash, Soap, Toothbrush set, Shaver, Hair drier, Face towel, Bath towel, Slippers, Pajamas, Tea, Coffee |
Ensuite toilet: No
Shared western style toilet: Yes
Baths
| Shared Indoor | Shared Outdoor | Shared Sauna | Privately Reserved | Ensuite Indoor | Ensuite Outdoor |
| --- | --- | --- | --- | --- | --- |
| No | No | No | Yes | No | No |
How to take a Japanese bath >>
Meals
Supper
Meals served in guestroom at the time you prefer. (Japanese style "Kaiseki" meal)
Breakfast
Meals served in guestroom at the time you prefer. (Japanese style or western style, if you prefer western style breakfast, please inform us in advance during the reservation process)
Other

Vegetarian meals available (Please let us know in advance of what you can and cannot eat in detail)
Bento lunch box available
Facilities & Services
Services
Lunch box, Shuttle service

Internet
Unavailable

Credit Card
Not accepted

Traveler's Cheques
Not accepted

Language
Japanese only. Basic English explainations in accommodation.

Others

No TV in every room
Shared refrigerator ("Nonaka no Shimizu" bottled spring water, free)
Washing and drying machine available (laundry detergent free)
Alarm clock available
Razor and hair dryer available
Self-serve coffee and tea
Times
| Check-in | Check-out | Curfew |
| --- | --- | --- |
| From 14:00 | By 10:00 | None |
Check-in from 14:00. Please no earlier, as they need time to clean and prepare.
Check-in by 18:00 at the latest. If you are walking the Kumano Kodo pilgrimage please plan accordingly. It is recommended to leave early in the morning to arrive on time.
Luggage Shuttle Service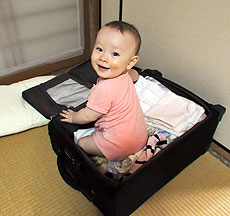 Let us take a load off your back!
Luggage shuttle service available to/from this accommodation so that you can enjoy your time in Kumano, without the burden of worrying about your baggage. Have your luggage picked up and transported to your next accommodation, so you can freely experience the region. Perfect for Kumano Kodo pilgrimage route walkers!
More information about luggage shuttle >>
Rating & Reviews
| Overall | Guestroom | Baths | Meals | Location | Reception & Service |
| --- | --- | --- | --- | --- | --- |
| | | | | | |