Yuasa-jo Hotel
Yuasa-jo Hotel is built like a castle on a hill overlooking Yuasa bay. Yes, literally like a castle! Guests rooms are located in the outer corridor and central tower, with a cloister around a inner garden with rock garden and groomed pine trees. The gently sloped tiled roof-line echoes the image of Feudal Japan. There are simple Japanese and Western style guestrooms. A large hot spring bath offers views over the town towards the sea. Meals include local seafood and products. The rolling, surrounding landscape features terraced orange orchards. It is a short taxi ride from Yuasa train station.

Yuasa-jo Hotel

View from facility

Sample guestroom

Sample evening meal

Sample guestroom

Onsen bath

Reception

Inner garden

Lobby

Local products for sale
Price Plans
Description
Access
Address
75 Aoki, Yuasa-cho, Arida-gun, Wakayama Prefecture, 640-8156

Access

Taxi from Yuasa station ~5 minutes.
No local busses.

Map


Shuttle Service

Shuttle bus available for 7 or more people from the Yuasa train station.

Parking

Up to 30 vehicles
(free)
Guestrooms
| Western Style | Japanese Style | Mixed Style | Other Style | Number of Rooms | Maximum Guests |
| --- | --- | --- | --- | --- | --- |
| Yes | Yes | No | No | 26 | 83 |
| | |
| --- | --- |
| Facilities | Television, Refrigerator, Safe, Desk |
| Amenities | Shampoo, Hair conditioner, Body-wash, Toothbrush set, Brush, Comb, Hair drier, Hand towel, Face towel, Bath towel, Yukata Japanese bathrobe, Slippers, Tea |
Western style room: 2
Japanese style room: 24
All rooms have ensuite toilet.
No ensuite bath.
Guests lay out futon by themselves.
Baths
| Shared Indoor | Shared Outdoor | Shared Sauna | Privately Reserved | Ensuite Indoor | Ensuite Outdoor |
| --- | --- | --- | --- | --- | --- |
| Yes, Onsen | No | Yes | No | No | No |
Private bath available, ask at reception when checking in.
What is an Onsen? >>
How to take a Japanese bath >>
Meals
| | |
| --- | --- |
| Supper | Meals served in restaurant from 17:30~20:00. |
| Breakfast | Meals served in restaurant from 7:30~8:30. |
Facilities & Services
Facilities
Barrier-free access, Elevator, Gift shop, Banquet hall, Coin laundry, Restaurant, Massage chair, Ice machine, Vending machine, Alcohol vending machine

Services
Wake-up call, Laundry, Luggage storage, Shipping

Internet
Wireless LAN (Lobby)

Credit Card
VISA, MasterCard, JCB, NICOS

Traveler's Cheques
Not accepted

Language
Japanese only

Others

Free Wifi in lobby.

Coin laundry.

Electric Kettle

Cup

Heater
Times
| Check-in | Check-out | Curfew |
| --- | --- | --- |
| From 15:00 | By 12:00 | 23:00 |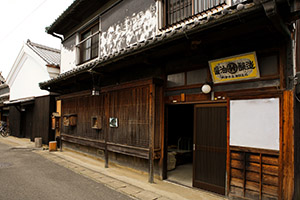 Yuasa Preservation District for Groups of Traditional Buildings
Historic Industrial Town (Soy Sauce)
Since the latter part of the Heian period (AD794-1185), Yuasa has not only served as an important way station on the Kumano Kodo pilgrimage route, but has also flourished as an important center for land- and sea-based trade as well as commerce, industry, and fishing.
Yuasa is especially renowned as the home of shoyu, or soy sauce, said to have first been discovered as a by-product of the process of making kinzanji-miso, afermented soybean product first introduced to Japan from China during the Kamakura period (1185-1333).
During the Edo Period 0603-18681 the market expanded under the protection of the Kishu feudal domain (present-day Wakayama prefecture), and soy sauce brewing developed into Yuasa's foremost industry.
The Preservation District comprises a number of towns, said to have been founded towards the end of the 16th century, located on the coast to the west of the old Kumano Kodo Pilgrimage route. It was in these towns that the soy sauce industry was most active. The district is home to many shoyu-related shops and warehouses dating as far back as the Edo period, all built in traditional fashion.
The older buildings are low, two-story structures, with roofs that resemble the shape of an open book laid face-down, a style known as kirizuma-zukuri, and are tiled with alternating flat and rounded tiles, a style known as hongawara-buki. The area is made up of a network of small streets branching off of four main avenues, and even today is suffused with the aroma of soy sauce brewed in the traditional manner.
Visiting this historic area is a must see for visitors to Yuasa.
Rating & Reviews
| Overall | Guestroom | Baths | Meals | Location | Reception & Service |
| --- | --- | --- | --- | --- | --- |
| | | | | | |