Log Rafting in Dorokyo Gorge (Ikada-kudari)
Log rafting anyone! Logging in the the mountains of the Kii peninsula has been a major industry for centuries. Before roads were build, logs were floated down the rivers connected together as rafts. The skills and techniques of these "logging river runners" has been preserved in the Kitayama village for over 600 years. Now log rafts are used to transport thrill seekers through the scenic Dorokyo Gorge, part of the Yoshino-Kumano National Park. Log rafts are strictly checked for safety standards, while guests are required to wear life jackets at all times. Have fun!

Log Rafting in Dorokyo Gorge

Log Rafting in Dorokyo Gorge

Log raft staff

Log Rafting in Dorokyo Gorge

Log Rafting boarding areas

Rafts

Kitayama-gawa River

Staff

Historic picture

Dorokyo Gorge
Price Plans
Description
BOAT TOUR SCHEDULE:

● May: Saturdays, Sundays and National holidays
Morning 10:40 ~12:50
Afternoon 13:00 ~ 15:00
● June: Saturdays and Sundays
Morning 10:40 ~12:50
Afternoon 13:00 ~ 15:00
● July, August, September: Runs daily and National holidays. Except Thursdays.
Morning 10:40 ~12:50
Afternoon 13:00 ~ 15:00
MEETING PLACE & PARKING:

Michi-no-Eki Okutoro Tourist Center, in Kitayama Village (FREE PARKING)
Address: 476 Kitayama-mura, Higashimuro-gun, Wakayama Prefecture, 647-1604
Telephone: 0735-49-2324
Mapcode: 542 068 297*53

REGISTRATION TIME:

9:00~10:20 for 10:40 departure
11:30~12:40 for 13:00 departure

※ Please be on time, because busses to departure point leave on time. If you are late you will miss the tour. Sorry, no refunds for missed tours.

●There will be a short orientation for your safety before the boat trip.

All guests are required to wear lifejackets. These are supplied.
IMPORTANT
Kitayama is an isolated village with VERY limited access with public transport (only two busses each day).

If you are planning to travel to Kitayama on the day that you participate in the 10:40 or 13:00 tour: You will need to take the 9:10 bus from Kumanoshi.
THERE ARE NO OTHER BUSSES TO GET YOU TO KITAYAMA OTHER THAN THE 9:10.

If you stay in Katsuura or Shingu you will need to take early local trains.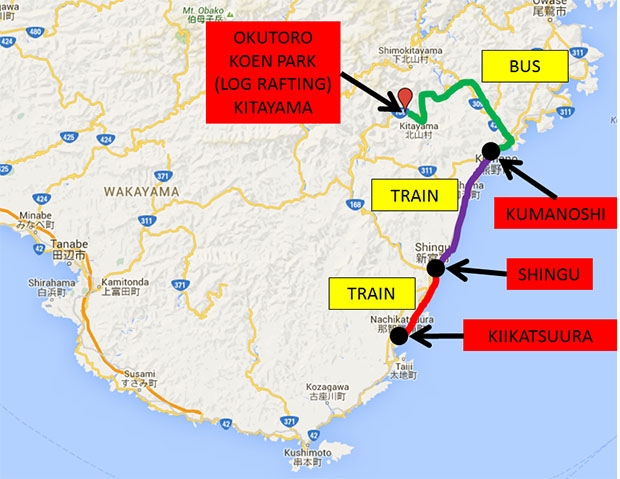 TRAIN
KIIKATSUURA

SHINGU

(transfer trains)

7:18
7:42
TRAIN
SHINGU

KUMANOSHI

(transfer to bus)

7:47
8:22
BUS
| KUMANOSHI | OKUTORO KOEN PARK |
| --- | --- |
| 9:10 | 10:10 |
NOTE: It is NOT possible to arrive in Kitayama using public transport for the tours on the same day if you stay in Shirahama.
ONLY TWO busses run daily to/from Kitayama (Okutoro Koen) and JR Kumano-shi station in Mie Prefecture.
Busses are small community vehicles run by the name "Kitayama Sonnei Bus 北山村営バス".
● ~60 min by bus from the JR Kumano-shi Station (Kitayama Sonei Bus), bus timetable >>


●~1 hour 20 minutes by bus from JR Kumano-shi Station by Onuma-guchi bus stop (Mie Kotsu) and 40 minutes by walk from Onuma-guchi bus stop to Okutoro Koen.
Rating & Reviews