ZEN Guesthouse Konichi-an
"Rediscover Your Inner Peace" is the concept of ZEN Guesthouse Konichi-an. This boutique lodging is a renovated Japanese home in a quiet residential area within walking distance of the JR Shirahama train station. The owner, Noriko Furukubo, with passion and integrity transformed the building with the kind help of friends and supporters, doing as much as possible by hand, maintaining the nostalgic look and feel of Old Japan. The house, originally her grandparents, has two guestrooms and a communal area, with convenient amenities such as free drinks, refrigerator, toaster and microwave. In front of the house is small Japanese garden style green space. Lovingly decorated with antiques, Noriko hopes that this authentic touch of Japanese culture will facilitate guests to rediscover their inner peace during their stay at ZEN Guesthouse Konichi-an.

ZEN Guesthouse Konichi-an can only accept reservations 3 months or less in advance. Thank you for your understanding.

ZEN Guesthouse Konichi-an

Sample guestroom

Owner

Commual sitting area

Sample guestroom

Yard

Communal sitting area

Sink

Shower room

Toilet
Price Plans
Description
Meaning of Guesthouse Name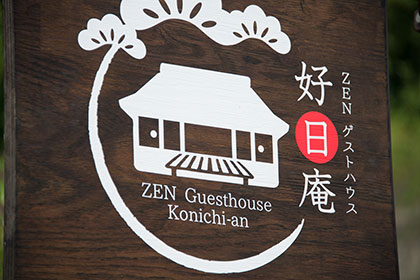 Zen is a Japanese school of Buddhism which emphasizes the value of meditation and intuition rather than ritual worship or study of scriptures.

"Zen" is a term that designates a simple, relaxed, and unattached state of being.

"Konichi-an (好日庵)", has its origin in the Zen concept, "Nichi-nichi-kore-ko-nichi (日日是好日)" which refers to a state of enlightenment.

These words remind us that each day is a precious and irreplaceable gift.


Access
Address
322 Katata, Shirahama-cho, Nishimuro-gun, Wakayama Prefecture, 649-2201

Access

Walking Access

Car Access

①Depart from JR Shirahama Station.

With JR Shirahama Station at your back, go straight through the intersection with Times Car Rental(タイムズレンタカー) on the right side.

②You will pass by the front of the SUZUKI(新田モータース) store. At the next intersection, turn left towards Route 42(国道42号), rather than going straight towards Shirahama Onsen(白浜温泉).

③After turning left, please continue straight. You will encounter an overpass. Once you begin to cross the overpass.

④ Continue straight. Then, take the next second road after the bridge right (it is a sharp turn) and backtrack, you can reach ZEN Guesthouse Konichi-an.

Map


Shuttle Service

Shuttle is available from Shirahama station and Nanki-Shirahama airport.

Please specify if this is necessary when making your reservation request. (write in the comments box).

Parking

FREE parking for 2 vehicle
Guestrooms
| Western Style | Japanese Style | Mixed Style | Other Style | Number of Rooms | Maximum Guests |
| --- | --- | --- | --- | --- | --- |
| No | Yes | No | No | 2 | 7 |
| | |
| --- | --- |
| Facilities | Air conditioning, Iron/Ironing board, Alarm clock, Desk |
| Amenities | Shampoo, Hair conditioner, Body-wash, Tea, Coffee |
There are two Japanese style guestrooms, Take-no-Ma and Maki-no-Ma.
The house can also be privately booked.
Please lay out futons by yourself.
All rooms are Non-Smoking.
Guestrooms lock from the inside. Please use wooden lockers for valuables.
NOTE:

The guesthouse is located in an area surrounded by nature.
The guesthouse spends great care on pest control, but the geographical factors (being in the countryside) combined with the guesthouse being an old house with gaps in the walls and so on, it is unavoidable that at least some insects will enter the property.
Thank you in advance for understanding.
Baths
| Shared Indoor | Shared Outdoor | Shared Sauna | Privately Reserved | Ensuite Indoor | Ensuite Outdoor |
| --- | --- | --- | --- | --- | --- |
| No | No | No | No | No | No |
Shower Room only. No bath tub.
Times: 7:00~10:00, 16:00~22:30
Meals
Other

No meals are served at this guesthouse.

But there is free use of refrigerator, microwave, electice kettle, and toaster in the communal sitting area.
Facilities & Services
Services
Shipping

Internet
Wireless LAN (Guestroom), Wireless LAN (Lobby)

Credit Card
Not accepted

Traveler's Cheques
Not accepted

Language
English, Chinese

Others

Free WIFI


Coffee, Tea, etc in the communal sitting room.


Alcholic beverages for sale. Please inquire at guesthouse.


Communal sitting area usage times are: 7:00~10:00, 16:00~22:00

Toothbrush for sale: 50 yen for one brush.


Face towel and bath towel rental: 100 yen for one towel.


Washing machine 250 yen for one load. 8:00~10:00, 16:00~19:00

Times
| Check-in | Check-out | Curfew |
| --- | --- | --- |
| From 16:00 | By 10:00 | 23:00 |
Latest check-in is 20:00.
The guesthouse doors close at 23:00. Please return at this time.
NOTE: It is a residential area, so please keep noise down and respect the privacy of those living in the neighborhood.