Guesthouse Okagesan
| | |
| --- | --- |
| Wataze Onsen (Hongu) | Rental House |

Guesthouse Okagesan is a historic house in the Wataze Onsen area of Hongu about 10 minutes walk from Watarase Onsen. The house is the birthplace of Yamamoto Genpo, and important local figure. The building has all of the features of an authentic Japanese mountain home with an open, airy concept of pillar and beam construction. The floors are covered with tatami mats, and rooms divided by sliding fusuma doors. There is an irori hearth and in the kitchen is an old-fashioned kamado rice cooking stove built into the floor. Okagesan is run by the charismatic Mr. Shirai who has a contagious, booming laugh. He is originally from Tanabe, spent time in Tokyo and then moved to Hongu to open a Yakitori chicken skewer restaurant. This popular restaurant is near the guesthouse and is the check-in/check-out reception site for the guesthouse.

Guesthouse Okagesan

Owner

Irori room

Sample guestroom

Entrance area

Kitchen with old rice cooker stove

Engawa veranda

Washing area

Bath

Toilet
Price Plans
Description
Only one booking per day. This is a private house rental.
Watarase Onsen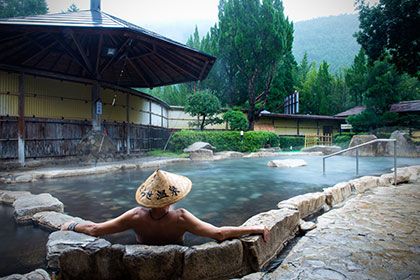 Watarase is an Onsen in the Hongu area. It is famous for its giant outdoor hot spring baths. It is a scenic 10 minute walk from the guesthouse to the facilities which cross a suspension bridge.

Watarase Onsen also features private hot spring baths and a small restaurant.

Bathing here is highly recommended by the owner of the guesthouse.

Note on place names: Wataze Onsen is the name of the site in general while Watarase Onsen is the name of the hot spring facility and hotel.

More information about Watarase Onsen >>
Access
Address
346 Wataze, Hongu-cho, Tanabe City, Wakayama Prefecture, 647-1733

Access

Busses run daily to Watarase Onsen from Kii-Tanabe Station, Shingu Station and Gojo.
● 1hr 35 min by bus from Kii-Tanabe Station (bus timetable 1)
● ~1 hour by bus from Shingu Station (bus timetable 3)
● ~4 hours by bus from Gojo (bus timetable 4)
● ~10 minutes by bus from Kumano Hongu Taisha (bus timetable 11)
● The nearest bus stop is "Watarase Onsen 渡瀬温泉"


From Watarase Onsen bus stop you need to walk down a staircase and across the suspension bridge.

Follow the road on the opposite side of the river and at the intersection is the Yakitori restaurant on the corner.

It is about a 10 minute walk from Watarase Onsen to the guesthouse.

Map


Shuttle Service

Not available.

Parking

Free for up to 5 vehicles.
Guestrooms
| Western Style | Japanese Style | Mixed Style | Other Style | Number of Rooms | Maximum Guests |
| --- | --- | --- | --- | --- | --- |
| No | Yes | No | No | 1 | 6 |
| | |
| --- | --- |
| Facilities | Refrigerator, Air conditioning, Microwave |
| Amenities | Shampoo, Hair conditioner, Body-wash, Hair drier, Hand towel, Bath towel, Tea, Coffee |
Please lay out futons on your own.
Baths
| Shared Indoor | Shared Outdoor | Shared Sauna | Privately Reserved | Ensuite Indoor | Ensuite Outdoor |
| --- | --- | --- | --- | --- | --- |
| Yes | No | No | No | No | No |
The bath can be used anytime.
But the owner highly recommends the nearby Watarase Onsen and their atmospheric outdoor hot spring baths.
It is a 10 minute walk from the guesthouse to Watarase Onsen.
Meals
Other

No Meals.

The owner also runs the nearby yakitori restaurant (where check-in takes place) and is a popular place to eat.

There is also a restaurant at Watarase Onsen with simple dishes.

The nearest grocery store is in Hongu near the Kumano Hongu Taisha.
Facilities & Services
Internet
Wireless LAN (Guestroom)

Credit Card
VISA, MasterCard, AMERICAN EXPRESS

Traveler's Cheques
Not accepted

Language
Japanese, but brilliant with his iphone google translate App!

Others

Free WIFI

No pets allowed.

Building is non-smoking.

Free use of washing machine.

● Rice Cooker

● Stove

● Microwave

● Refrigerator

● Toaster

● BBQ set

● Dishes & Cutlery
Times
| Check-in | Check-out | Curfew |
| --- | --- | --- |
| From 14:00 | By 10:00 | None |
Check-in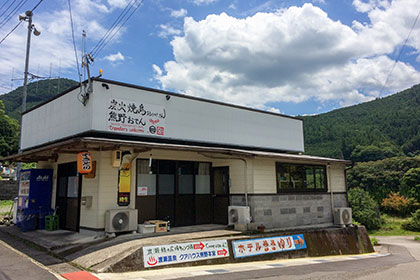 Check-in is at the yakitori chicken skewer restaurant near the guesthouse from between 14:00~17:00.

If guests arrive later than this the owner is busy in the restaurant so guests may have to wait until later to check-in.

During this time they can go to the nearby Watarase Onsen to bath and/or eat supper at the Yakitori restaurant.