Luggage Shuttle Service Takijiri area to Chikatsuyu/Nonaka area
Takijiri-oji is the spiritual entrance to the sacred Kumano Mountains and the start of the UNESCO World Heritage registered Nakaechi section of the Kumano Kodo pilgrimage route. This is a popular place to start walking.

Chikatsuyu village is located in the Hiki-gawa River valley.

Nonaka is a rural area located to the east of Chikatsuyu and is the site of Tsugizakura-oji.

Price is based on up to 3 pieces of luggage.
● There is a 1100 yen charge for each additional piece of luggage.

● IMPORTANT: Daily luggage shuttle service needs to be booked at least 10 days in advance.
Description
| | |
| --- | --- |
| Price | |
| Availability | Apr/25/2016 (Mon) ∼ |
* Prices subject to change.
Infant = 6 and under, Child = 7 to 11, Adult = 12 and over
Pick-up Location and Times
Luggage pick-up is available from 7:00~9:00. Other pick-up times can be arranged.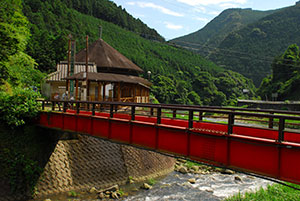 Possible pick-up locations:
● Kumano Kodo Kan Pilgrimage Center, across the river from the Takijiri bus stop.
IMPORTANT NOTE: The Kumano Kodo Pilgrimage Center does not run this luggage shuttle service, but rather another service provider.

This center is only a meeting point for you and the luggage shuttle staff.

Please do NOT give your luggage to the Kumano Kodo Kan Pilgrimage Center Staff, but DIRECTLY to the luggage shuttle staff.

For pick-up at Takijiri-oji a SET TIME needs to be organized, and kept.

Please include what bus you will be taking from Kii-Tanabe, and the time it arrives at Takijiri-oji when making the reservation request.

If there are changes to this time, please inform us as soon as possible.
Bus timetable from Kii-Tanabe to Takijiri >>
Valuables
Please do not leave valuables in your luggage. Carry them with you.


Number of Baggage
● Price is based on up to three pieces of luggage.
● Maximum size of each piece is 70 liters.
● Maximum weight of each piece is 15 kg.
● There is a 1100 yen charge for each additional piece of luggage.
Drop-off Location
● Drop-off is only available at accommodations in Chikatsuyu/Nonaka area (eg. Minshuku Chikatsuyu, Ryokan Tsukinoya, Irorian Minshuku, Minshuku Tsugizakura, Minshuku Nonaka Sanso)
● Please inform us of where you are going to stay.
Price
The prices depends on the number of pieces you will be shuttling. Please place this price plan into your cart and input the number of pieces of luggage in the request/comments box during the reservation request process.
We will confirm the price for you during request processing.
Needed Information
Please supply the following information when booking.
Required Information

● Pick-up date
● Pick-up time (the time the bus arrives)
● Drop-off location
● Number of pieces of luggage
Select