Luggage Shuttle Service, Kumano Travel Shop to Takijiri-oji/Takahara
This luggage shuttle service is a convenient way to send your luggage from the Tanabe area to your accommodation in Takijiri or Takahara so you do not need to carry your bags onto the local bus.

● From the Kumano Travel Shop to Takijiri/Takahara accommodation.


This price plan is often used by pilgrims who are walking from Takijiri-oji to Takahara. Takijiri-oji is a 40 minute local bus ride from Kii-Tanabe station.

Takijiri-oji is the spiritual entrance to the sacred Kumano Mountains and the start of the UNESCO World Heritage registered Nakahechi section of the Kumano Kodo pilgrimage route. This is a popular place to start walking.

Takahara is a ridge top settlement with beautiful panoramic views.

● IMPORTANT: If booking daily luggage shuttle service online in advance it needs to be done at least 10 days in advance.
● Price is per piece of luggage.
● There is an additional charge of 500 yen for each additional piece of luggage.
● The prices depends on the number of pieces you will be shuttling.
● Please place this price plan into your cart and input the number of pieces of luggage in the request/comments box during the reservation request process.



| Number of pieces of luggage | Total Price |
| --- | --- |
| 1 | 3000 |
| 2 | 3500 |
| 3 | 4000 |
| 4 | 4500 |
| 5 | 5000 |
| 6 | 5500 |
| 7 | 6000 |
| 8 | 6500 |
| 9 | 7000 |
| 10 | 7500 |
| Etc. | |
Description
| | |
| --- | --- |
| Price per person | |
| Availability | Open year round |
* Prices subject to change.
Infant = 6 and under, Child = 7 to 11, Adult = 12 and over
| | |
| --- | --- |
| Access | |
From Kumano Travel Shop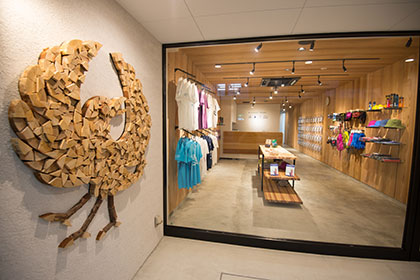 ● Pick-up is from the Kumano Travel Shop in front of the Kii-Tanabe station.

Shop hours: 9:00~18:00.

Luggage must be deposited at the Kumano Travel shop by 12:30.

If you are leaving on an early bus, please use the "Tanabe Accommodation to Takijiri-oji/Takahara" price plan.
Delivery Location Options
● Delivery is available to accommodations in Takijiri and Takahara area.
Valuables
Please do not leave valuables in your luggage. Carry them with you.
Needed Information
Please supply the following information when booking.
Required Information

● Pick-up location

● Drop-off location
● Number of pieces of luggage (quantity drop-down box below)
NOTE: Online booking for luggage shuttle service is only available if accommodations are booked via Kumano Travel.
Select