Rental House, No Meals
Sitting area

House detail

House detail

Okagesan Guesthouse

The first thing that the owner would like guests to do when they arrive at his guesthouse is to sit down, take a deep breath and relax.

For those looking for an unique, authentic, immersive stay in a classic Japanese home with a very laid back atmosphere then Okagesan Guesthouse is a great option.

It is a popular spot as a base to explore the Hongu area including the onsens, Kumano Hongu Taisha and Kumano Kodo pilgrimage route.

Guests of Okagesan often enjoy the use of the nearby Watarase Onsen and the massive outdoor hot spring baths, and the friendly camaraderie of dining at the owner's yakitori restaurant for supper.

| | Price per person | Total price for house |
| --- | --- | --- |
| 1 guest | 4,900 | 4,900 |
| 2 guests | 4,900 | 9,800 |
| 3 guests | 4,900 | 14,700 |
| 4 guests | 3,300 | 13,200 |
| 5 guests | 3,300 | 16,500 |
| 6 guests | 3,300 | 19,800 |
Description
Price & Availability
| | |
| --- | --- |
| Price per person | |
| Availability | Sun,Tue,Wed,Thu,Fri,Sat |
* Prices subject to change.
Infant = 6 and under, Child = 7 to 11, Adult = 12 and over
Guestrooms
| | |
| --- | --- |
| Room Style | Japanese |
| Bed Type | Futon |
| Bath | Ensuite indoor |
| Toilet | Ensuite western style |
Meals
| | |
| --- | --- |
| Vegetarian | No, sorry, we cannot cater to vegetarians. |
| Allergies | No, sorry, we cannot cater to food allergies. |
Times
| Check-in | Check-out | Curfew |
| --- | --- | --- |
| From 14:00 | By 10:00 | None |
Check-in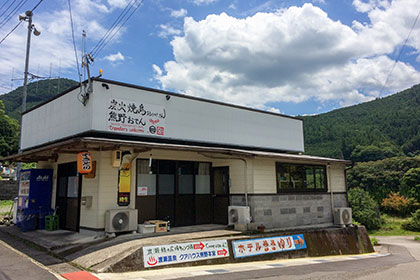 Check-in is at the yakitori chicken skewer restaurant near the guesthouse from between 14:00~17:00.
If guests arrive later than this the owner is busy in the restaurant so guests may have to wait until later to check-in.
During this time they can go to the nearby Watarase Onsen to bath and/or eat supper at the Yakitori restaurant.
児童料金は大人料金と同額です。
6歳未満の幼児は添い寝に限り無料です。
6歳未満の幼児で寝具を利用される場合は、大人料金になります。
お子様の年齢、詳しい内容は備考欄にご記載ください。
※備考欄は「上記内容をカートに入れる」>>「この内容で申込む」>>お客様情報入力画面にございます。
Select