Daimon-zaka Washoan Homestay
Description
Kumano Kodo Homestay
Daimon-zaka Washoan Homestay is the expansive, traditional Japanese home of the lovely Ms. Tawara, situated beside terraced rice paddies lined with rocks covered in moss and lichen, the forested mountains rising above; a typical rural "Satoyama" landscape.

The first part of the name derives from its location near the base of the Daimon-zaka slope, a short but scenic section of the Kumano Kodo pilgrimage route, an ancient staircase lined with old-growth trees.

Washoan is composed of three characters which mean 和 Peace/Harmony, 笑 Laugh/Smile, 庵 Retreat.

A free pass to a nearby onsen hot spring bath is included, and meals are homecooked.

Private rental: only one group per day.


Daimon-zaka Washoan Homestay can only accept reservations 6 months or less in advance.
Thank you for your understanding.
◆ IMPORTANT NOTICE ◆
Sorry, Closed for the time being.
Full Name
Daimon-zaka Washoan Homestay
大門坂 和笑庵
Address
2962-2 Ichinono, Nachi-Katsuura cho, Higashimuro-gun, Wakayama Prefecture, 649-5301
和歌山県東牟婁郡那智勝浦町市野々2962-2
Rating & Reviews
Guestroom

Baths

Meals

Location

Reception & Service
Price Plan(s)
Daimon-zaka Washoan Homestay
Supper & Breakfast (Includes Free pass to Kumano-no-Sato Onsen)


8,300 yen~
Guestrooms
| | |
| --- | --- |
| Number of Rooms | 1 |
| Maximum Guests | 4 |
Baths
Note

Bathing is at a nearby hotspring: Kumano-no-Sato.

A free pass and shuttle to onsen is provided at no cost.
Meals
Supper
Meals served in house from 18:30~20:00
Breakfast
Meals served in house from 7:00~8:00
Meals are home-made with locally sourced ingredients.
Vegetarian Meals

: Included  : Not Included

: Meat
: Fish & Seafood
: Eggs
: Dairy Products
: Katsuo Dashi (fish stock)

| | | | | | |
| --- | --- | --- | --- | --- | --- |
| Type A | | | | | |
| Type B | | | | | |
| Type C | | | | | |
| Type D | | | | | |
| Type E | | | | | |

Vegetarianism is not common in the Japanese countryside. Please double-check the Vegetarian Type which the service provider can accommodate to make sure that it meets your needs. Often being able to eat trace amounts of the ubiquitous Katsuo Dashi (fish stock) makes it easier to find options.

More Information

NOTE: It is difficult and not culturally sensitive to change meal requests, or make new meal demands, onsite when you arrive at accommodations. Vegetarian types must be confirmed during the reservation process and respected during your visit.
Facilities & Services
Internet

Free Wi-Fi (Guestroom)

Credit Card

Not accepted

Traveler's Cheques

Not accepted

Language

Very basic English words

Others

There are lockers at the guesthouse to store luggage.

Services

Shipping
Access
Access Information

● This guesthouse is located at the base of the Daimon-zaka slope of the Kumano Kodo pilgrimage route.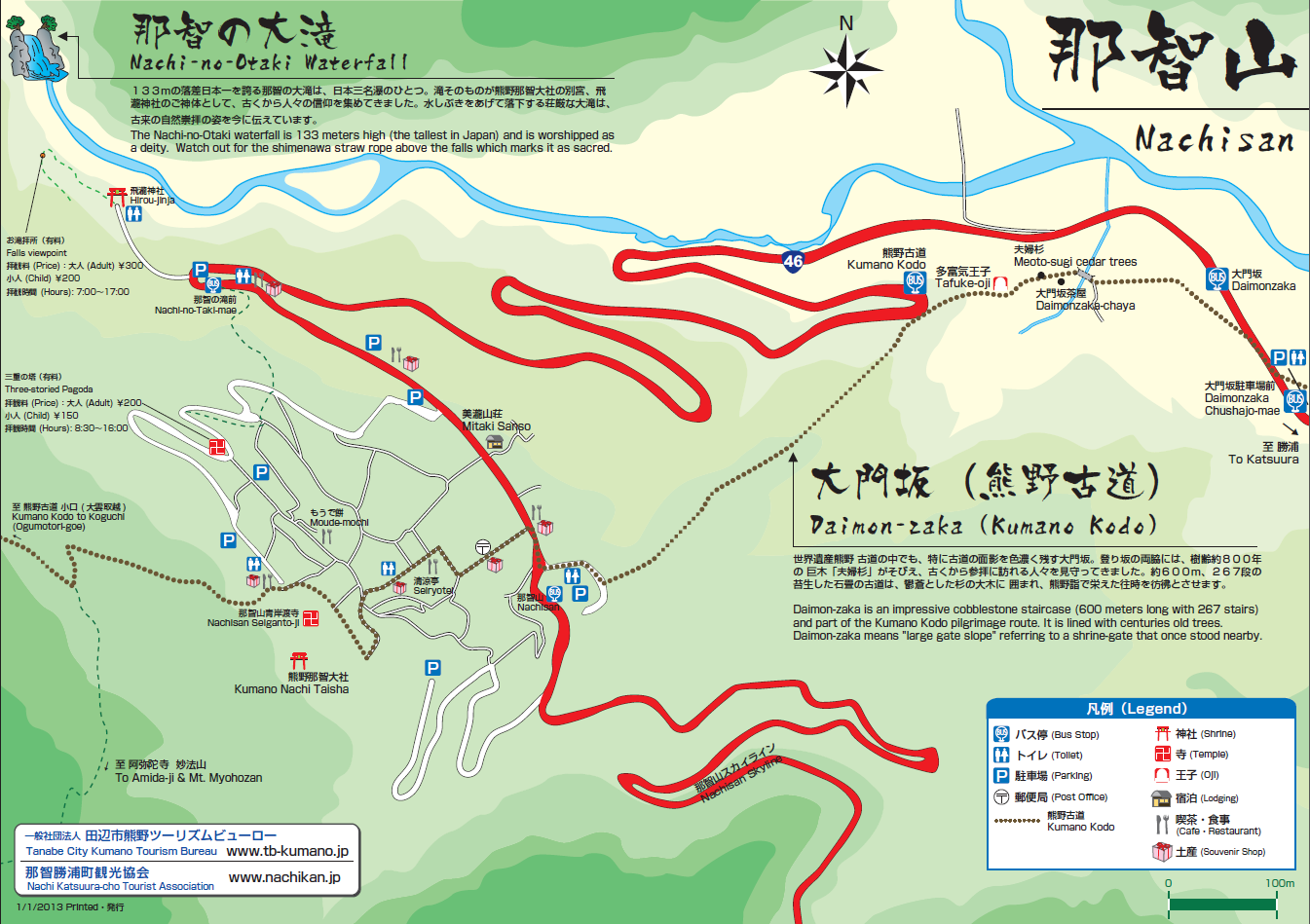 Nachisan
Ogumotori-goe & Nachisan Kumano Kodo
Shuttle Service

Free shuttle to/from Kumano-no-Sato Onsen facility for bathing in the evening.
Parking

Up to 2 vehicles (Free)