Description
Beautifully Renovated House
Guest House Takao is a beautifully reformed two-story Japanese home in a quite residential area ~10 min walk north of the JR Kii-Tanabe train station.

There are three guestrooms: Two Japanese style guestrooms on the second floor, and one room on the first floor with a western style bunk bed.

There is a communal kitchen, attached deck (perfect for relaxing!), and two private shower rooms.

Other services include rental cycle and luggage storage.

Guest House Takao is owned by a small, local real-estate company to showcase the added value that renovating older homes can bring to the community.

Go To Travel Campaign

The Go To Travel Campaign is an initiative of the federal government of Japan to support the tourism industry which has been hard hit by the Covid-19 pandemic. When you book via the KUMANO TRAVEL Community Reservation System (managed by the The Tanabe City Kumano Tourism) we are receiving the financial support aid on behalf of you and relaying this funding onto the local service providers.

This Campaign in only for Japanese citizens or foreign residence of Japan.

IMPORTANT: Cancellation fees are applied as to the terms and conditions of booking based on the original price plan before the discount.

More information about the Go To Travel Campaign Please read this first before making a reservation request >>
Rating & Reviews
Guestroom

Baths

Meals

Location

Reception & Service
Price Plan(s)
Guest House Takao
Shared Women Dormitory, Japanese Style Guestroom (1~3 guests), No Meals


2,500 yen~
Guest House Takao
Shared Men Dormitory, Japanese Style Guestroom (1~3 guests), No Meals


2,500 yen~
Guest House Takao
Shared Mixed-Gender Dormitory, Bunk-bed Guestroom (1~2 guests), No Meals


2,500 yen~
Sanitation and Hygienic Measures
Guestrooms
| | |
| --- | --- |
| Western Style | Yes |
| Japanese Style | Yes |
| Mixed Style | No |
| Other Style | No |
| | |
| --- | --- |
| Number of Rooms | 3 |
| Maximum Guests | 8 |
All house is non-smoking. Please smoke outside.

● Two Japanese style guestrooms on the second floor.

● One room on the first floor with a western style bunk bed.

Rooms are dormitory style but can be reserved privately.

Private use is from 2 guests.

Dormitory use: Second floor male, female gender separate rooms. First floor mixed-gender room.
Facilities
Television
Refrigerator
Air conditioning
Microwave
Amenities
Shampoo
Hair conditioner
Body-wash
Hair drier
Tea
Coffee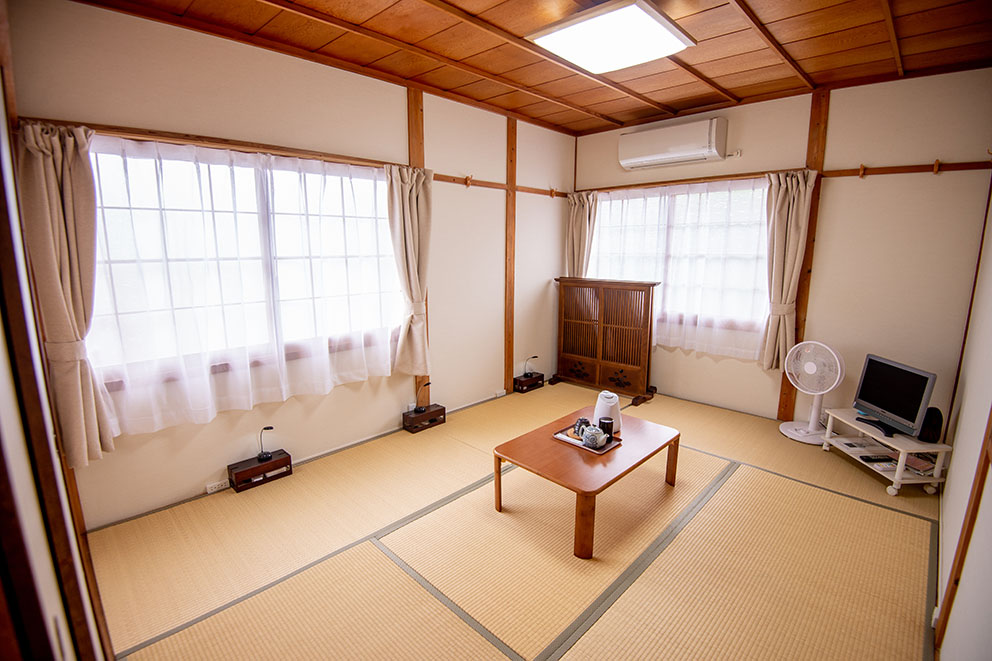 Second Floor Japanese Style Guestroom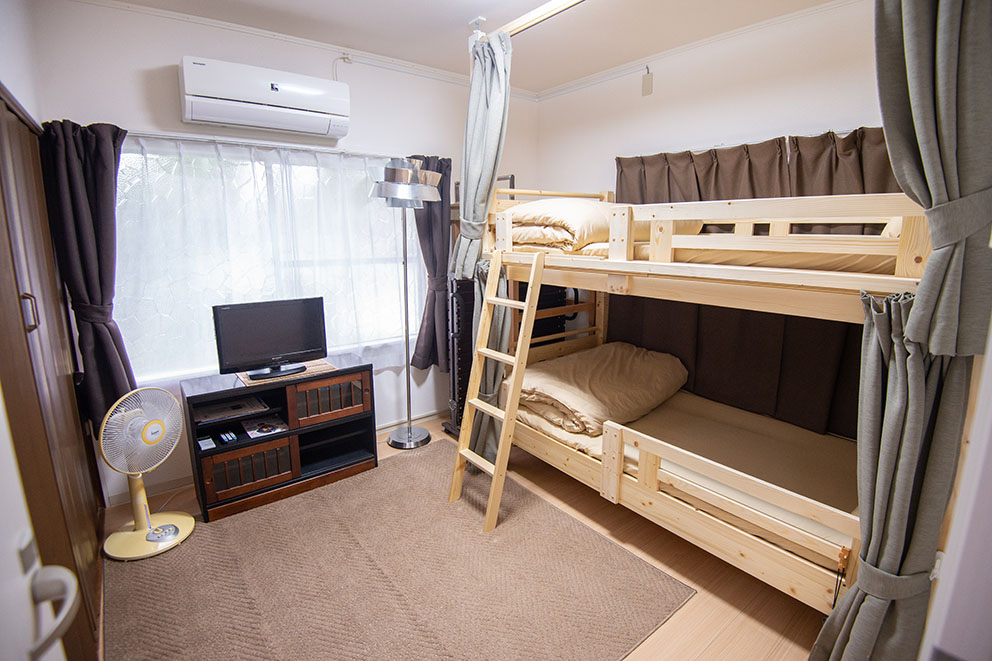 First Floor Bunk-Bed Guestroom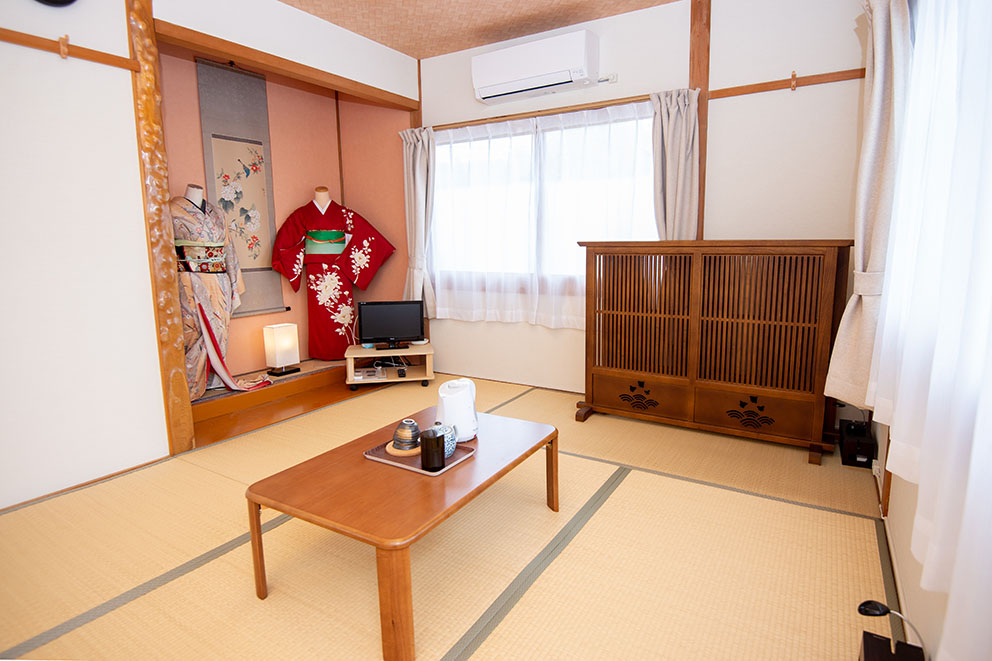 Second Floor Japanese Style Guestroom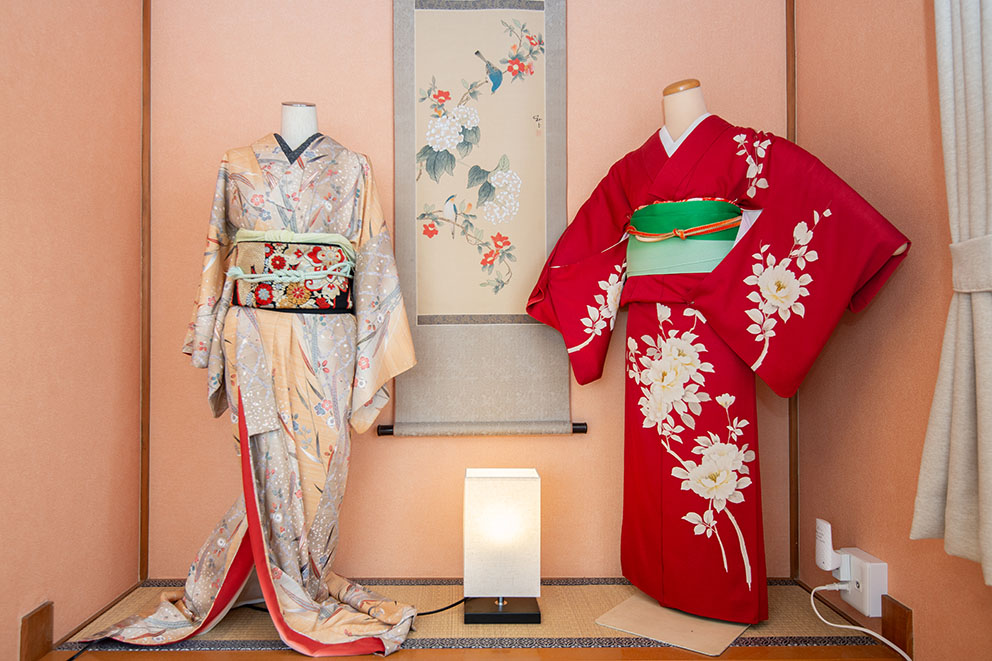 Kimono Display in Guestroom
Baths
| | |
| --- | --- |
| Shared Indoor | Yes |
| Shared Outdoor | No |
| Shared Sauna | No |
| Privately Reserved | No |
| Ensuite Indoor | No |
| Ensuite Outdoor | No |
Note

2 shower rooms for private use. No bathtub.
Meals
Supper
Not available.
Breakfast
Not available.
No Meals.

Use of full kitchen.
Simple instant foods available for purchase.
Facilities & Services
Internet

Free Wi-Fi (Guestroom)
Free Wi-Fi (Lobby)

Credit Card

Not accepted

Traveler's Cheques

Not accepted

Language

English

Services

Bicycle rental
Notes

● Rental Cycle: 2 hours, 150 yen. 1 day, 400 yen.
● Luggage Storage: 300 yen piece/day.
● Free WIFI
● Free coffee & tea
● Full Kitchen: Refrigerator, microwave, toaster, dishes, cutlery, etc.
● Cup noodles for sale.
Access
Access Information

~10 minute walk from Kii-Tanabe Station.

● Turn right at the intersection in front of the station and follow the road for ~500 meterss.
● Turn right, cross the train-crossing and continue straight.
● Pass a small grocery store. Past this there is a sign on a concrete wall on the right.
● Turn right up a small alley. A few dozen meters turn left again and the house is up the driveway on the left.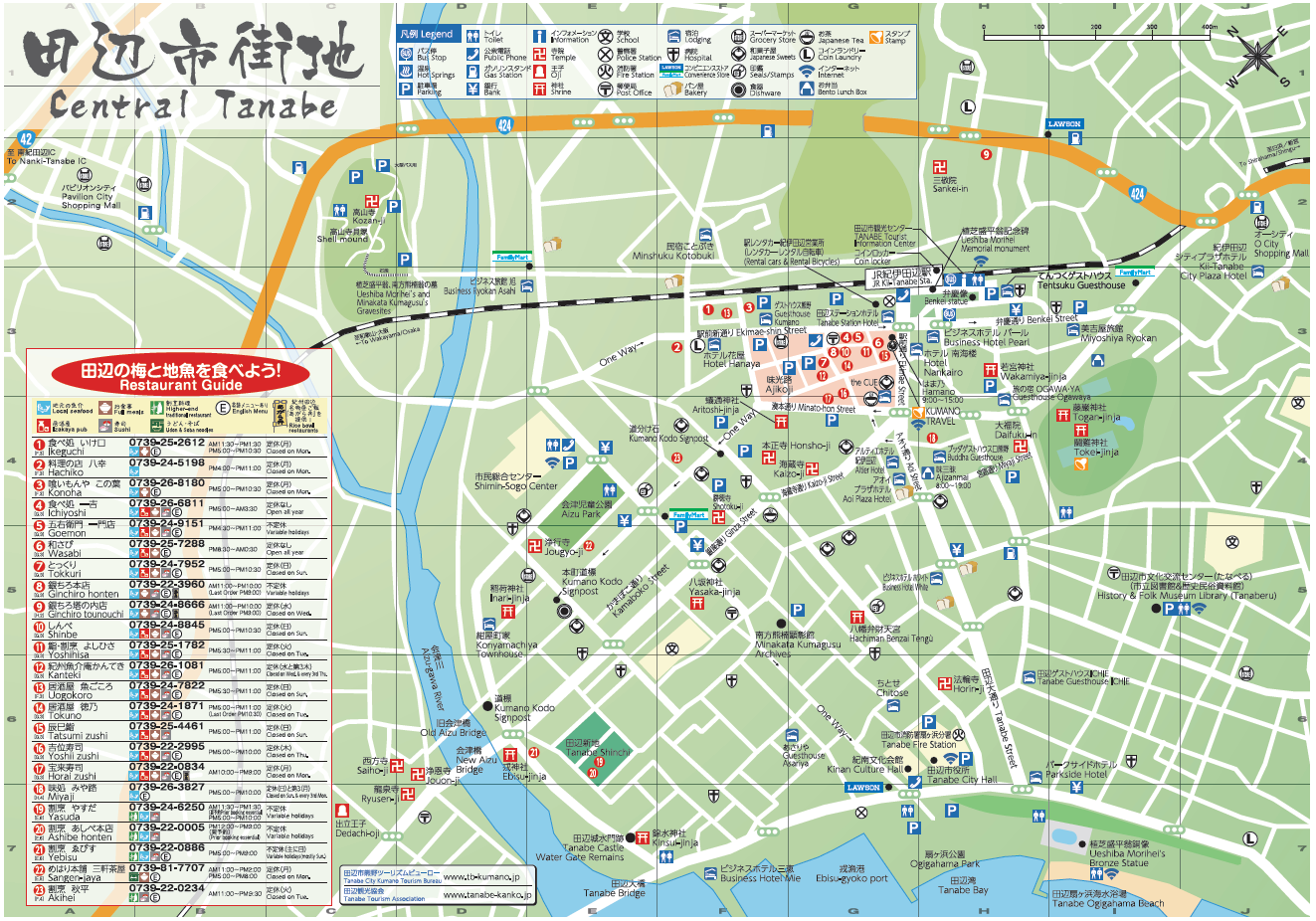 Central Tanabe
Shuttle Service

Not available.
Parking

One spot: reservation required at time of booking. One night: 900 yen.