Description
Traditional Ryokan
Kameya Ryokan is one of the oldest accommodations in Kawayu Onsen. The main building was built over 150 years ago and is registered as a National Cultural Asset. The rooms are older but all have views on to the crystal clear Oto River, which flows through the village. Kameya Ryokan is run by the Kobuchi family and are well known for their excellent meals. One of Kameya's specialties is "Kumano Yakusen Ryori" or "Kumano Medicinal Cuisine", made with fresh, local ingredients, to keep the body, mind and spirit healthy.

Kameya Ryokan also has a special meal plan, "Vegetarian Kaiseki" .
This plan is a gentle plan for vegetarians and people with allergies.
The chef considers the menu from the ingredients that guests can eat.
Go To Travel Campaign
The
Go To Travel Campaign
is an initiative of the federal government of Japan to support the tourism industry which has been hard hit by the Covid-19 pandemic. When you book via the KUMANO TRAVEL Community Reservation System (managed by the The Tanabe City Kumano Tourism) we are receiving the financial support aid on behalf of you and relaying this funding onto the local service providers.
This Campaign in only for Japanese citizens or foreign residence of Japan.
IMPORTANT: Cancellation fees are applied as to the terms and conditions of booking based on the original price plan before the discount.
More information about the Go To Travel Campaign Please read this first before making a reservation request >>
Rating & Reviews
Guestroom

Baths

Meals

Location

Reception & Service
Price Plan(s)
Kameya Ryokan
Seasonal Kaiseki | Supper & Breakfast


12,200 yen~
Kameya Ryokan
Kumano Medicinal Cuisine | Supper & Breakfast


15,300 yen~
Kameya Ryokan
Vegetarian Kaiseki | Supper & Breakfast


13,400 yen~
Sanitation and Hygienic Measures
Guestrooms
| | |
| --- | --- |
| Western Style | No |
| Japanese Style | Yes |
| Mixed Style | No |
| Other Style | No |
| | |
| --- | --- |
| Number of Rooms | 10 |
| Maximum Guests | 30 |
Ensuite toilet: No
Shared western style toilet: Yes
Shared Japanese style toilet: Yes
Facilities
Television
Air conditioning
Telephone
Safety box
Amenities
2 in 1 shampoo
Body-wash
Toothbrush set
Face towel
Bath towel
Yukata Japanese bathrobe
Slippers
Tea
Baths
| | |
| --- | --- |
| Shared Indoor | Onsen |
| Shared Outdoor | No |
| Shared Sauna | No |
| Privately Reserved | No |
| Ensuite Indoor | No |
| Ensuite Outdoor | No |
Note

Bath hours: 15:00~8:30 (open all night)
Meals
Supper
Meals served in guestroom from 18:00~19:00. (Japanese style "Kaiseki" meal, or Kumano Medicinal Cuisine)
Breakfast
Meals served in guestroom from 7:00~8:30. (Japanese style)
Vegetarian meals available
Bento lunch box available
Vegetarian Meals

: Included  : Not Included

: Meat
: Fish & Seafood
: Eggs
: Dairy Products
: Katsuo Dashi (fish stock)

| | | | | | |
| --- | --- | --- | --- | --- | --- |
| Type A | | | | | |
| Type B | | | | | |
| Type C | | | | | |
| Type D | | | | | |
| Type E | | | | | |

Vegetarianism is not common in the Japanese countryside. Please double-check the Vegetarian Type which the service provider can accommodate to make sure that it meets your needs. Often being able to eat trace amounts of the ubiquitous Katsuo Dashi (fish stock) makes it easier to find options.

More Information

NOTE: It is difficult and not culturally sensitive to change meal requests, or make new meal demands, onsite when you arrive at accommodations. Vegetarian types must be confirmed during the reservation process and respected during your visit.
Facilities & Services
Facilities
Gift shop
Banquet hall
Massage chair
Vending machine
Alcohol vending machine
Goh
Japanese chess
Internet

Free Wi-Fi (Guestroom)

Credit Card

VISA
MasterCard
JCB
Diners

Traveler's Cheques

Not accepted

Language

Japanese only

Services

Shuttle service
Luggage storage
Shipping
Access
Access Information

Busses run daily to Kawayu Onsen from Kii-Tanabe Station, Shingu Station and Gojo.
● 1hr 40 min by bus from Kii-Tanabe Station (bus timetable 1)
● ~1 hour by bus from Shingu Station (bus timetable 3)
● ~4 hours by bus from Gojo (bus timetable 4)
● ~10 minutes by bus from Kumano Hongu Taisha (bus timetable 11)
● In front of "Kameya-mae 亀屋前" bus stop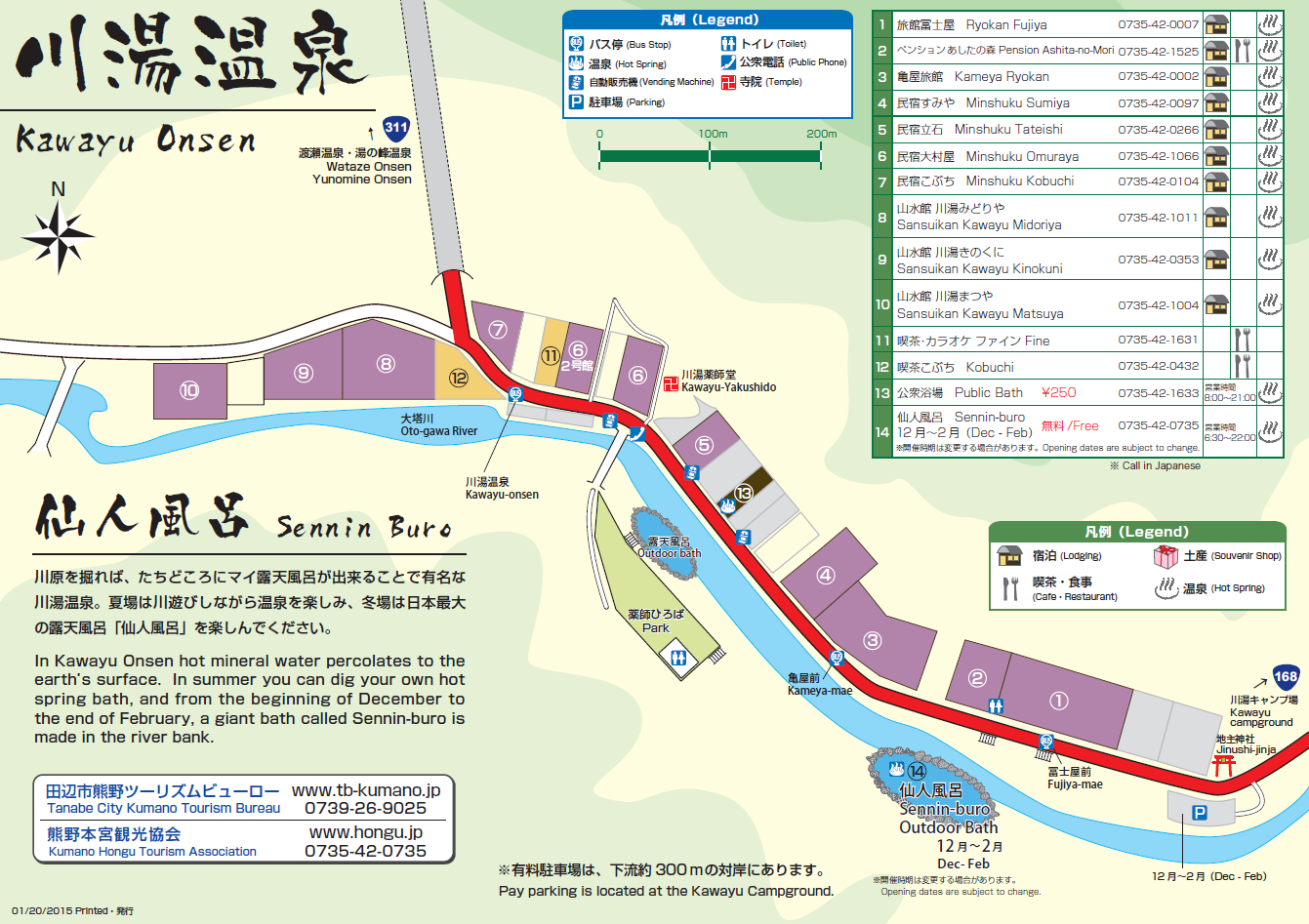 Kawayu Onsen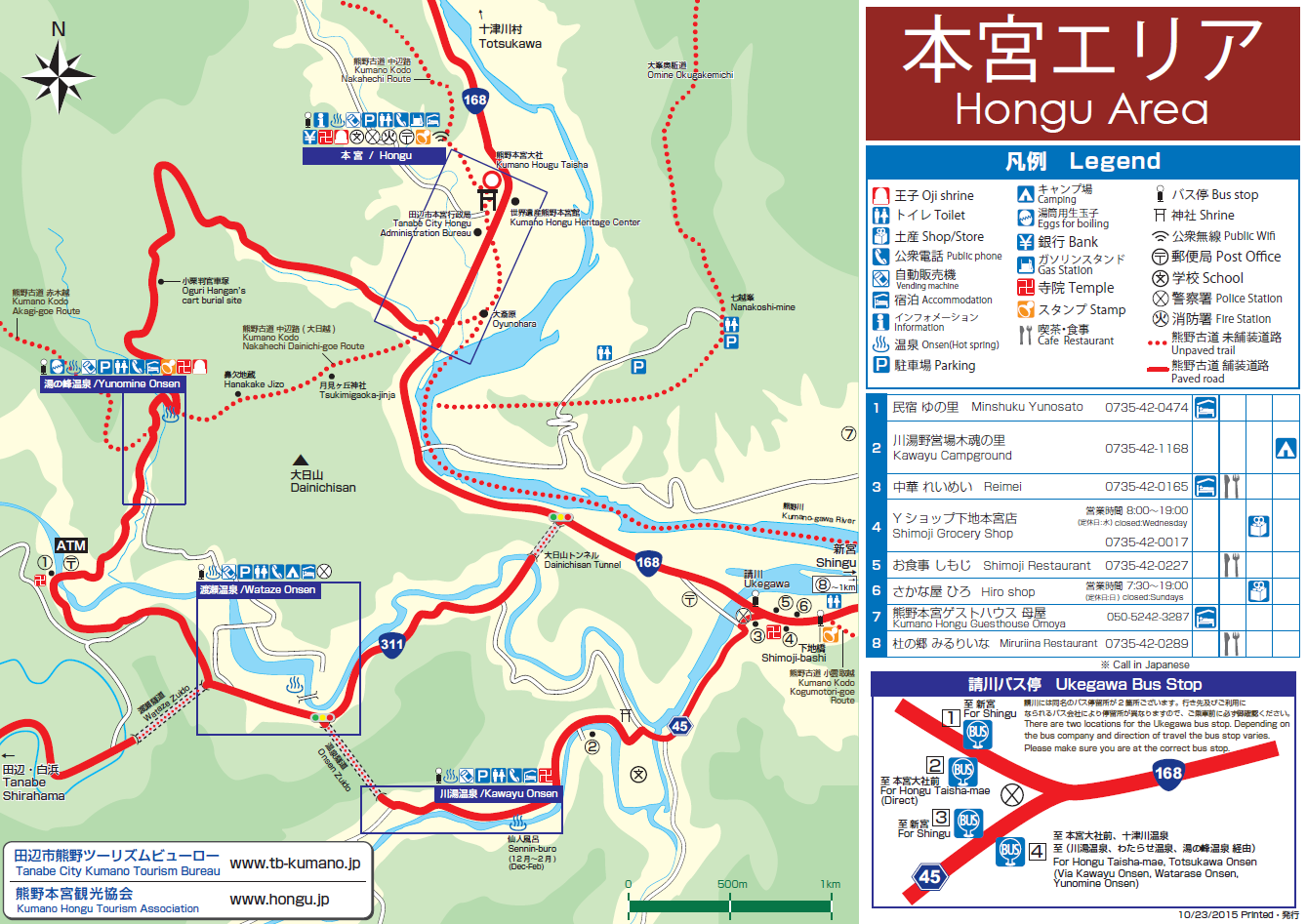 Hongu Area
Shuttle Service

Every morning at 9:00 there is a free shuttle service to Kumano Hongu Taisha, Fushiogami-oji, and Hosshinmon-oji (along the Kumano Kodo pilgrimage route). The route from Hosshimon-oji to Kumano Hongu Taisha is a popular half-day walk.
Parking

Free parking available for up to 10 vehicles.