Choishi-michi Half Course
Koyasan Pilgrimage Walk Tours
Description
The Choishi-michi is a 24km forested trail, rich in Buddhist tradition and history as the ancient sacred path takes you all the way up to Koyasan. You will have the opportunity to hike a path pilgrims have travelled for 1200 years and become a part of that history yourself.
This tour covers the upper or southern portion of the trial. It begins at the Kii-Hosokawa Station and ends at Daimon gate, the entrance to Koyasan.
Learn about the amazing natural and cultural history of the area you're visiting as it comes to life with unique stories relayed through your guide. Enjoy the assurance that comes with hiking with a guide who knows the area's weather, terrain, and wildlife. In other words, focus 100% on wondrous nature around you and let us take care of the rest!
Price
Year-round
1 Participants
11,000 yen
2 Participants
13,200 yen
3 Participants
14,800 yen
4 Participants
17,600 yen
5 Participants
22,000 yen
Details
Tour Outline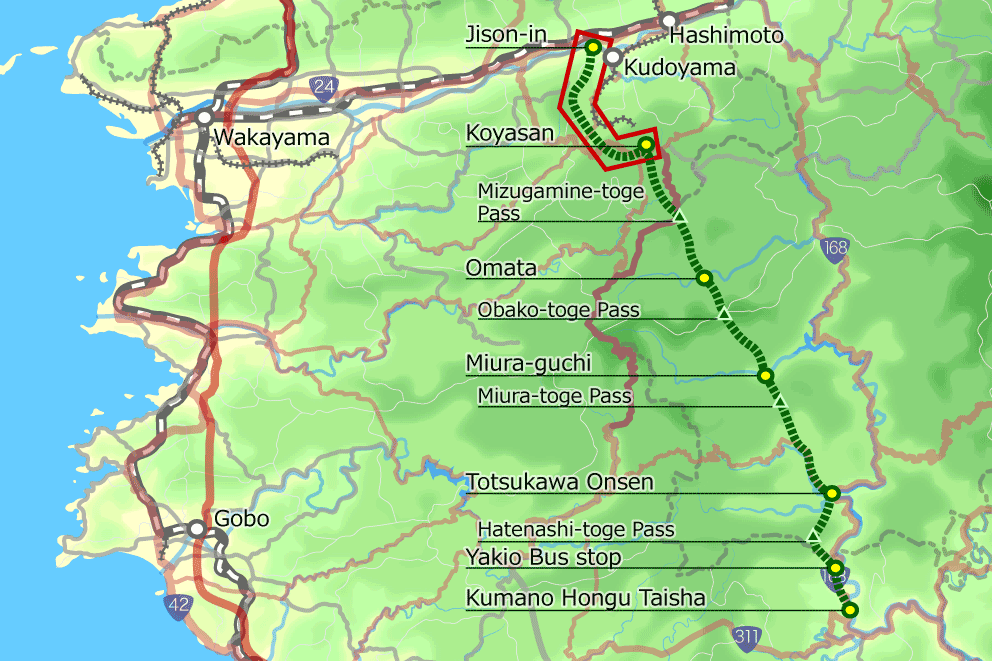 Tour Options


OPTION 1 (weekdays)

Meeting Time
8:35
Kii-Hosokawa Sta.
End of Tour
~12:30
Daimon Gate, Entrance to Koyasan

OPTION 2 (weekends)

Meeting Time
8:50
Kii-Hosokawa Sta.
End of Tour
~12:30
Daimon Gate, Entrance to Koyasan

※ Please specify which tour time you would like to join when making the reservation request.
If you would like a different time (for example if you are staying Koyasan), please contact us for details.
Access
Public Train

The tour must start at the latest 9 am from Kudoyama station.

You must stay at a place within 2 hours by train from Kudoyama station on the previous night. (ex.Osaka, Nara)
Lunch
Lunch is not included in this tour. Please buy something before you begin the walk.
Luggage
Luggage can be shuttled from the start of the tour to your temple lodging for the night in Koyasan.
After Tour
There are a few options once the tour is complete.

● Stay overnight at one of the monastery temple lodging (Shukubo).

● Take a public bus back to Koyasan station from here you can return to Osaka, Kyoto, Nara.

NOTE: it takes more than 2 hours journey from Koyasan station to those places.
Children
Sorry, children are not able to join this tour.
Notes
Please:
● wear appropriate clothing and walking shoes.
● be prepared for rain.
● bring a lunch and drinks.