Women Pilgrimage Course
Koyasan Pilgrimage Walk Tours
Description
The route taken by women pilgrims to Koyasan has been compared to a lotus flower because it traces a course through the encircling mountains stopping at each of the seven traditional entrances to the sacred precincts (koyasan-nakuchi).
Present day visitors can traverse this tranquil mountain path and recall the days when devote women pilgrims were forbidden to enter into Koyasan.
This tour walks about half-way around Koyasan.
Price
Year-round
1 Participants
7,700 yen
2 Participants
11,000 yen
3 Participants
13,200 yen
4 Participants
15,400 yen
5 Participants
19,200 yen
Details
Tour Outline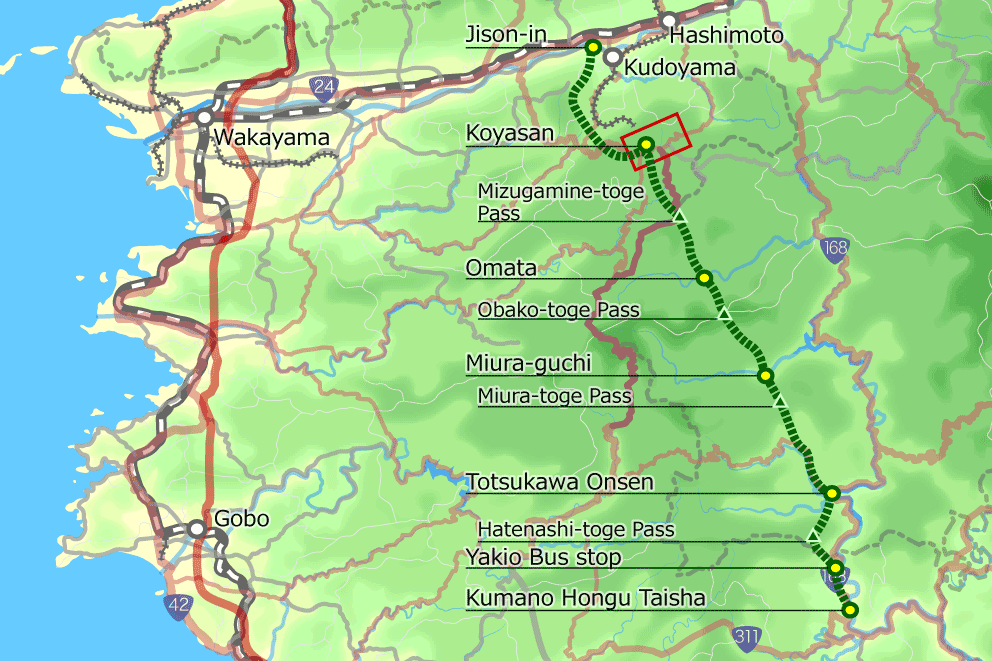 Tour Options


OPTION 1

Meeting Time
9:00
Nyonindo Women's Hall
End of Tour
~12:00
Okunoin Cemetery

OPTION 2

Meeting Time
13:00
Nyonindo Women's Hall
End of Tour
~16:00
Okunoin Cemetery

※ Please specify which tour time you would like to join when making the reservation request.
If you would like a different time (for example if you are staying Koyasan), please contact us for details.
Access
Public Bus

● Daily buses leave every 30 min for Nyonindo between Koyasan station and Okuno-in mae.

Taxi

● Another transportation option is to take a taxi.
Lunch
Lunch is not included in this tour.
After Tour
There are a few options once the tour is complete.

● Stay overnight at one of the monastery temple lodging (Shukubo).

● Take a public bus back to Koyasan station from here you can return to Osaka, Kyoto, Nara.

NOTE: it takes more than 2 hours journey from Koyasan station to those places.
Notes
Please:
● wear appropriate clothing and walking shoes.
● be prepared for rain.
● bring a lunch and drinks.