Fire Festival Kumano Kodo Pilgrimage Experience
Local Package Tours
Description
The Fire Festival Kumano Kodo Pilgrimage Experience is an exclusive community-based tour of KUMANO TRAVEL, a once in a lifetime trip!
It involves 10 days walking the 1,000-year-old pilgrimage trail designated a UNESCO World Heritage cultural asset, one of only two such assets in the entire world.
The tour starts on the west coast of the Kii peninsula with purification rites, follows a coastal pilgrimage walk on the Ohechi route, includes an izakaya pub night, and a stay at a green tourism facility amongst ume and mikan orchards. Then head into the heart of the sacred Kumano mountains, exploring the trails and experiencing local culture through such activities as paper-making and classic Japanese drumming.
The Oto fire festival in Shingu is an ancient ritual predating the Shinto religion, and you'll follow in the footsteps of the noboriko participants with your guide to get an insider's look. Your epic tour wraps up at the sacred Nachi Falls and a night on a hot-spring island resort just off the Pacific Ocean coast in the village of Katsuura.
Fill your Japanese pilgrimage with local experiences and culture to maximize your visit to the Kumano region! Limited guests to 10 guests so book early to reserve your spot!
Tour is now fully booked!

JAN 30. 2020 to FEB 8, 2020
Price
Tour Price
Adult
255,000 yen
Description
TOUR OVERVIEW

Winter trails don't have to mean frozen lakes and blankets of snow.
Here in Kumano, your pilgrimage can be crisp air, solitary forests …
And FIRE!
Visitors in the milder winters of Kumano partake of:
-- Purity. -- Serenity. -- Experience. -- Pilgrimage. … every day!
Observe firsthand a dragon of fire made by men in white linen carrying torches racing down a mountain at dusk at the Oto Matsuri in Shingu.
And come to understand your Kumano pilgrimage intimately with your personal, local, licensed, English-speaking, guide: Mike Rhodes!
Join us for this once-in-a-life-time journey and make your visit to Kumano truly unique!
WHEN
JAN 30. 2020 to FEB 8, 2020
PRICE

255,000 yen/person (Maximum 10 Guests)※Single Occupancy Supplement 40,000.

NOTE: Single occupancy may not be available at Shingu UI because of limited number of rooms.

ROUTE
Tanabe | Ohechi | Takahara | Chikatsuyu | Yunomine Onsen | Kawayu Onsen | Hongu | Koguchi | Shingu | Nachisan | Katsuura
DURATION
10 days & 9 nights
OVERNIGHT
Tanabe x2, Takahara, Chikatsuyu, Kawayu Onsen x2, Koguchi, Shingu, Katsuura Onsen
OVERALL LEVEL
Intermediate
TYPE
Fully guided.
DAILY LUGGAGE SHUTTLE
Available for all days.
RECOMMENDED FOR
Those who want to immerse themselves in the culture of the Kumano Kodo pilgrimage with the best local guide, experiencing an intimate atmosphere with locals, highlighted with an ancient fire festival.
INCLUDED
Fully guided by Kumano Kodo destination manager, Mike Rhodes
9 Nights of accommodation
8 Suppers, 9 Breakfasts, 8 Lunches
Daily luggage shuttles (1 piece per guest)
Transportation according to itinerary during the tour from arrival at Kii-Tanabe station to departure at Kii-Katsuura station.
All ceremonies, activities and entrance fees
NOT INCLUDED
Train tickets to Kii-Tanabe before tour and train ticket from Kii-Katsuura at end of tour
Transporation not included in the itinerary
Miscellaneous personal expenses such as drinks, laundry, shopping, etc.
Travel insurance (please purchase this before your trip)

NOTES

● The Kumano Kodo is a mountain trail with sections unpaved, uneven surfaces of dirt, roots and cobblestones. Please wear appropriate footwear.
● For clothes it is best to bring layered clothes, such as a fleece jacket and an outer shell. Snow is rare in the mountains of the southern Kii peninsula, but if there are chances of freezing overnight. More weather information.
● Some accommodations have shared facilities such as hot-spring baths. Here is a detailed overview on how to take a Japanese bath.
● Tour itinerary may change depending on local circumstances and/or weather.
● This tour will not participate in the Oto fire festival, only observe.
● Please meet for the tour at the KUMANO TRAVEL Travel Support Center near the Kii-Tanabe station by 13:30 on Jan 30, 2020. If you arrive earlier you can leave your luggage at the support center.

Any questions? Contact us!
DAY 1

Train from Osaka/Kyoto to Kii-Tanabe (~3 hrs)

Pilgrimage purification ceremony at Tokei-jinja

Welcome dinner at classic Japanese Izakaya pub

Stay in Tanabe (Altier Hotel)
DAY 2

Train to Susami (~40 min)

Walk Kumano Kodo Ohechi Route, Nagai-zaka pass (~11 km, ~3-4 hr)

Train to Kii-Tanabe (~50 min)

Stay in Tanabe (Akizuno Garten)
DAY 3

Morning activity at Green Tourism facility Akitsuno Garten

Taxi to Takijiri (~30 min)

Walk Kumano Kodo Takijiri-oji to Takahara (3.7 km, ~2.5 hrs)

Stay in Takahara (Kiri-no-Sato Takahara Lodge)
DAY 4

Walk Kumano Kodo Takahara to Chikatsuyu-oji (9 km, 5~6 hrs)

Stay in Chikatsuyu (Minshuku Chikatsuyu)

Evening experience
DAY 5

Bus to Yunomine Onsen (~35 min)

Walk Kumano Kodo Yunomine Onsen to Kumano Hongu Taisha (~14 km, 5~7 hrs)

Bus to Kawayu Onsen (~10 min)

Stay in Kawayu Onsen (Kawayu Midoriya)
DAY 6

Bus to Hongu (~10 min)

Japanese traditional Washi paper making experience

Bus to Kawayu Onsen (~10 min)

Stay in Kawayu Onsen (Kawayu Midoriya)

Evening Taiko Drumming experience
DAY 7

Bus to Ukegawa (~5 min)

Walk Kumano Kodo Ukegawa to Koguchi (~13 km, 4.5~6 hr)

Stay in Koguchi (Koguchi Shizen-no-Ie)
DAY 8

Bus to Shingu (~30 min)

Experience Oto fire festival

Stay in Shingu (Shingu UI Hotel)
DAY 9

Transfer to Nachi (~25 min)

Walk Kumano Kodo Daimon-zaka (~1.5 km, ~1 hr)

Visit Kumano Nachi Taisha and Japan's tallest waterfall

Bus to Katsuura (~30 min)

Stay in Katsuura (Kumano-Bettei Nakanoshima)
DAY 10

End of tour

Train to next destination
Itinerary Map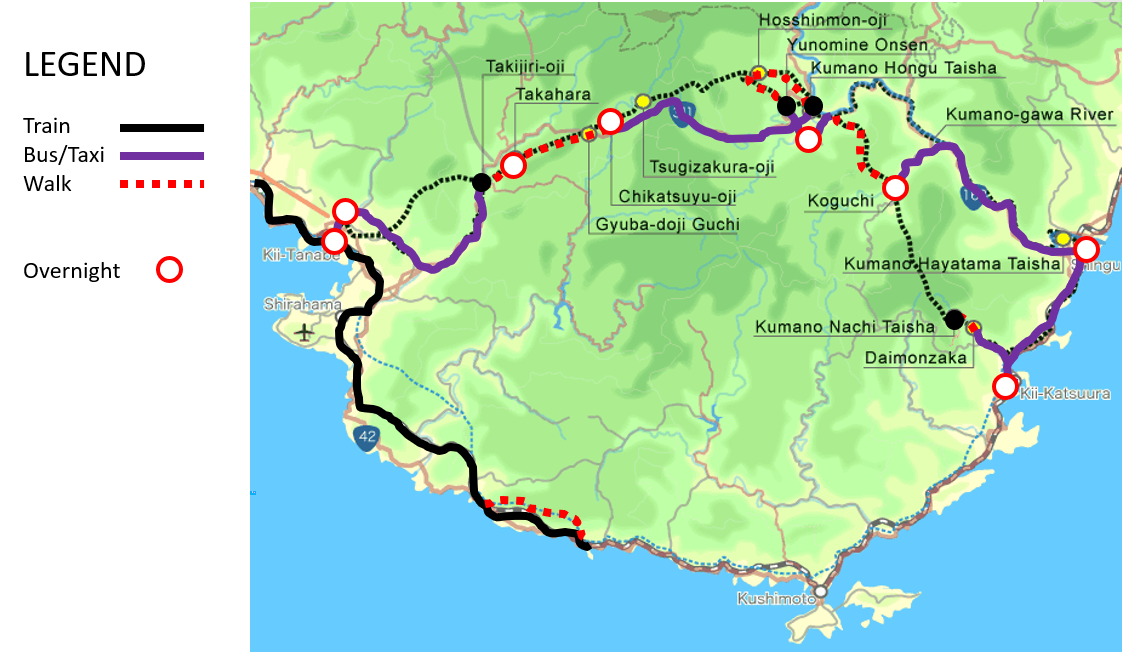 Highlights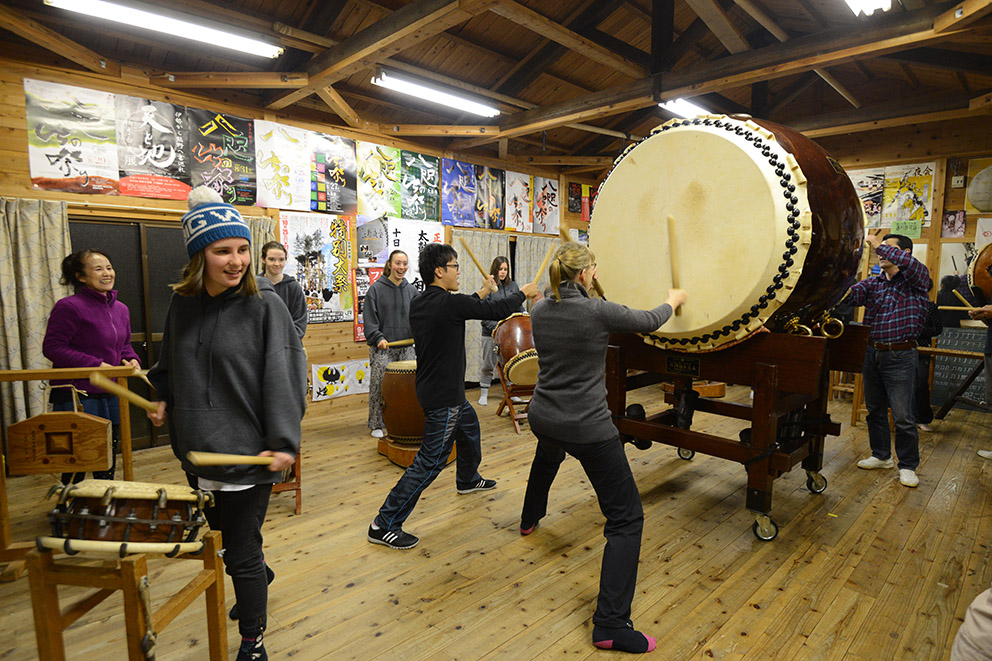 Unique Cultural Experience
Partake in multiple community-based experiences such as the Taiko drumming night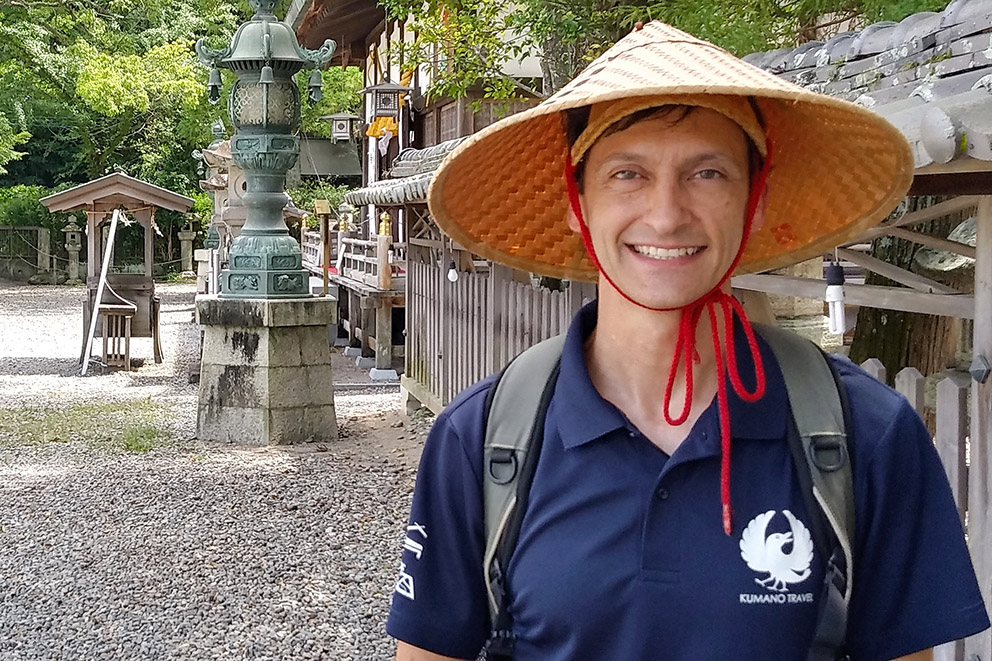 Fully Guided
Journey with Mike Rhodes, one of the top Kumano Kodo local guides.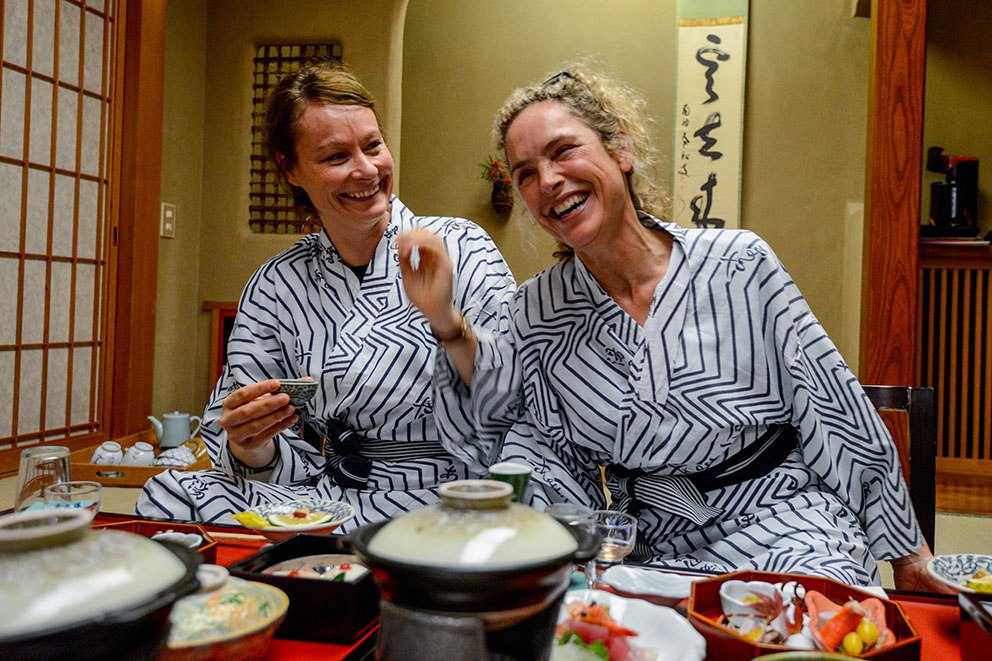 Stay in a diversity of accommodations
From convenient hotels in the urban setting, to green tourism facilities among orchards, to hot spring Japanese inns in the mountains, to family run guest houses along the pilgrimage route: There is a diversity of authentic lodging along the way.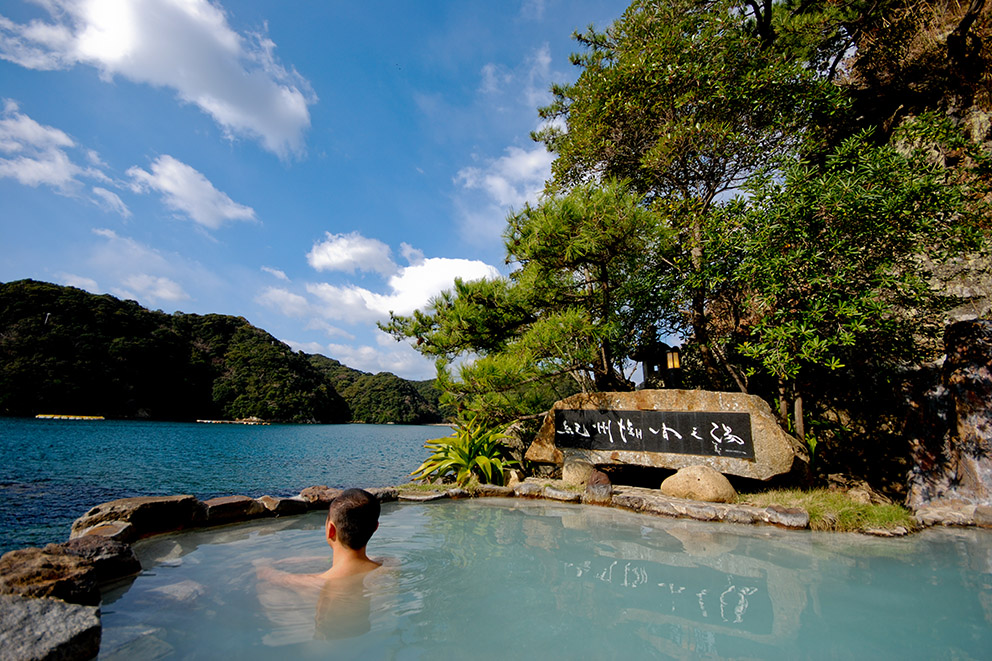 Soak in Soothing Onsen
The ritual of hot spring bathing is rich in the Kii Mountains. Relax in hot thermal baths to relax and refresh from the days adventures.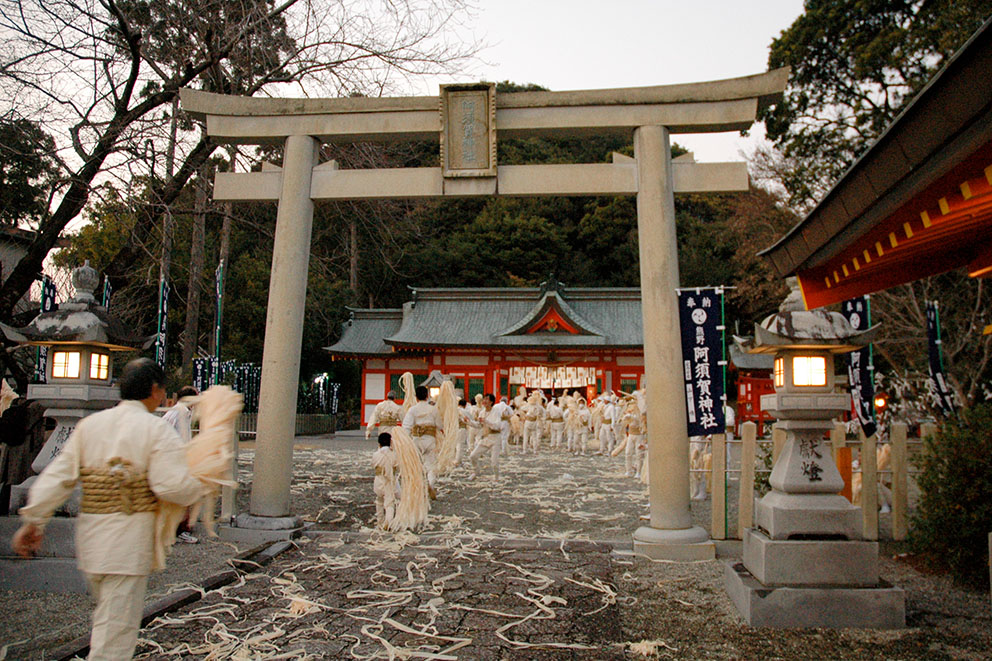 Oto Matsuri
One of Japan's ancient fire festivals where ~2000 men and boys dressed in white stream down the steep stone staircase of Kamikura-jinja like a fiery dragon from the heavens in this purification rite.