Koyasan to Ryujin Onsen (9:45 departure)
Koyasan & Kumano Access Bus
Description
Ryujin Onsen is an isolated hot spring settlement in the lush heart of the Kii peninsula a great place to overnight. Koyasan is a Buddhist temple complex.

This bus ticket connects these two sites: beautifying onsen and enlightening monastery.


Bus service available in 2023 from April 1 to July 10 and September 1 to November 30.
Price
Koyasan to Ryujin Onsen
Adult
2,900 yen
Child
1,450 yen
Details
PLACE
TIME
NOTES
BUS COMPANY
Koyasan Station
9:45
Boarding
Nankai Rinkan Bus
Senjuinbashi
9:55
Boarding
Okunoinmae
10:01
Boarding
Gomadanzan

Arr: 10:50

Dep: 11:05

Transfer
Transfer to Ryujin Bus.
Kirari Ryujin

Arr: 11:40

Dep: 12:20

Break or
Drop-off
Ryujin Bus
Ryujin Onsen
12:23
Drop-off

Transfers

● You need to change buses at Gomadanzan.
Transfers are easy and straightforward. Please ask the bus driver if you have any concerns onsite.

Notes
● Lunch and admission fee for tourist facilities are not included in the tour price.
● Tickets are one way (single) leg.
● Seats are not assigned. Please sit in an empty seat.
● Depending on weather and road conditions, the time schedule may vary.
● Due to the limited availability of seats, early reservation is recommended to secure your seats.
●"Senjuinbashi" is the closest bus stop to temples and accommodations in Koyasan.

Discounts for Ticket Holders
By showing your ticket, you are eligible to receive the following.
1.Admission fee for Gomasan Sky Tower will be reduced from 300 to JPY 200. Gomasan Sky Tower is a lookout tower at Gomadanzan rest area. There is a short break here when you can visit for a panoramic view.
2.If you order "Donburi (Rice Bowl), Udon, Soba wheat noodles" at Kirari Ryujin Ryokan, Ryujin Soap will be given as a gift.
3.Admission fee for Ryujin Onsen bath will be reduced from JPY 700 to JPY 550.
IMPORTANT: Bring Printed Copy of Voucher
● Please present a PRINTED copy of your voucher (or present the voucher on your mobile/smart phone) prior to departure. A printed copy of your voucher is the best option to avoid any miscommunications with the bus drivers who do not speak English.
● Please NOTE that you may have to REPURCHASE the ticket in cash if you do not present the ticket when asked.
Map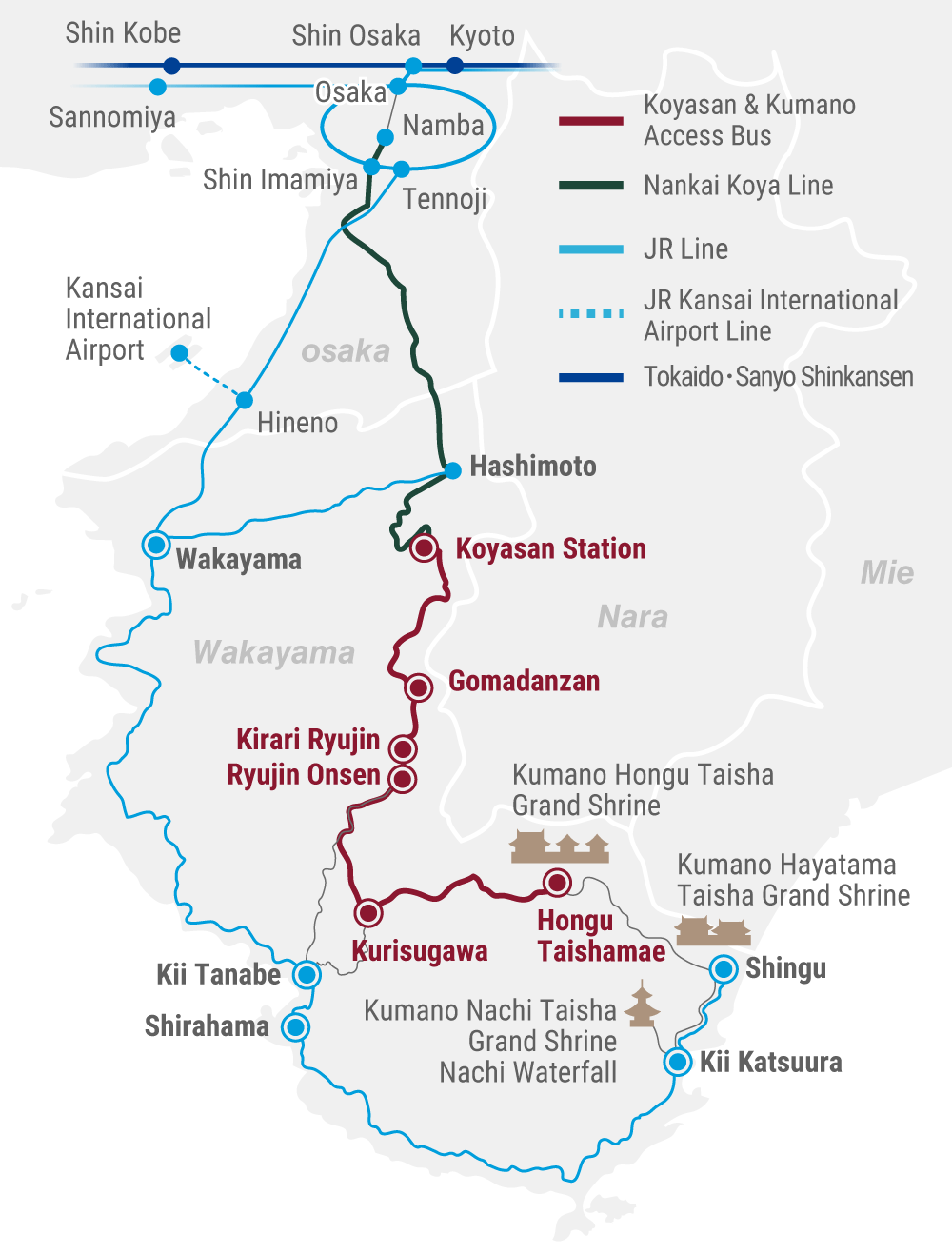 NOTE:
This route is a combination of local bus routes.
The only sections that are seasonal are from Koyasan to Ryujin Onsen, and Ryujin Onsen to Kurisugawa.
The other sections Ryujin Onsen to Kii-Tanabe and Kii-Tanabe to the Hongu area run year-round.
Koyasan Bus Stops
Senjuinbashi bus stop: The most central bus stop in Koyasan.
Okunoinmae bus stop: Is on the far west of Koyasan.
Koyasan Station bus stop:
In front of the Koyasan train station at the top of the cablecar.
This bus station is not in the central Koyasan village.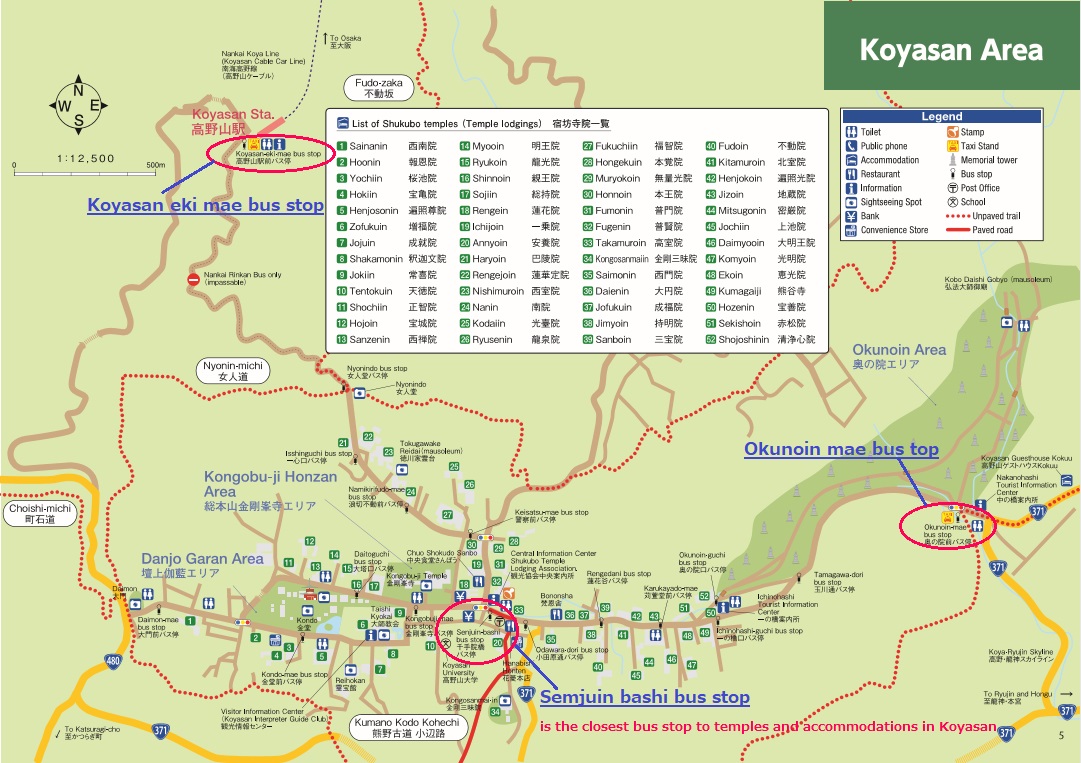 NOTE
"Senjuinbashi" is the closest bus stop to temples and accommodations in Koyasan.