Description
Kumano Kodo Homestay in Chikatsuyu
Chikatsuyu Guesthouse Sora is a homestay in the waystop village of Chikatsuyu along the Kumano Kodo between Takijiri-oji and Kumano Hongu Taisha. It is a Japanese style home with two guestrooms. The bath and toilet are shared facilities among the guests. The owners are retired couple who moved there to enjoy the beautiful scenery of mountains and community comradery of this mountainside settlement.

Meals are homemade (with vegetables and herbs from their garden, and eggs from their chickens!) and conversations filled with smiles and laughs.

The name of the guesthouse "Sora" means sky or heaven and is derived from a character in the families last name "Amano" and because they really love skywatching in Chikatsuyu.


Go To Travel Campaign
The
Go To Travel Campaign
is an initiative of the federal government of Japan to support the tourism industry which has been hard hit by the Covid-19 pandemic. When you book via the KUMANO TRAVEL Community Reservation System (managed by the The Tanabe City Kumano Tourism) we are receiving the financial support aid on behalf of you and relaying this funding onto the local service providers.
This Campaign in only for Japanese citizens or foreign residence of Japan.
IMPORTANT: Cancellation fees are applied as to the terms and conditions of booking based on the original price plan before the discount.
More information about the Go To Travel Campaign Please read this first before making a reservation request >>
Full Name
Guesthouse SORA Chikatsuyu
熊野古道の宿 近露そら
Area
Chikatsuyu, Nakahechi
Address
614 Chikatsuyu, Nakahechi-cho, Tanabe City, Wakayama Prefecture 〒646-1402
〒646-1402 和歌山県田辺市中辺路町近露614
Rating & Reviews
Guestroom

Baths

Meals

Location

Reception & Service
Price Plan(s)
Guesthouse SORA Chikatsuyu
Supper, Breakfast & Lunch box


11,900 yen~
Guesthouse SORA Chikatsuyu
Supper & Breakfast


11,400 yen~
Guesthouse SORA Chikatsuyu
Guesthouse SORA Chikatsuyu
Sanitation and Hygienic Measures
Guestrooms
| | |
| --- | --- |
| Western Style | No |
| Japanese Style | Yes |
| Mixed Style | No |
| Other Style | No |
| | |
| --- | --- |
| Number of Rooms | 3 |
| Maximum Guests | 8 |
Facilities
Bath, toilet and washing bowl
● Facilities are shared with owners and other guests.
Amenities
Shampoo
Hair conditioner
Body-wash
Toothbrush set
Hair drier
Face towel
Bath towel
Yukata Japanese bathrobe
Slippers
Tea
Coffee
Baths
| | |
| --- | --- |
| Shared Indoor | Yes |
| Shared Outdoor | No |
| Shared Sauna | No |
| Privately Reserved | No |
Note

Bath hours: 6:00-10:00/15:00-21:30



● Typical bath in Japanese home.
● A shared bath, for private use take turns with other guests.
How to take a Japanese bath
In a Japanese style bath, the bath water is used for soaking.
Please wash outside of the bath and use the tub water only for soaking.
Do not pull the plug from the bath tub.
Meals
Supper
Japanese style, served in dining room from 18:00-19:00
Breakfast
Western style, served in dining room from 6:00 (April to September), from 6:30 (October to March).
Lunch
Japanese style Bento box, pick up in check-out
● Able to cater to vegetarians and/or guests with food allergies on request
Please let us know details of what you cannot eat in advance.
Vegetarian Meals

: Included  : Not Included

: Meat
: Fish & Seafood
: Eggs
: Dairy Products
: Katsuo Dashi (fish stock)

| | | | | | |
| --- | --- | --- | --- | --- | --- |
| Type A | | | | | |
| Type B | | | | | |
| Type C | | | | | |
| Type D | | | | | |
| Type E | | | | | |

Vegetarianism is not common in the Japanese countryside. Please double-check the Vegetarian Type which the service provider can accommodate to make sure that it meets your needs. Often being able to eat trace amounts of the ubiquitous Katsuo Dashi (fish stock) makes it easier to find options.

More Information

NOTE: It is difficult and not culturally sensitive to change meal requests, or make new meal demands, onsite when you arrive at accommodations. Vegetarian types must be confirmed during the reservation process and respected during your visit.
Facilities & Services
Internet

Free Wi-Fi (Guestroom)
Free Wi-Fi (Lobby)

Credit Card

VISA
MasterCard
JCB
AMERICAN EXPRESS
Diners

Traveler's Cheques

Not accepted

Language

English

Services

Shuttle service
Shipping
Bicycle rental
Notes

2 rental Bicycles (Free)
Access
Access Information

Busses run daily to Chikatsuyu from Kii-Tanabe Station, Shirahama and Hongu.

● ~1 hour by bus from Kii-Tanabe Station

(bus timetable 1)


● ~1 hour by bus from Hongu

(bus timetable 2)


● ~5 minute walk from "Chikatsuyu-oji 近露王子" bus stop

● ~5 minute walk from "Nakahechi Art Museum なかへち美術館" bus stop
Chikatsuyu Village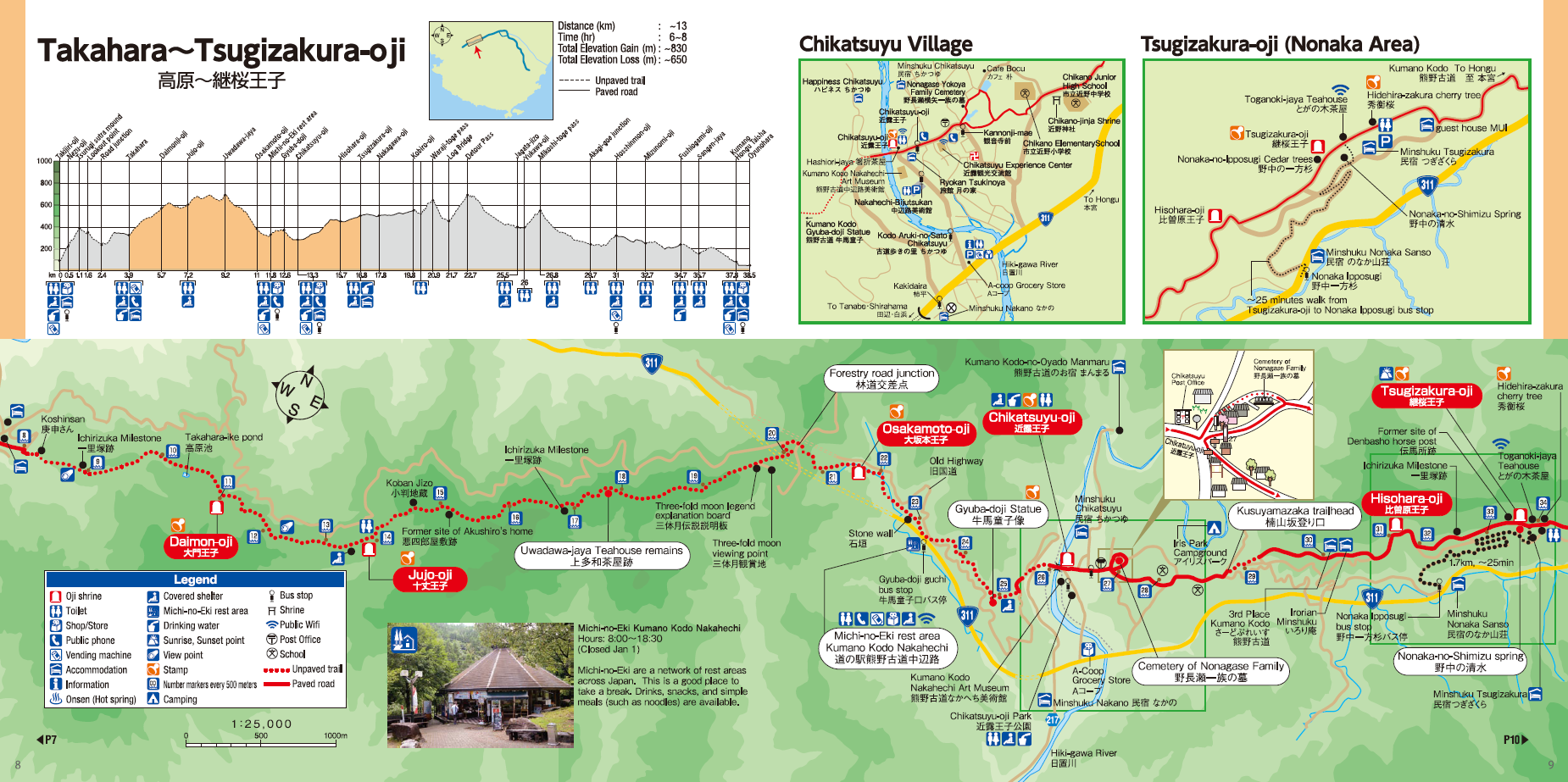 Kumano Kodo
Parking

Up to 2 vehicles (free).