Description
Renovated School House
Shizen-no-Ie is an old junior high school that was beautifully renovated as a lodge. It is located in the tiny community of Koguchi, half-way between Nachi and Hongu, thus making it an important overnight stop on the Kumano Kodo pilgrimage route. To the south is the Ogumotori-goe trail and to the north is the Kogumotori-goe trail. It is also popular with fisherman, students, and families as a summer vacation spot. There is a small river and shrine next to the lodge. This is a great area to enjoy the peacefulness of an isolated mountain village.
Full Name
Koguchi Shizen-no-Ie
小口自然の家
Address
398 Kaminagai, Kumanogawa-cho, Shingu City, Wakayama Prefecture, 647-1201
〒647-1201 和歌山県新宮市熊野川町上長井398
Rating & Reviews
Guestroom

Baths

Meals

Location

Reception & Service
Price Plan(s)
Koguchi Shizen-no-Ie
Supper & Breakfast


8,600 yen~
Koguchi Shizen-no-Ie
Supper, Breakfast & Lunch box


9,300 yen~
Guestrooms
| | |
| --- | --- |
| Western Style | No |
| Japanese Style | Yes |
| Mixed Style | No |
| Other Style | No |
| | |
| --- | --- |
| Number of Rooms | 11 |
| Maximum Guests | 41 |
Ensuite toilet: No
Shared Japanese and western style toilet: Yes
Facilities
Television
Coin air conditioning
Irori sitting room open until 23:00.
Hairdryer in bath change room.
Free washing machine and detergent. Dryer 100 yen/ 60 min
Prepaid air-conditioning 100 yen/ 2 hours
Free WIFI in lobby
Amenities
2 in 1 shampoo
Body-wash
Soap
Toothbrush set
Hair drier
Face towel
Bath towel
Yukata Japanese bathrobe
Slippers
Tea
Baths
| | |
| --- | --- |
| Shared Indoor | Yes |
| Shared Outdoor | No |
| Shared Sauna | No |
| Privately Reserved | No |
| Ensuite Indoor | No |
| Ensuite Outdoor | No |
Note

● Bath is open in evenings. Mornings, only shower is available.
Please adjust temperature of the bath yourself.

NOTE: If there a small number of people staying at the accommodation, then only one bath will be prepared, and specific times will be set for Men and Women.
Meals
Supper
Meals served in dining room from 18:00 (Japanese style)
Breakfast
Meals served in dining room from 6:00 (Japanese style)
● LUNCHES: Are most often Japanese style, but can sometimes be Western style.
● Please let us know if you are leaving early in the morning so we can organize breakfast.
● Free hot tea, cold tea, and hot water service in the morning. If you have a water bottle or thermos please drop it off at the reception in the evening and we can fill it for you.
Vegetarian Meals

Type
A
B
Meat
No
No
Fish &
Seafood
Yes
No
Eggs
Yes
Yes
Dairy
Products
Yes
Yes
Katsuo Dashi
(Fish broth)
Yes
Yes
Facilities & Services
Facilities
Coin laundry
Vending machine
Goh
Japanese chess
Internet

Wired LAN (Lobby)
Free WIFI (Lobby)

Credit Card

Not accepted

Traveler's Cheques

Not accepted

Language

Japanese only

Services

Lunch box
Luggage storage
Access
Access Information

Busses run daily to Koguchi from Shingu Station. To and from Hongu by bus you must transfer at Kanmaru.
● ~ 1 hour by bus from Shingu Station (bus timetable 5)
● ~ to and from Hongu by bus (bus timetable 5)

More bus timetables >>

One day walk on the Kumano Kodo pilgrimage route. Ogumotori-goe from Nachi. Kogumotori-goe from Hongu.
● 5 min walk to Ogumotori-goe trail head
● 15 min walk to Kogumotori-goe trail head

※ If you are making a traverse walk from Hongu to Nachi along the Kumano Kodo, please take a copy of the above bus timetable with you just in case you are unable to complete the journey.
Kumano Kodo Kogumotori-goe Map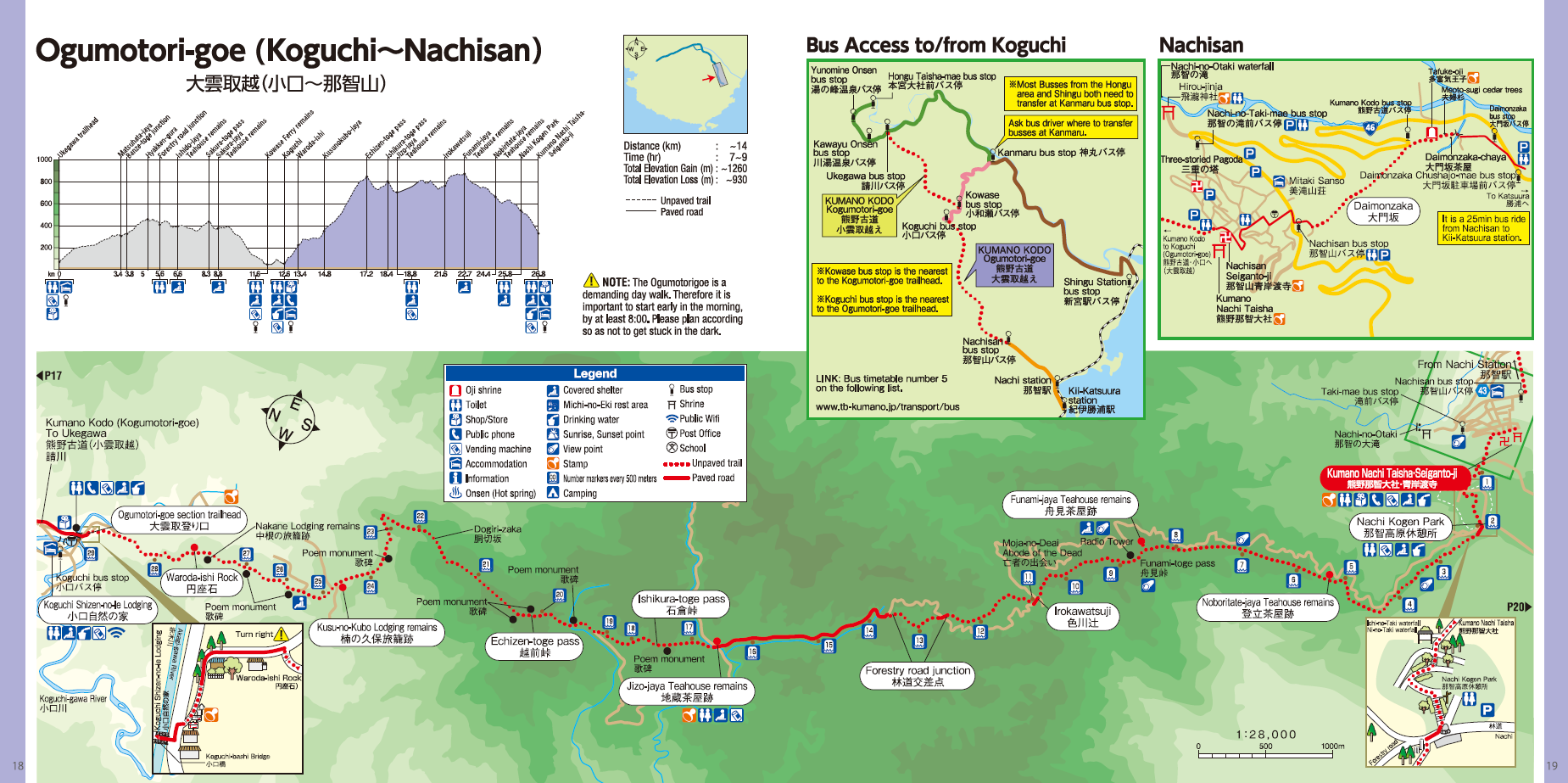 Kumano Kodo Ogumotori-goe Map
Shuttle Service

Not available.
Parking

Free parking available for up to 20 vehicles. No oversized vehicle parking.