Kumano Kodo-no-Yado Reimei Lodging House
Description
Restaurant Guesthouse
Kumano Kodo-no-Yado Reimei Lodging House is located in the small village of Ukegawa at the confluence of the Oto river and Kumano-gawa, 3 kilometers south of the Hongu village townsite.

The large yellow sign is easy to spot! One the first floor is a Chinese restaurant and on the second floor are the three guestrooms. It is a simple, basic, budget facility run by the cordial Mr. Nojiri. The rooms are Japanese style, with shared bath and toilet facilities. Famous dishes at the restaurant are gyoza dumplings using local Kumano beef, and Wakayama Ramen noodles.

The trailhead to the Kumano Kodo Kogumotori-goe section is nearby. The Ukegawa bus stop is across the street so public busses are convenient to use.

NOTE: Only one booking (capacity MAX 5) will be accepted each day.
Single occupancy is not available during peak season.
Go To Travel Campaign
The
Go To Travel Campaign
is an initiative of the federal government of Japan to support the tourism industry which has been hard hit by the Covid-19 pandemic. When you book via the KUMANO TRAVEL Community Reservation System (managed by the The Tanabe City Kumano Tourism) we are receiving the financial support aid on behalf of you and relaying this funding onto the local service providers.
This Campaign in only for Japanese citizens or foreign residence of Japan.
IMPORTANT: Cancellation fees are applied as to the terms and conditions of booking based on the original price plan before the discount.
More information about the Go To Travel Campaign Please read this first before making a reservation request >>
Full Name
Kumano Kodo-no-Yado Reimei Lodging House
熊野古道の宿 れいめい
Address
302 Ukegawa, Hongu-cho, Tanabe City, Wakayama Prefecture, 647-1703
〒647-1703 和歌山県田辺市本宮町請川302
Rating & Reviews
Guestroom

Baths

Meals

Location

Reception & Service
Price Plan(s)
Kumano Kodo-no-Yado Reimei Lodging House
Breakfast & Lunch box


6,700 yen~
Kumano Kodo-no-Yado Reimei Lodging House
Kumano Kodo-no-Yado Reimei Lodging House
Guestrooms
| | |
| --- | --- |
| Western Style | No |
| Japanese Style | Yes |
| Mixed Style | No |
| Other Style | No |
| | |
| --- | --- |
| Number of Rooms | 3 |
| Maximum Guests | 13 |
Japanese style room: 3 rooms
Ensuite toilet: No
Shared western style toilet: Yes (1st and 2nd floor)
● Please lay out futon bedding by yourself.
Facilities
Television
Air conditioning
Desk
Stove available during winter
Chinese restaurant on the 1st floor.
Amenities
Shampoo
Body-wash
Toothbrush set
Hair drier
Face towel
Bath towel
Baths
| | |
| --- | --- |
| Shared Indoor | Yes |
| Shared Outdoor | No |
| Shared Sauna | No |
| Privately Reserved | No |
| Ensuite Indoor | No |
| Ensuite Outdoor | No |
Note

Bath hours:16:00~21:00
Meals
Supper
No Meals
Breakfast
No Meals
Chinese restaurant on the 1st floor.

NOTE: the kitchen is not available for use by guests.
Vegetarian Meals

: Included  : Not Included

: Meat
: Fish & Seafood
: Eggs
: Dairy Products
: Katsuo Dashi (fish stock)

| | | | | | |
| --- | --- | --- | --- | --- | --- |
| Type A | | | | | |
| Type B | | | | | |
| Type C | | | | | |
| Type D | | | | | |
| Type E | | | | | |

Vegetarianism is not common in the Japanese countryside. Please double-check the Vegetarian Type which the service provider can accommodate to make sure that it meets your needs. Often being able to eat trace amounts of the ubiquitous Katsuo Dashi (fish stock) makes it easier to find options.

More Information

NOTE: It is difficult and not culturally sensitive to change meal requests, or make new meal demands, onsite when you arrive at accommodations. Vegetarian types must be confirmed during the reservation process and respected during your visit.
Facilities & Services
Internet

Free Wi-Fi (Guestroom)

Credit Card

Not accepted

Language

Basic English
Access
Access Information

Busses run daily to Hongu from JR Kii-Tanabe Station, Shirahama, Shingu and Gojo.
● ~2 hours by bus from Kii-Tanabe Station (bus timetable 1)
● ~2 hour 15 minutes by bus from Shirahama (bus timetable 4)
● ~1 hour by bus from Shingu Station (bus timetable 3)
● ~4 hours 20 minutes by bus from Gojo (bus timetable 6)
● in front of "Ukegawa 請川" bus stop
● 5 minute walk from entrance of the Kogumotori-goe section of the Kumano Kodo pilgrimage route

● 3km from Kumano Hongu Taisha.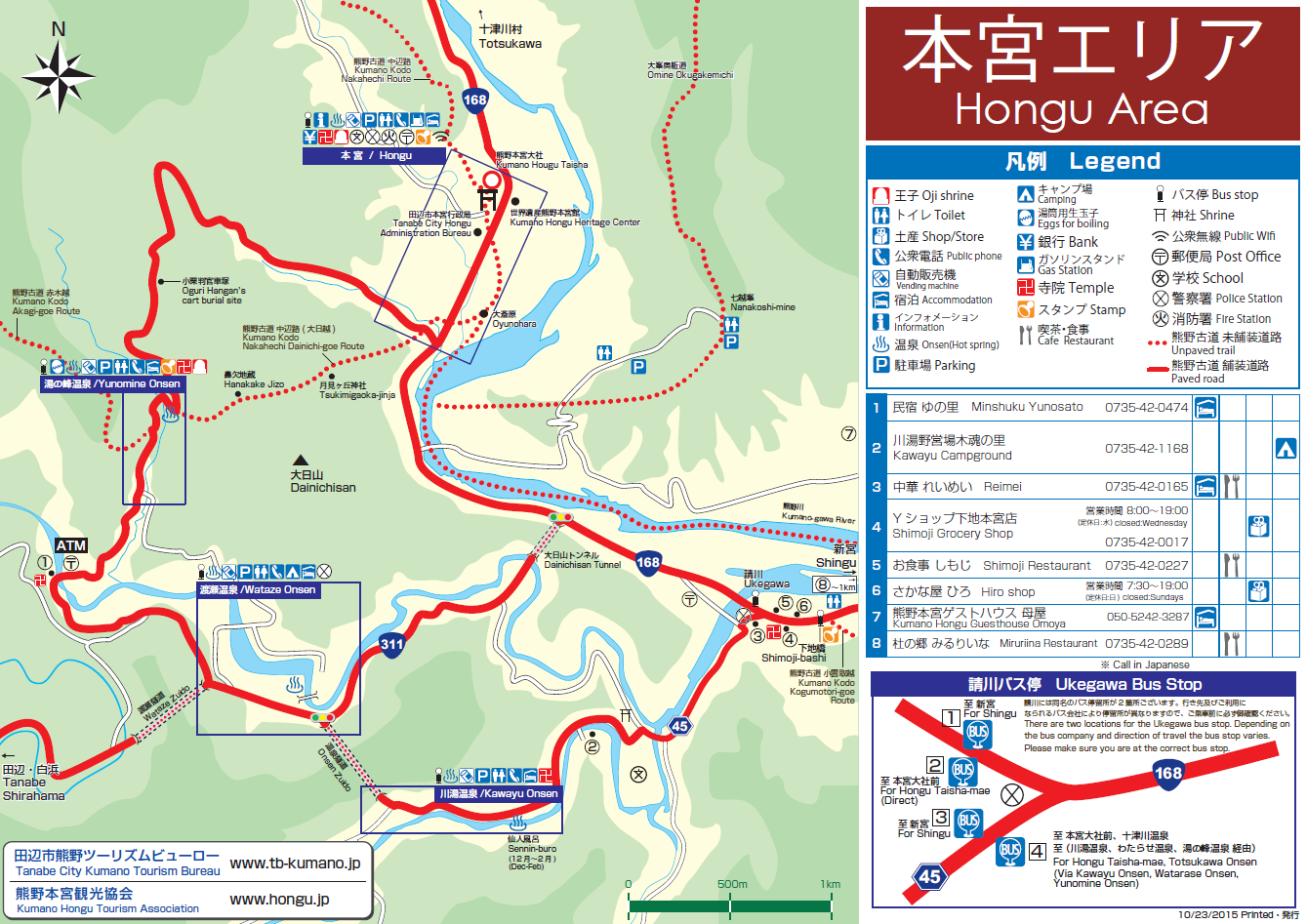 Hongu Area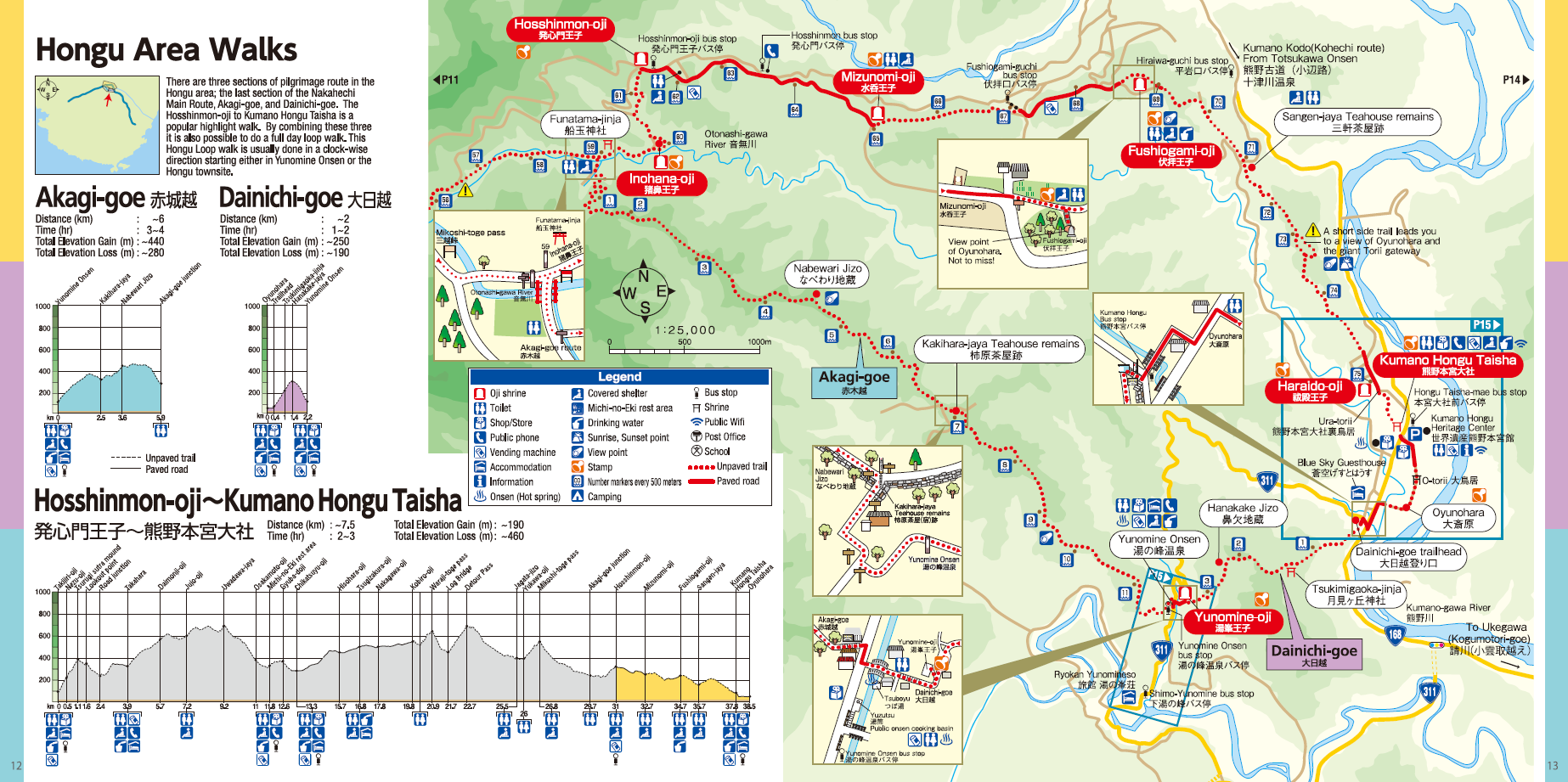 Kumano Kodo Hongu Area Map
Shuttle Service

Not Available
Parking

Up to 10 vehicles (free).