Description
Classic Temple Stay
Muryoko-in, which means immeasurable light, is a temple in Koyasan with a history of over 1000 years. It is dedicated to Amida, the Buddha of Infinite Light and Life; the light of Amida's wisdom and the life of his compassion are boundless. The older facilities at Muryoko-in enhance the feel of this classic temple stay experience. The silent garden and pond behind the temple joins seamless with the forest, and inspires guests with each glance. The highlight of a stay here is the morning ceremony with its hypnotizing esoteric morning rituals.


Morning Buddhist Ceremony & Gomataki Fire Ritual
Every morning at Muryoko-in a Buddhist morning ceremony and Gomataki Fire Ritual takes place in the main worship hall, and is open to guests. The rich colors, smells of incense, and rhythmical chants of the monks are enchanting. One of a few temples in Koyasan, the Gomataki fire ritual is performed daily, in which a sacrificial fire is kindled and consecrated before invoking divinities and making offerings of prayers on wooden tablets. Flames rise and dance from the elaborate alter as if entranced and controlled by the priest reciting mysterious prayers and enigmatic mantras. Near the end of the ceremony worshippers are sometimes invited to the rear of the hall to make offerings of incense, allowing for an otherworldly, immersive experience.
Go To Travel Campaign
The
Go To Travel Campaign
is an initiative of the federal government of Japan to support the tourism industry which has been hard hit by the Covid-19 pandemic. When you book via the KUMANO TRAVEL Community Reservation System (managed by the The Tanabe City Kumano Tourism) we are receiving the financial support aid on behalf of you and relaying this funding onto the local service providers.
This Campaign in only for Japanese citizens or foreign residence of Japan.
IMPORTANT: Cancellation fees are applied as to the terms and conditions of booking based on the original price plan before the discount.
More information about the Go To Travel Campaign Please read this first before making a reservation request >>
Rating & Reviews
Guestroom

Baths

Meals

Location

Reception & Service
Price Plan(s)
Muryoko-in Temple
Temple Stay, Supper & Breakfast


12,100 yen~
Sanitation and Hygienic Measures
Guestrooms
| | |
| --- | --- |
| Western Style | No |
| Japanese Style | Yes |
| Mixed Style | No |
| Other Style | No |
| | |
| --- | --- |
| Number of Rooms | 30 |
| Maximum Guests | 80 |
Some rooms are separated by Fusuma doors.
Ensuite toilet: No
Facilities
Kotatsu heated table
Safety box
Amenities
2 in 1 shampoo
Soap
Toothbrush set
Face towel
Yukata Japanese bathrobe
Slippers
Tea
Baths
| | |
| --- | --- |
| Shared Indoor | Yes |
| Shared Outdoor | No |
| Shared Sauna | No |
| Privately Reserved | No |
| Ensuite Indoor | No |
| Ensuite Outdoor | No |
Note

Ensuite bath: No
Bath hours: 17:00~21:00
● Not available in the morning
Meals
Supper
Meals served in guestroom or dining room from 18:00 (Buddhist vegetarian Shojin-Ryori)
Breakfast
Meals served in guestroom or dining room from 8:00 (Buddhist vegetarian Shojin-Ryori)
●Vegetarian meals only (Shojin-Ryori)
●Where meals will be served is dependent on temple functions and will be decided on the day of your arrival.
Vegetarian Meals

: Included  : Not Included

: Meat
: Fish & Seafood
: Eggs
: Dairy Products
: Katsuo Dashi (fish stock)

| | | | | | |
| --- | --- | --- | --- | --- | --- |
| Type A | | | | | |
| Type B | | | | | |
| Type C | | | | | |
| Type D | | | | | |
| Type E | | | | | |

Vegetarianism is not common in the Japanese countryside. Please double-check the Vegetarian Type which the service provider can accommodate to make sure that it meets your needs. Often being able to eat trace amounts of the ubiquitous Katsuo Dashi (fish stock) makes it easier to find options.

More Information

NOTE: It is difficult and not culturally sensitive to change meal requests, or make new meal demands, onsite when you arrive at accommodations. Vegetarian types must be confirmed during the reservation process and respected during your visit.
Facilities & Services
Facilities
Vending machine
Internet

Free Wi-Fi (Guestroom)
Free Wi-Fi (Lobby)

Credit Card

Not accepted

Traveler's Cheques

Not accepted

Language

English. Level depends on which monks are on duty.
Notes

● Non-smoking facility
● Kotatsu heater

● Kerosene heater

● No TV in any rooms
Access
Access Information

Osaka Namba (Nankai) to Koyasan
● 90 min by train from Nankai Osaka station to Gokurakubashi (極楽橋) station (Nankai Railways)
● 5 min by cable car from Gokurakubashi to Koyasan
● 9 min by bus from Koyasan bound for Okunoin (奥野院). 1 minute walk from "Koya Keisatsumae (高野警察前)" bus stop.
Nankai Railway website >>

Kii-Tanabe (via Ryujin Onsen) to Koyasan
● ~ 3 hr 30 min by bus from Kii-Tanabe Station to Koyasan via Ryujin Onsen (there is a transfer at Gomadanzan) (bus timetable 7)
※ This bus service does not run from the beginning of December to the end of March.
●~3 minutes walk from "Senjuin-bashi (千手院橋)" bus stop.
More bus timetables >>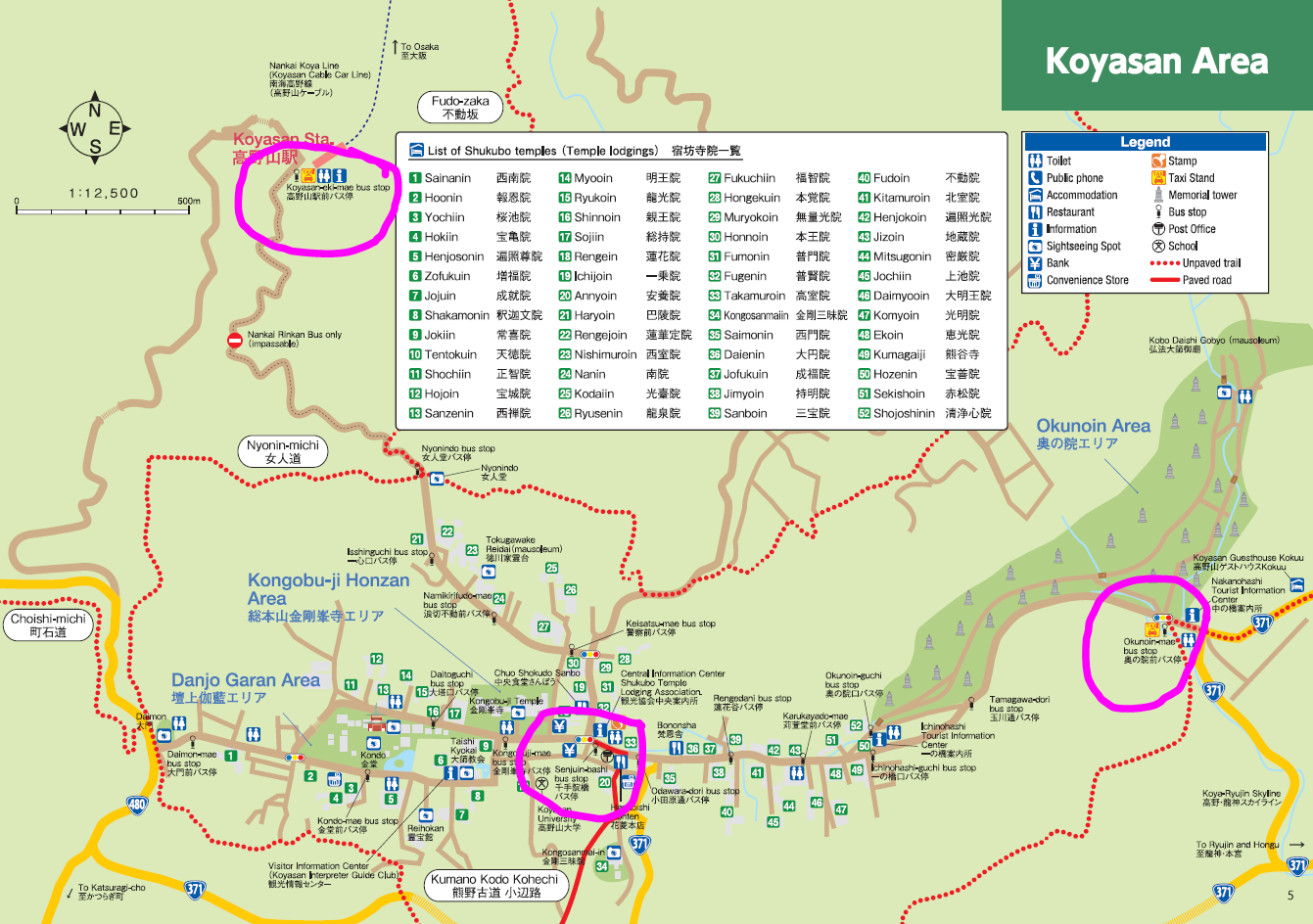 Koyasan Area
Shuttle Service

Not available
Parking

Up to 15 vehicles (free)