Description
Central Hotel
Shingu UI is a well managed hotel in central Shingu city on the south-eastern coast of the rugged Kii peninsula. There are a variety of spacious rooms: single, twin, double, and Japanese style. It is conveniently located about a 10 minute from the JR Shingu station. The Kumano Hayatama Taisha and Kamikura-jinja are also within walking distance. Breakfast is buffet style in the restaurant. The on-site, cozy, Izakaya pub serves local specialties and sake. Great for an evening meal and drinks. In summer there is a beer hall the roof with fantastic views of Mt. Gongen.

◆In an effort to prevent and minimize the spread of the novel coronavirus, meals are subject to change without notice.
Go To Travel Campaign
The
Go To Travel Campaign
is an initiative of the federal government of Japan to support the tourism industry which has been hard hit by the Covid-19 pandemic. When you book via the KUMANO TRAVEL Community Reservation System (managed by the The Tanabe City Kumano Tourism) we are receiving the financial support aid on behalf of you and relaying this funding onto the local service providers.
This Campaign in only for Japanese citizens or foreign residence of Japan.
IMPORTANT: Cancellation fees are applied as to the terms and conditions of booking based on the original price plan before the discount.
More information about the Go To Travel Campaign Please read this first before making a reservation request >>
Rating & Reviews
Guestroom

Baths

Meals

Location

Reception & Service
Price Plan(s)
Shingu UI Hotel
Single, Breakfast


8,500 yen~
Shingu UI Hotel
Twin, Breakfast


8,600 yen~
Shingu UI Hotel
Triple Room, Breakfast


7,800 yen~
Shingu UI Hotel
Single, No Meals


7,300 yen~
Shingu UI Hotel
Twin, No Meals


7,400 yen~
Shingu UI Hotel
Triple Room, No meals


6,600 yen~
Sanitation and Hygienic Measures
Guestrooms
| | |
| --- | --- |
| Western Style | Yes |
| Japanese Style | Yes |
| Mixed Style | No |
| Other Style | No |
| | |
| --- | --- |
| Number of Rooms | 84 |
| Maximum Guests | 119 |
Facilities
Television
Refrigerator
Air conditioning
Amenities
Shampoo
Hair conditioner
Body-wash
Toothbrush set
Comb
Shaver
Hair drier
Face towel
Bath towel
Yukata Japanese bathrobe
Slippers
Tea
Baths
| | |
| --- | --- |
| Shared Indoor | No |
| Shared Outdoor | No |
| Shared Sauna | No |
| Privately Reserved | No |
| Ensuite Indoor | Yes |
| Ensuite Outdoor | No |
Meals
Supper
Meals served in restaurant 17:00~21:00 (Japanese and Western style)
Breakfast
Buffet breakfast in restaurant 7:00~9:00. (Sometimes set breakfasts are served)
● Izakaya tavern 17:30~23:00 (closed Sunday)
● Restaurant lunch times 11:00~14:00. (Western and Japanese menu)
Vegetarian Meals

: Included  : Not Included

: Meat
: Fish & Seafood
: Eggs
: Dairy Products
: Katsuo Dashi (fish stock)

| | | | | | |
| --- | --- | --- | --- | --- | --- |
| Type A | | | | | |
| Type B | | | | | |
| Type C | | | | | |
| Type D | | | | | |
| Type E | | | | | |

Vegetarianism is not common in the Japanese countryside. Please double-check the Vegetarian Type which the service provider can accommodate to make sure that it meets your needs. Often being able to eat trace amounts of the ubiquitous Katsuo Dashi (fish stock) makes it easier to find options.

More Information

NOTE: It is difficult and not culturally sensitive to change meal requests, or make new meal demands, onsite when you arrive at accommodations. Vegetarian types must be confirmed during the reservation process and respected during your visit.
Facilities & Services
Facilities
Elevator
Banquet hall
Meeting room
Restaurant
Vending machine
Alcohol vending machine
Credit Card

VISA
MasterCard
JCB
AMERICAN EXPRESS
Diners
NICOS

Language

Basic English

Services

Massage
Luggage storage
Shipping
Notes

Massage service 4,950 yen / 50 min
Access
Access Information

JR Shingu station is located on the south-east coast of the Kii Peninsula.
● Trains run daily from Osaka and Nagoya.
● Busses to/from Hongu area daily (bus timetable 3) (bus timetable 4)
● between 5~10 minutes walk from JR Shingu station Excite JR Shingu station, turn left.
Turn left and cross the railway tracks.
Go straight to the traffic lights, turn left.
Walk down this main road and you will see it on your right.

※ Within walking distance of Aikido Kumano Juku Dojo.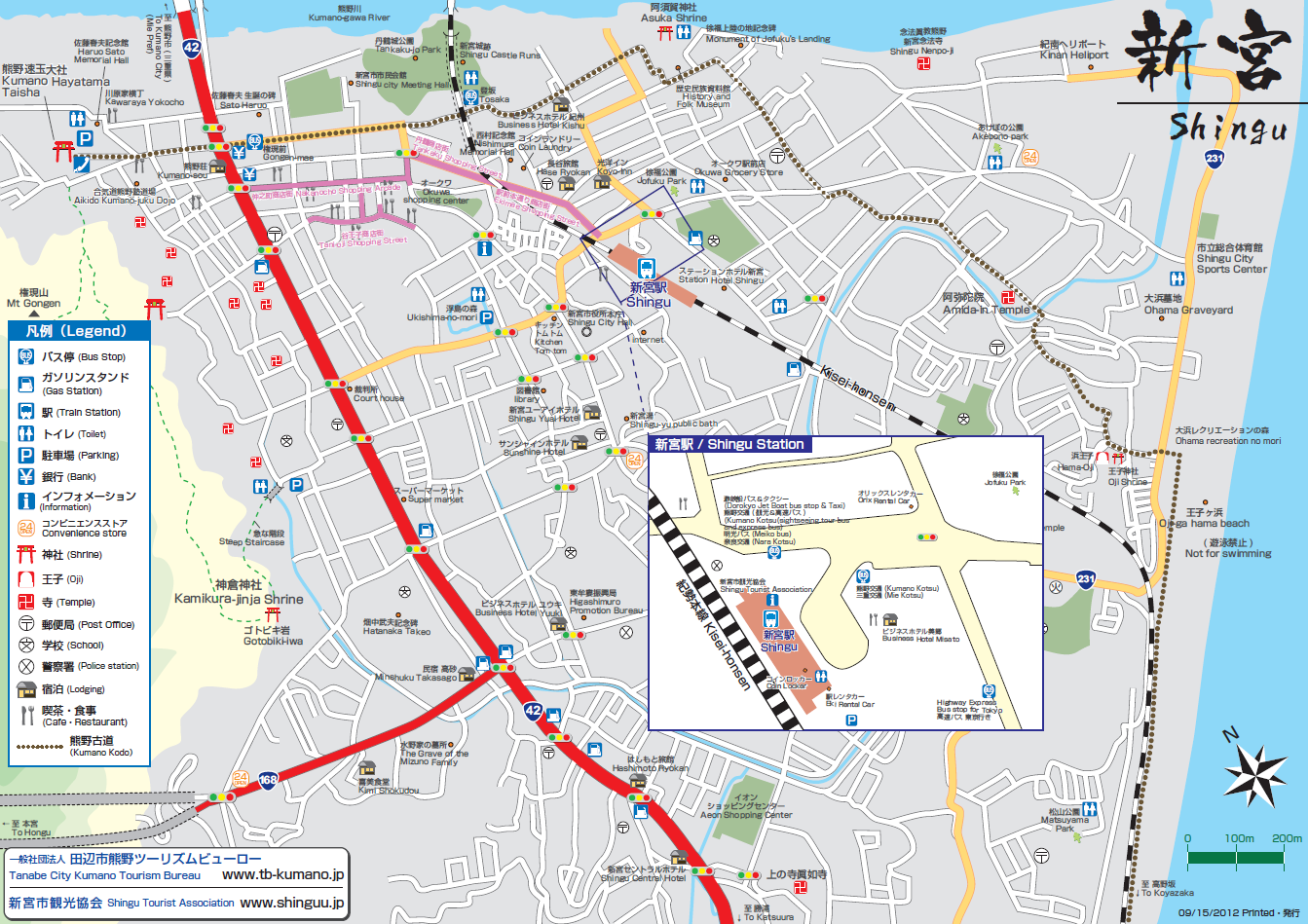 Shingu
Shuttle Service

Not available
Parking

Up to 30 vehicles, in three different parking lots (free)