Description
Kumano Kodo Mountain Ascetic Cottage
Guest House Asyl is a rental house in the isolated Fushiogami settlement along the Kumano Kodo pilgrimage route in the Hongu area. It is located just north, over a ridge from the scenic lookout Fushiogami-oji and managed by a young family who lives nearby, with a cozy soba restaurant in their house. For those walking the Kumano Kodo from Chikatsuyu or Nonaka area (Tsugizakura-oji) this is an excellent place to stay.

Mr. Nakane has a passion for the spiritual culture, cooking, and rural lifestyle of Kumano, being a Yamabushi mountain ascetic (a practitioner of the Shugendo faith). To this end they are working towards an alternative style lodging with reduced garbage, bio-recycling and no Wifi.

Recently, his restaurant Yamabushisoba Ogamian was awarded a Green Michelin Star in 2022 for its sustainable and environmentally friendly practices.

The two-story wooden cottage has guestrooms on the second floor, and sitting area, kitchen, bath and toilet on the ground floor. It is a short walk from the family's home and restaurant, where meals are served, often with home-grown ingredients. There are hammocks to relax in and table tennis for passing a rainy day.

Private rental: only one group per day.
Check-in: at soba restaurant.
Note: No Wi-fi available.

New reservations are not being accepted at this time. Sorry for any inconvenience.

Full Name
Guest House Asyl
山伏宿 アジール(Guest House Asyl)旧山伏宿 拝庵
Address
781 Fushiogami, Hongu-cho, Tanabe City, Wakayama Prefecture, 647-1743
〒647-1743 和歌山県田辺市本宮町伏拝781
Rating & Reviews
Guestroom

Baths

Meals

Location

Reception & Service
Sanitation and Hygienic Measures
Guestrooms
| | |
| --- | --- |
| Number of Rooms | 2 |
| Maximum Guests | 7 |
● Please layout futon by yourself.
● No smoking in house or restaurant.
Facilities
Refrigerator
Air conditioning
Amenities
Shampoo
Hair conditioner
Soap
Hair dryer
Face towel
Bath towel
Yukata Japanese bathrobe
Tea
Coffee
Baths
How to take a Japanese bath
Normal rural Japanese home bath. Wash outside of bath and soak in tube.
Meals
Supper
Meals served in restaurant at manager's home nearby from 17:30~19:30. (Japanese style)
Breakfast
Meals served in restaurant at manager's home nearby from 6:30~8:00.
● All meals are served in the owner's home at their Soba restaurant. Soba is buckwheat noodles.
● Selection of local Craft Beer and Sake.
Vegetarian Meals

: Included  : Not Included

: Meat
: Fish & Seafood
: Eggs
: Dairy Products
: Katsuo Dashi (fish stock)

| | | | | | |
| --- | --- | --- | --- | --- | --- |
| Type A | | | | | |
| Type B | | | | | |
| Type C | | | | | |
| Type D | | | | | |
| Type E | | | | | |

Vegetarianism is not common in the Japanese countryside. Please double-check the Vegetarian Type which the service provider can accommodate to make sure that it meets your needs. Often being able to eat trace amounts of the ubiquitous Katsuo Dashi (fish stock) makes it easier to find options.

More Information

NOTE: It is difficult and not culturally sensitive to change meal requests, or make new meal demands, onsite when you arrive at accommodations. Vegetarian types must be confirmed during the reservation process and respected during your visit.
Facilities & Services
Credit Card

Not accepted

Traveler's Cheques

Not accepted

Others

● Coffee Maker
● Toaster
● Refrigerator
● No Wi-Fi available
Notes

Washer and dryer, detergent, free use.
Access
Access Information

The house located just north, over a ridge from the scenic lookout Fushiogami-oji.

If you are walking from Hosshinmon-oji (from west to east) on the Kumano Kodo it is near the Fushiogami-jaya rest area which has a covered shelter and toilet.

Just past this shelter is a house. On the far side of the house on the left climb the small trail between the tea shrubs and descend to the opposite site. Beside the temple at the end of the road is the restaurant and managers home.

There is a staircase up to the house. At the base of the stairs is a wooden sign with calligraphy writing on it.

~30 minutes walk from Fushiogami-guchi bus stop.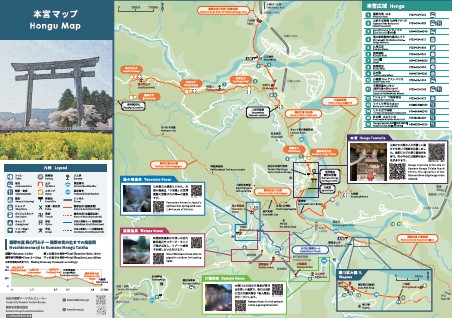 Hongu Map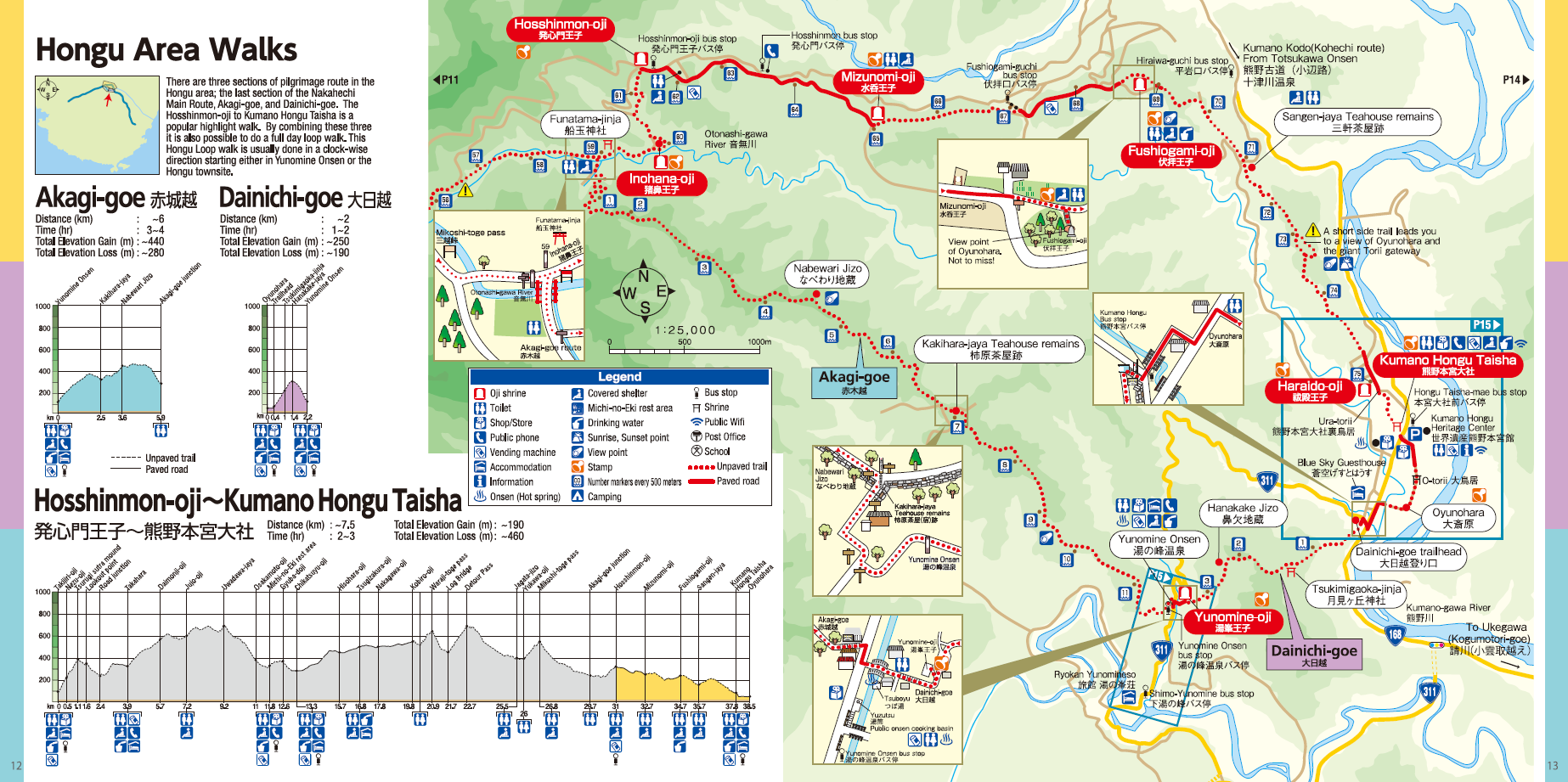 Kumano Kodo Hongu Area
Shuttle Service

Shuttle available from/to Hongu Taisha-mae bus stop and Hosshinmon-oji.
※ Please make reservations for shuttle in advance.
Parking

Free Parking for up to six vehicles.