Description
Kumano Kodo House in Chikatsuyu
Yamazakura Annex is part of the Chikatsuyu Cherry Garden "Sakura-no-Sono" set of houses on the Kumano Kodo pilgrimage route on the west side of Chikatsuyu village, the first buildings on the left when entering the village.

It is a renovated two story house with shared facilities on the first floor. The three guestrooms are different sizes and a combination of western and Japanese style.

Next to the guest house are terraced fields planted with cherry trees, from which the name of the accommodation is derived: Yamazakura means "mountain cherry". From this vantage point guests have a view of the village.

Meals are a combination of a delivery and handmade dishes for supper, and breakfast at a local café.


Reservation: limited only one group per day.
Until the end of March 2021.
Go To Travel Campaign
The
Go To Travel Campaign
is an initiative of the federal government of Japan to support the tourism industry which has been hard hit by the Covid-19 pandemic. When you book via the KUMANO TRAVEL Community Reservation System (managed by the The Tanabe City Kumano Tourism) we are receiving the financial support aid on behalf of you and relaying this funding onto the local service providers.
This Campaign in only for Japanese citizens or foreign residence of Japan.
IMPORTANT: Cancellation fees are applied as to the terms and conditions of booking based on the original price plan before the discount.
More information about the Go To Travel Campaign Please read this first before making a reservation request >>
Full Name
Yamazakura Annex
近露櫻の園 別館 山櫻
Address
646-1402 Chikatsuyu, Nakahechi-cho, Tanabe City, Wakayama Prefecture 646-1402
〒646-1402 和歌山県田辺市中辺路町近露730-5
Price Plan(s)
Yamazakura Annex
Supper, Breakfast & Lunch box


10,500 yen~
Yamazakura Annex
Supper & Breakfast


10,000 yen~
Yamazakura Annex
Private Rental | Supper, Breakfast & Lunch Box


45,000 yen~
Sanitation and Hygienic Measures
Guestrooms
| | |
| --- | --- |
| Western Style | Yes |
| Japanese Style | No |
| Mixed Style | No |
| Other Style | No |
| | |
| --- | --- |
| Number of Rooms | 3 |
| Maximum Guests | 7 |
● One western guestroom with bed on 1st floor.
● Two guestrooms with flooring and futon mattresses on 2nd floor.

● Non-smoking facility
Facilities
Television
Refrigerator
Air conditioning
Microwave
Desk
● Please lay futon by yourself.
Amenities
Shampoo
Hair conditioner
Body-wash
Toothbrush set
Hair drier
Face towel
Bath towel
Slippers
Tea
Coffee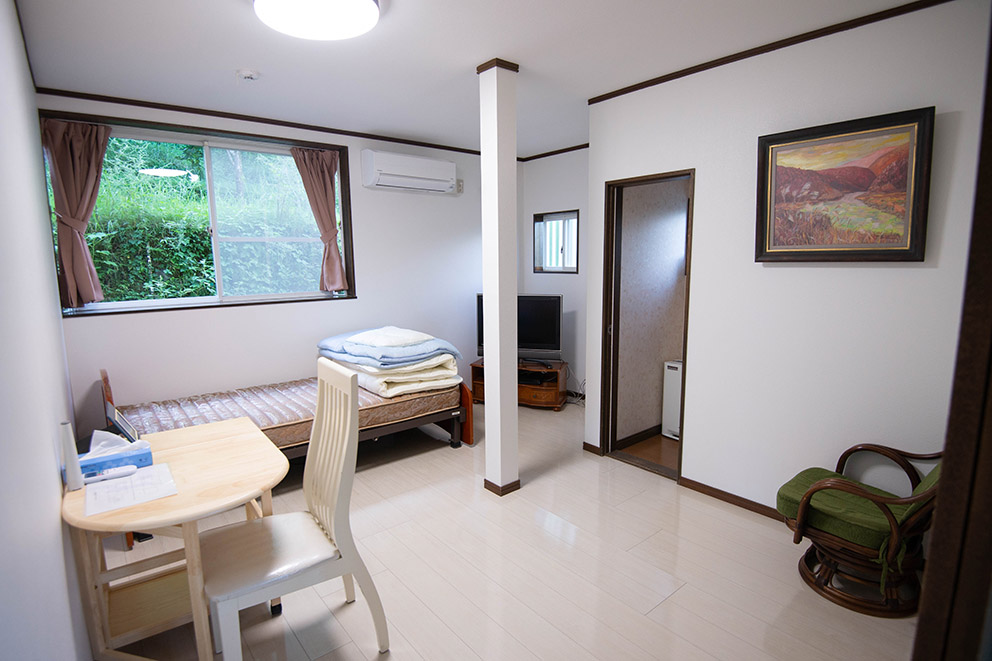 1st floor room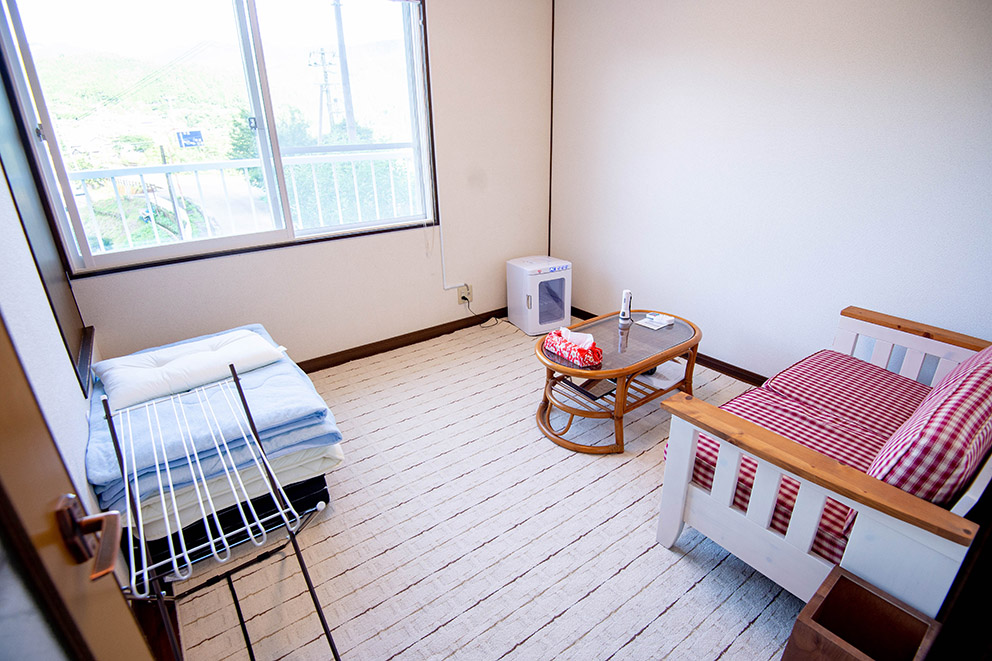 2nd floor room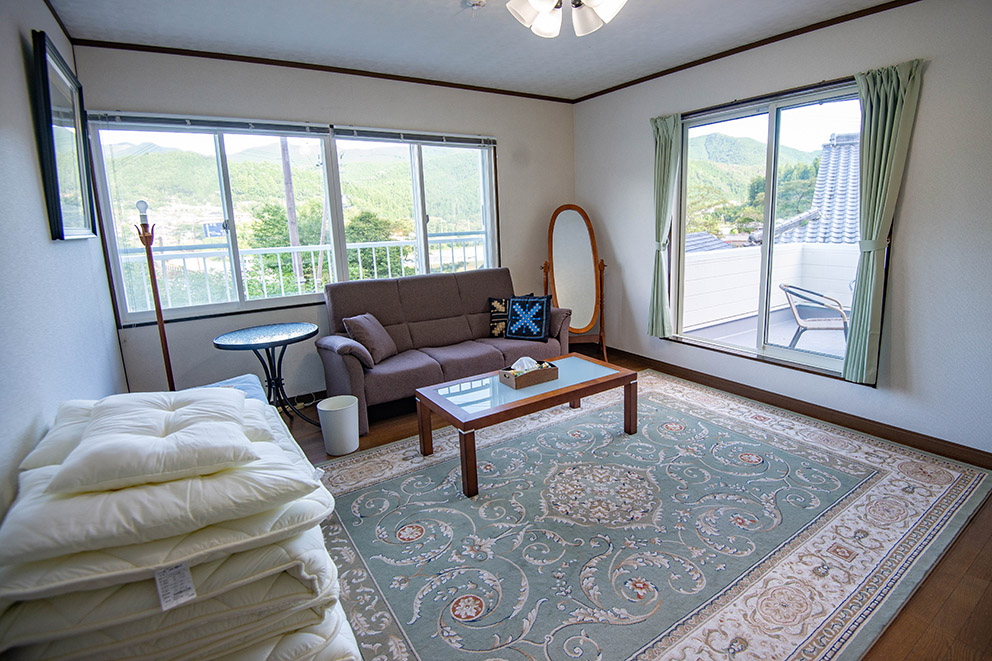 2nd floor room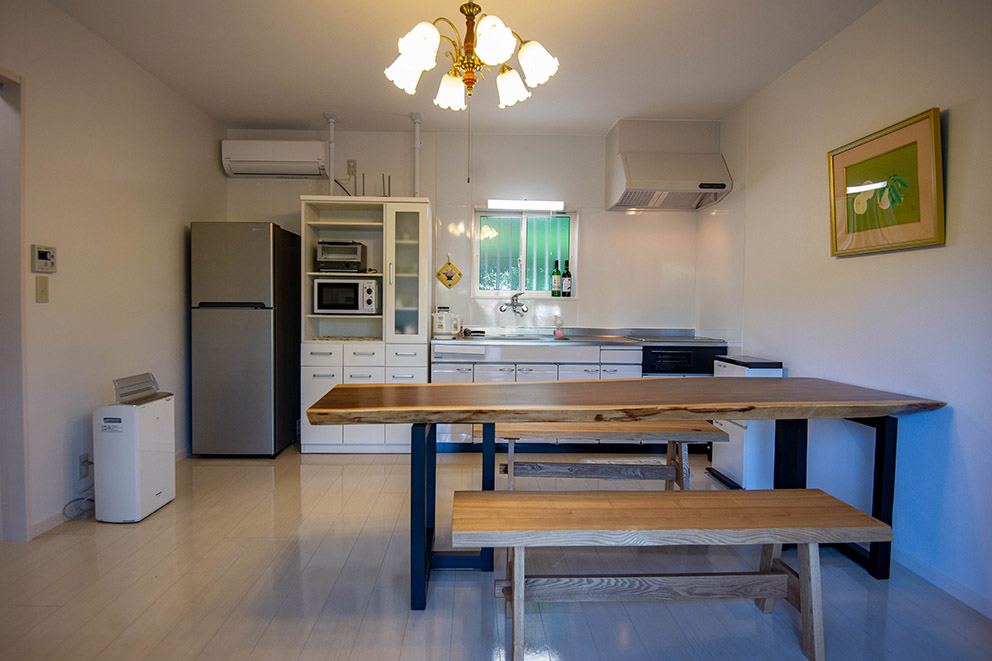 Communal area
Baths
| | |
| --- | --- |
| Shared Indoor | Yes |
| Shared Outdoor | No |
| Shared Sauna | No |
| Privately Reserved | No |
| Ensuite Indoor | No |
| Ensuite Outdoor | No |
Note

● Typical Japanese home bath.

● Can be used privately between 15:00-20:00.
Meals
Supper
Japanese style, served in dining room from 18:00-19:30
Breakfast
Morning Set, served at Cafe Hashiori-jaya from 7:00-10:00
Lunch
Japanese style Bento box, pick up in check-out
● Able to cater to vegetarians on request
(Meat, Fish, Eggs, Seafood and Diary products can be removed)
※ Choice of Kobu Dashi available instead of Katsuo Dashi (fish stock).
● Unable to cater to guests with food allergies.

Please let us know details of what you cannot eat in advance.

※ Supper is a combination of supper bento box delivered from Hashiori-chaya cafe, and some dishes made by the owner.
Vegetarian Meals

: Included  : Not Included

: Meat
: Fish & Seafood
: Eggs
: Dairy Products
: Katsuo Dashi (fish stock)

| | | | | | |
| --- | --- | --- | --- | --- | --- |
| Type A | | | | | |
| Type B | | | | | |
| Type C | | | | | |
| Type D | | | | | |
| Type E | | | | | |

Vegetarianism is not common in the Japanese countryside. Please double-check the Vegetarian Type which the service provider can accommodate to make sure that it meets your needs. Often being able to eat trace amounts of the ubiquitous Katsuo Dashi (fish stock) makes it easier to find options.

More Information

NOTE: It is difficult and not culturally sensitive to change meal requests, or make new meal demands, onsite when you arrive at accommodations. Vegetarian types must be confirmed during the reservation process and respected during your visit.
Facilities & Services
Internet

Free Wi-Fi (Guestroom)
Free Wi-Fi (Lobby)

Credit Card

Not accepted

Traveler's Cheques

Not accepted

Language

Basic English

Services

Bicycle rental
Notes

● Kitchen is available for guests to use.
(Rice-cooker and kitchenwares equipped)
● Washing machine: 300 yen/one load.
(Free detergent)
● Bicycle rental (Free)
Access
Access Information

Busses run daily to Chikatsuyu from Kii-Tanabe Station, Shirahama and Hongu.



● ~1 hour by bus from Kii-Tanabe Station

(bus timetable 1)


● ~1 hour by bus from Hongu

(bus timetable 2)


● less than 5 minute walk from "Chikatsuyu-oji 近露王子" bus stop

● less than 5 walk from "Nakahechi Art Museum なかへち美術館" bus stop

● First buildings in Chikatsuyu village when approaching on the Kumano Kodo from the west.
Chikatsuyu Village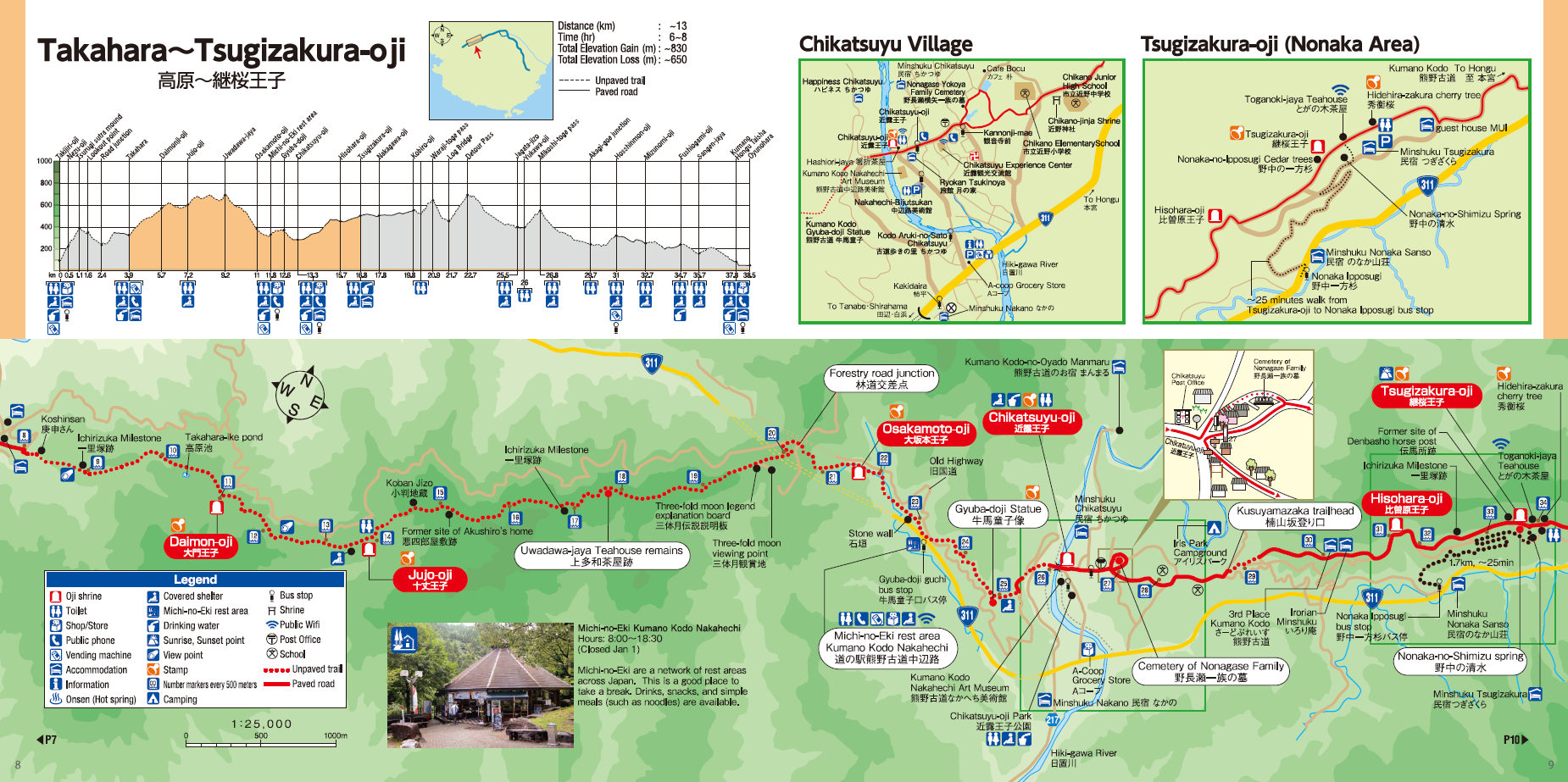 Kumano Kodo Takahara~Tsugizakura-oji Map
Shuttle Service

Not available.
Parking

For two vehicles: Free.
Please ask for parking spot when making the reservation request.