Kumano Kodo Iseji Route, Matsumoto-toge Pass, Hananoiwaya & Onigajo (with taxi)
Kodo Walkers
Description
This route starts at, what some believe, is the oldest Shinto shrine, Hana-no-Iwaya, then to the dynamic rock formations of Onigajo, eroded by wind and sea over many millennia. Finally to Matsumoto pass, with its beautiful stone steps leading to the pass with a breathtaking view of Shichirimihama shoreline.

This short course is a treasure-trove of cultural and historical significance.

This tour starts from Kumanoshi Station, takes guests by taxi to Hana-no-Iwaya, Shishi-Iwa, and Onigajo. Guests then hike up and over Matsumoto-toge Pass back to Kumanoshi Station.

Please note: this tour includes a taxi. The taxi can not be canceled last minute without canceling the entire tour.
Details
Tour Map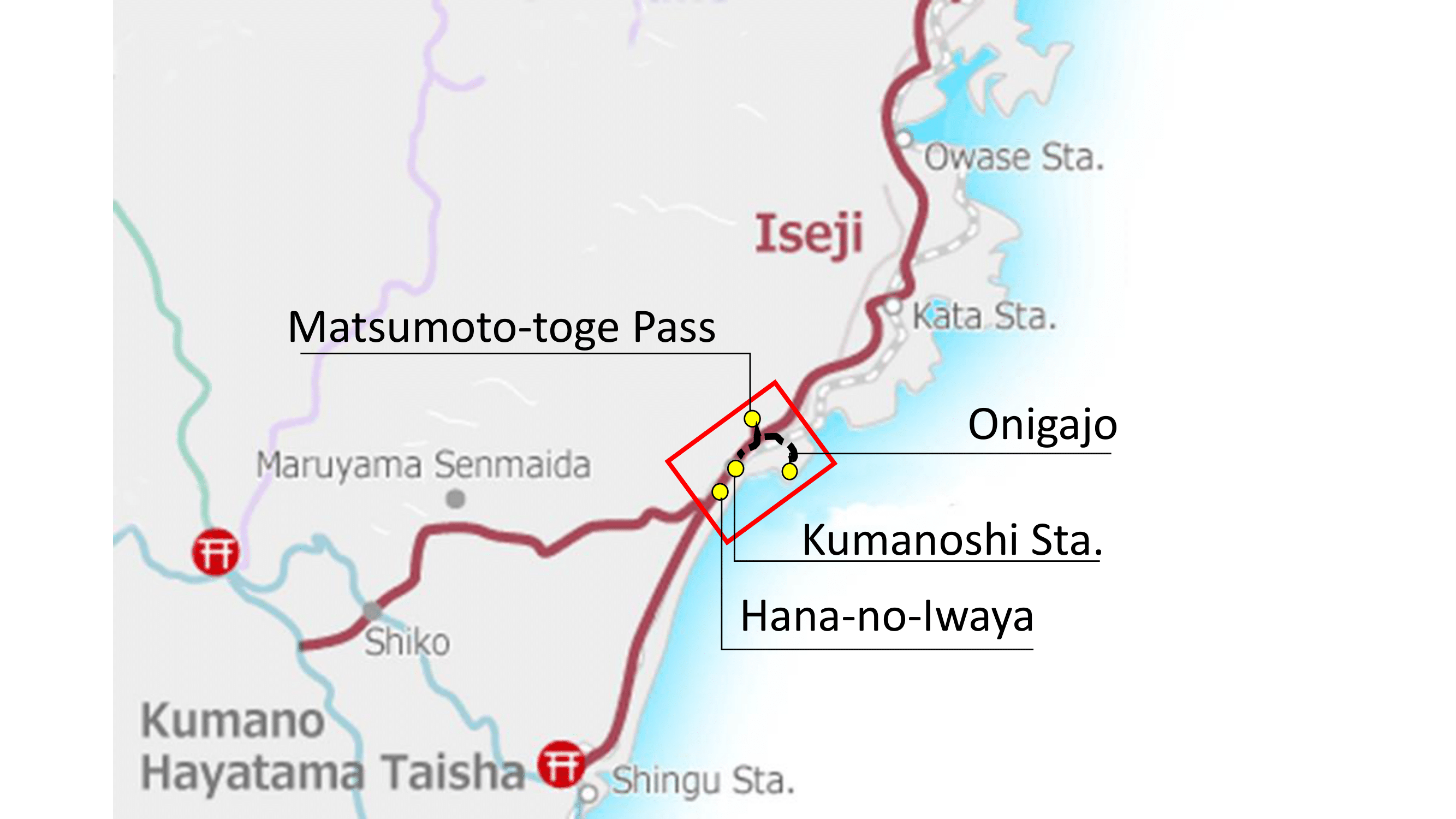 Tour Options


OPTION 1
Meeting Time
8:30

Tour Finish
12:30
Tour Options


OPTION 2
Meeting Time
13:00
Tour Finish
16:30
※ Please specify which tour time you would like to join when making the reservation request.


Price Notice
※ Set price for up to 10 people per tour (1 guide).
※ 2,260 yen for each additional guest. (2,200 yen each with taxi option)
※ Price does not include cost of guide's lunch.
Lunch
Lunch is not included in this tour.
Notes
Please:
● wear appropriate clothing (long pants, socks, and hat recommended) and walking shoes.
● be prepared for rain.
● bring a lunch and drinks.