Kumano Kodo Walk, Takijiri-oji to Chikatsuyu-oji
Kumano TREK, English Speaking Guides
Description
This guided walking tour is from Takijiri-oji to Chikatsuyu-village. Takijiri-oji is the spiritual entrance to the sacred Kumano mountains. It is the most common starting point for pilgrimage walks on the UNESCO World Heritage Kumano Kodo.

The walk is relatively short but steep climb to the settlement of Takahara. The trail is a mixture of dirt, tree roots, stone steps, and cobble stones. It is in the forest for most of the time with a couple of panoramic lookout spots.

From Takahara the trail continues up through the forest to the east. The walk finishes by descending into the Chikatsuyu village along the Hiki-gawa river.

Your local English speaking guide will introduce you to the history and culture of the area.

Most people choose to stay at one of the accommodations here (reservations highly recommended).
Details
Tour Outline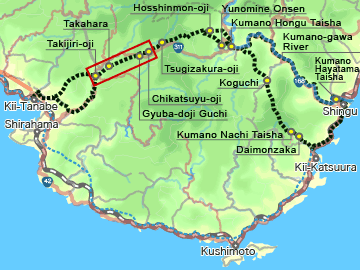 Tour Options


OPTION 1
Bus dep: Kii-Tanabe
6:35
Takijiri bus stop meeting Time
7:13
Chikatsuyu-oji End of Tour
16:30
OPTION 2
Bus dep: Kii-Tanabe
6:50
Takijiri bus stop meeting Time
7:28
Chikatsuyu-oji End of Tour
16:50
※ Please specify which tour time you would like to join when making the reservation request.
If you would like a different time, please contact us for details.
Price Notice
39,000 yen per group
1~10 people
※ Maximum 10 people per tour.
※ Price includes insurance fee.
※ Prices does not included transportation fees or meals for participants, but does include meals and transportation costs for the guides.
Children
Please contact us for pricing for children.

NOTE: Kumano Trek may not accept children on some guided walks.
Access
Public Bus
● Daily busses leave from Kii-Tanabe station and Shirahama for Takijiri. (Bus timetable #1)
● The Takijiri 滝尻 bus stop is across highway 311 from the Kumano Kodo Kan pilgrimage center.
More bus timetables

Taxi
● Another transportation option is to take a taxi.
● JR Kii-Tanabe or JR Shirahama to Takijiri
Book online
Luggage
If you have luggage there are coin-lockers at the JR Kii-Tanabe station where you can store them during your walk.
More information
If you are staying in Chikatsuyu then the following luggage shuttle service is also a good option.
Luggage Shuttle Service Takijiri area to Chikatsuyu/Nonaka area


Please note that luggage shuttle is only available for those who made reservations for accommodations via the Kumano Travel site. 7 days or more in advance is needed to book daily luggage shuttles.
Lunch
Lunch is not inclded in this tour. Please eat lunch before you arrive, or bring something simple with you eat along the way.
After Tour
The most common option is to: ● Stay overnight in
Chikatsuyu
, reservations are highly recommended.
Notes
Please:
● wear appropriate clothing and walking shoes.
● be prepared for rain.
● bring a lunch and drinks.