Kumano Kodo Walk, Takahara to Chikatsuyu-oji
Kumano TREK, English Speaking Guides
Description
This walk is from the ridge top settlement of Takahara to the village of Chikatsuyu along the Nakahechi route of the Kumano Kodo. It is mostly on a forested path that climbs up and over a pass.
Details
Tour Outline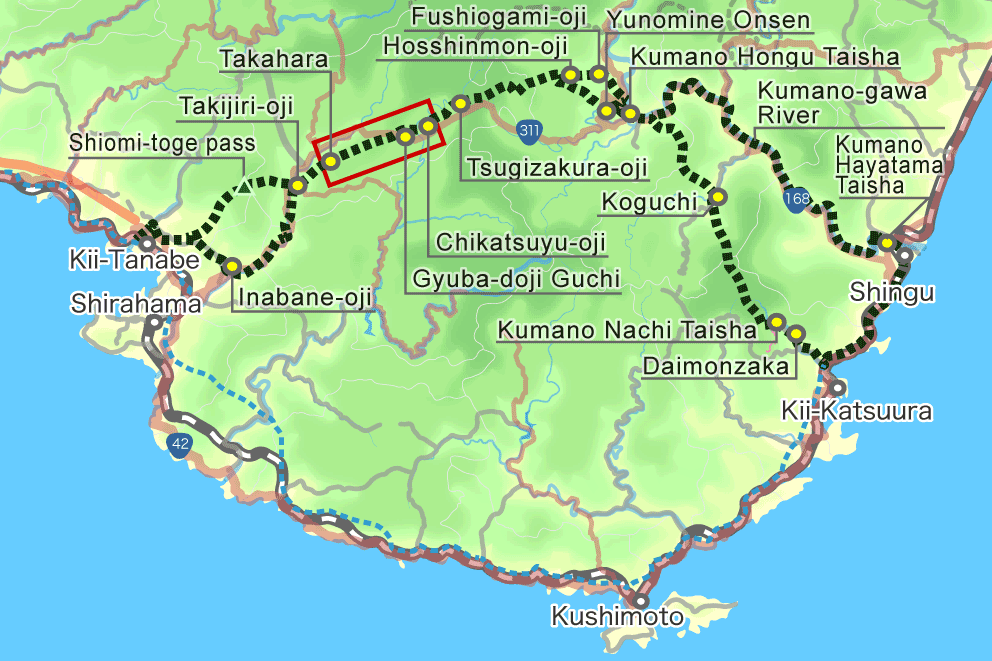 Tour Options


OPTION 1
Meeting Time
8:00
End of Tour
~14:00
※ Please specify which tour time you would like to join when making the reservation request.
If you would like a different time, please contact us for details.
Price Notice
28,000 yen per group
1~10 people
※ Maximum 10 people per tour.
※ Price includes insurance fee.
※ Prices does not included transportation fees or meals for participants, but does include meals and transportation costs for the guides.
Children
Please contact us for pricing for children.

NOTE: Kumano Trek may not accept children on some guided walks.
Access
This walk is best for those staying at Takahara.
Luggage
If you have large baggage there is a luggage shuttle service available from Kiri-no-Sato Takahara Lodge or Tenku-no-Satoyama to next accommodation.
Book online
More luggage shuttle service information
Please note that luggage shuttle is only available for those who made reservations for accommodations via the Kumano Travel site. 7 days or more in advance is needed to book daily luggage shuttles.
Lunch
Lunch is not inclded in this tour. Please eat lunch before you arrive, or bring something simple with you eat along the way.
After Tour
It is easiest to stay the night in Chikatsuyu village, bus it is possible to take a bus back to Tanabe or onto the Hongu area.
Notes
Please:
● wear appropriate clothing and walking shoes.
● be prepared for rain.
● bring a lunch and drinks.
Map