Kumano Kodo Walk, Tsugizakura-oji (Kobiro-toge) to Kumano Hongu Taisha
Kumano TREK, English Speaking Guides
Description
From Tsugizakura-oji the trail continues along the old highway to Kobiro-toge pass. From here the trail climbs and descends repeatedly as you head east towards the Kumano Hongu Taisha sacred site.

From Hosshinmon-oji the atmosphere changes, as you pass through settlements nestled on the ridge line. There are some nice panoramic views points along this section. The last 7 kilometers are mostly downhill.

The Kumano Hongu Taisha is one of the three Grand Shrines of Kumano is the finishing point of this walk. For those that can walk a little further, the massive shrine gate of Oyunohara is also a must see.
Details
Tour Outline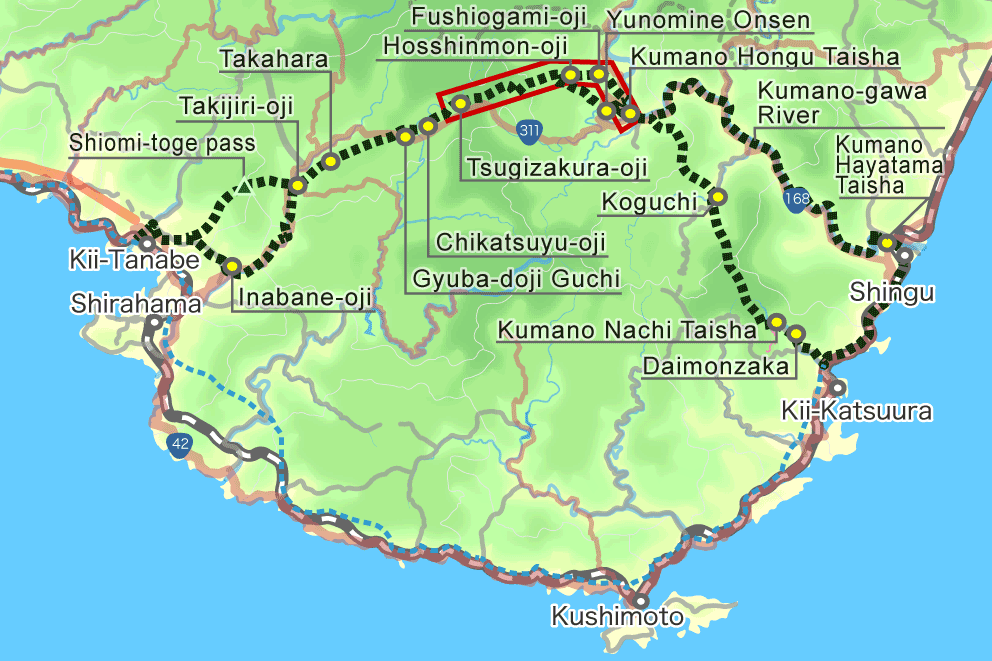 Tour Options


OPTION 1
Meeting Time
7:30


※ Please let us know where you are staying the day before, so that we will arrange the meeting with guide at your accommodations.

End of Tour
~17:00
OPTION 2
Meeting Time
7:33
※ Take 6:16 bus from Kii-Tanabe, arriving at Kobiro-Toge 小広峠 bus stop at 7:33.
End of Tour
~17:00

※ Please specify which tour time you would like to join when making the reservation request.
If you would like a different time (for example if you staying in the Nonaka area), please contact us for details.
Price Notice
42,600 yen per group
1~10 people
※ Maximum 10 people per tour.
※ Price includes insurance fee.
※ Prices does not include transportation fees or meals for participants but does include meals and transportation costs for the guides.
children
Please contact us for pricing for children.

NOTE: Kumano Trek may not accept children on some guided walks.
Luggage
If you have large baggage there is a
luggage shuttle service
available from accommodation in Nonaka area to accommodation in Hongu area.
Please note that luggage shuttle is only available for those who made reservations for accommodations via the Kumano Travel site. 10 days or more in advance is needed to book daily luggage shuttles.
Lunch
It is usually easiest to order your lunch box from the accommodation. Book a lunch box plan to take advantage of this service.
Notes
Please:
● wear appropriate clothing and walking shoes.
● be prepared for rain.
Map