Kumano Kodo Walk, Hongu Loop
Kumano TREK, English Speaking Guides
Description
The loop walk in the Hongu area links up three different sections of trail to make a circuit through the mountains. This tour starts and finishes in Yunomine Onsen going in a clockwise direction: first the Akagi-goe route, then the main Nakahechi route (Hosshinmon-oji to Kumano Hongu Taisha), and then the Dainichi-goe route back to Yunomine Onsen.

The trail passes through tiny settlements in the mountains with panoramic viewpoints. A visit to the UNESCO World Heritage Kumano Hongu Taisha is included in the trip.

Your guide will bring the pilgrimage to life with stories of sites along the way.

This walk is perfect for those staying two nights in Yunomine Onsen, and who want to do a longer, full-day walk on the Kumano Kodo pilgrimage route.

NOTE: If you do not want to complete the walk from Hongu to Yunomine Onsen, it is possible to take a public bus (bus cost not included in the tour).
OPTION: This walk can also begin in Hongu on request.
Details
Tour Outline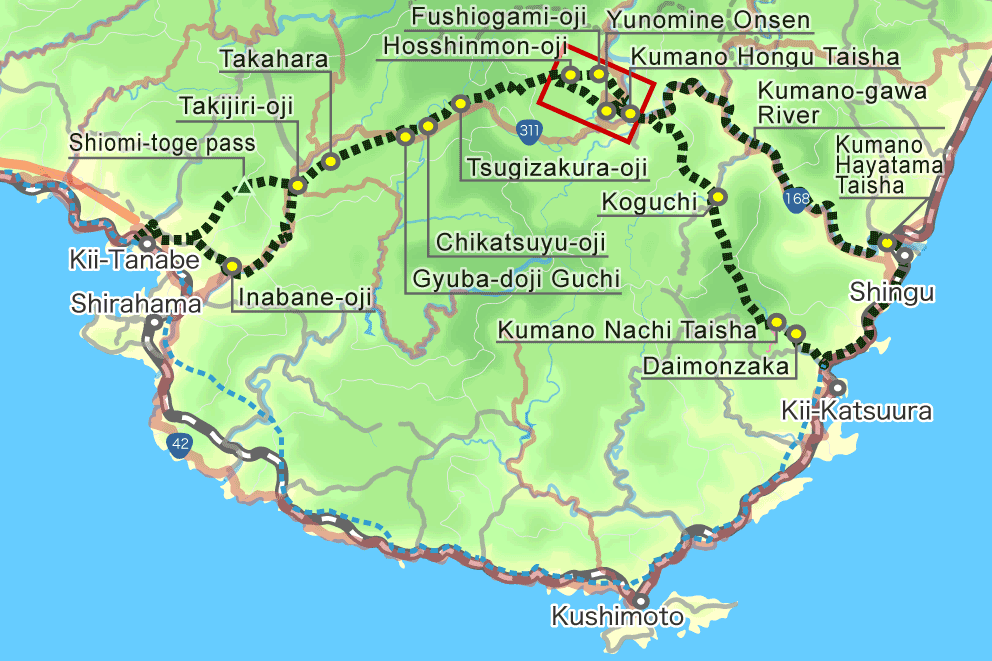 Tour Options

OPTION 1

Meeting Time
8:30
End of Tour
~16:30

※ Please specify which tour time you would like to join when making the reservation request.
Price Notice
39,000 yen per group
1~10 people
※ Maximum 10 people per tour.
※ Price includes insurance fee.
※ Prices does not included transportation fees or meals for participants, but does include meals and transportation costs for the guides.
Children
Please contact us for pricing for children.

NOTE: Kumano Trek may not accept children on some guided walks.
Access
This walk is a good option for those staying in
Yunomine Onsen
for two nights.
Lunch
Not included in this tour.
Are you interested in trying the taste of the Kumano mountains? A popular and delicious
"Kumano Kodo" lunch
for walkers is offered by Minshuku Omuraya.
This can be delivered to your accommodation in Yunomine Onsen in the morning before your walk.
It contains onigiri rice balls, including mehari-zushi (rice wrapped in a pickled mustard leaf, a local specialty). It also includes seasonal side dishes, such as mushrooms, bamboo shoots, etc.
Notes
Please:
● wear appropriate clothing and walking shoes.
● be prepared for rain.
● bring a lunch and drinks.
Map