Kumano Kodo Walk, Kogumotori-goe & Ogumotori-goe, 2 days (Hongu to Nachisan)
Kumano TREK, English Speaking Guides
Description
It is a two day walk from the Hongu area to Kumano Nachi Taisha and the Nachi falls, Japan's tallest. Each goes over a mountain pass: the first day is called Kogumotori-goe, and the second Ogumotori-goe.

The Kogumotori-goe begins near the Ukegawa trailhead and finishes in Koguchi, where walkers overnight.

The Ogumotori-goe is the tougher of the two, climbing continuously (almost 800 meters in elevation gain) over the first 4 kilometers. At Funami-toge pass though, walkers are blessed with a panoramic view of the expansive Pacific Ocean for their efforts.

The Nachi falls are believed to be divine and are an inspirational spot to complete the trek.
Details
Day 1
Tour Outline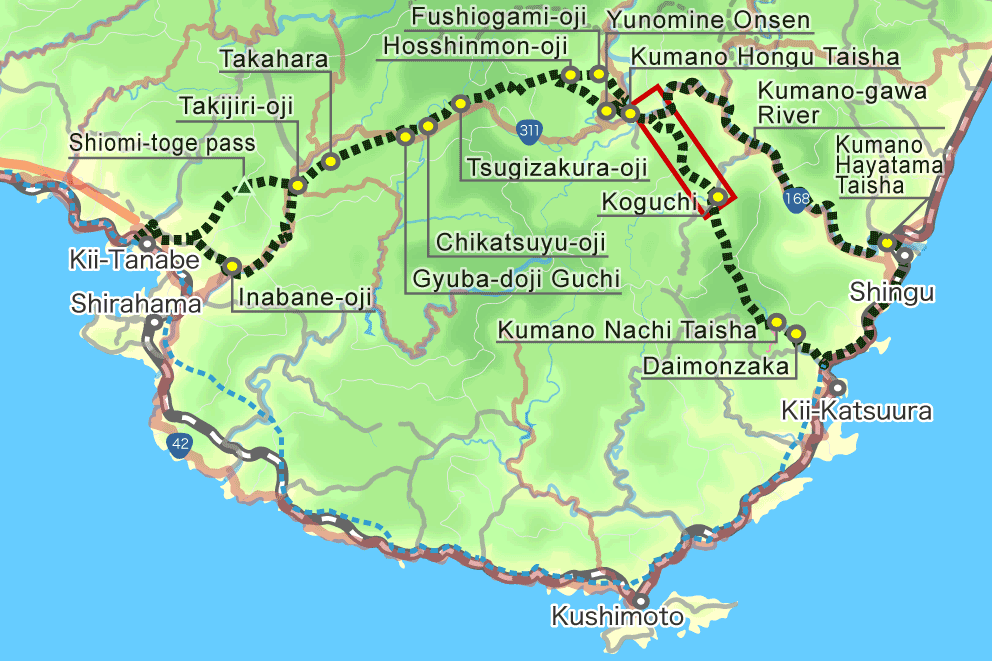 Tour Options


OPTION 1
Meeting Time
8:44
Bus times are Hongu Taisha-mae at 8:20,
Yunomine Onsen 8:31 and Kawayu Onsen 8:39.
End of Tour
~15:00
Day 2
Tour Outline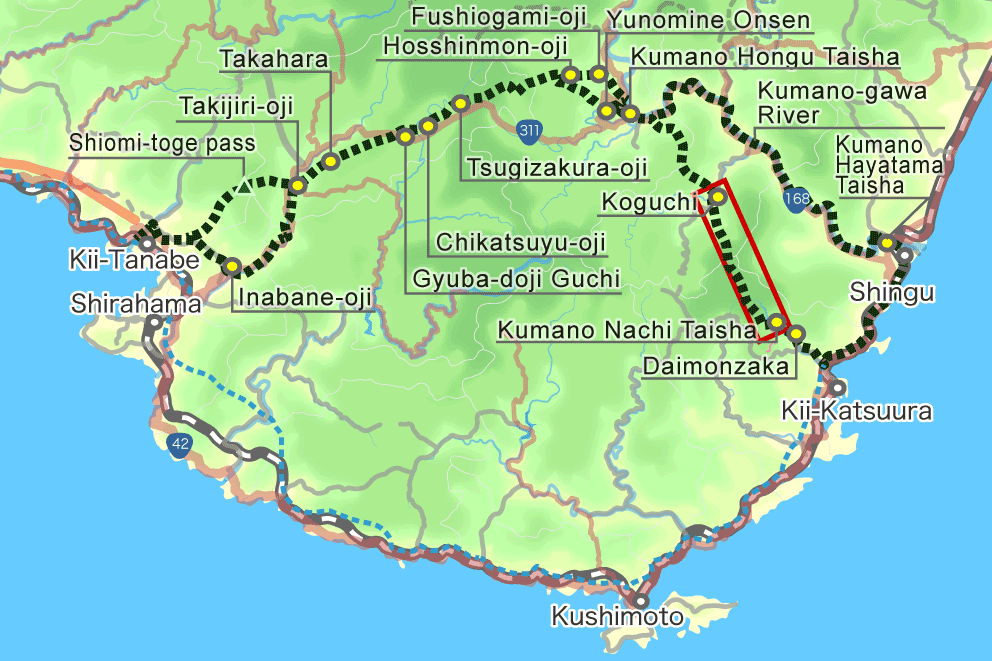 Tour Options


OPTION 1
Meeting Time
7:30
At accommodation in Koguchi.
End of Tour
~15:30
Price Notice
75,600 yen + 9,000 yen~
accommodation for guide
※ Maximum 10 people per tour.
※ Price includes insurance fee.
※ Prices does not included transportation fees or meals for participants, but does include meals and transportation costs for the guides.
Children
Please contact us for pricing for children.

NOTE: Kumano Trek may not accept children on some guided walks.
Access
It is best to take the Kumano Gobo Nankai bus No. 53 which departs Hongu Taisha-mae bus stop at 8:20. This bus passes through Yunomine Onsen 8:31and Kawayu Onsen 8:39 before arriving at Ukegawa bus stop at 8:44.
Bus timeteble #4
Luggage
Daily
luggage shuttle service
can be booked in advance online.
Please note that luggage shuttle is only available for those who made reservations for accommodations via the Kumano Travel site. 10 days or more in advance is needed to book daily luggage shuttles.
Lunch
It is usually easiest to order your lunch box from the accommodation. Book a lunch box plan to take advantage of this service.
After Tour
Most people choose to spend the night in the Nachi-Katsuura area after their walk.
Notes
Please:
● wear appropriate clothing and walking shoes.
● be prepared for rain.
● bring drinks.
Map