Kumano Kodo Walk, Kogumotori-goe & Ogumotori-goe, 2 days (Hongu to Nachisan)
Kumano TREK, English Speaking Guides
Description
It is a two day walk from the Hongu area to Kumano Nachi Taisha and the Nachi falls, Japan's tallest. Each goes over a mountain pass: the first day is called Kogumotori-goe, and the second Ogumotori-goe.

The Kogumotori-goe begins near the Ukegawa trail head and finishes in Koguchi, where walkers overnight.

The Ogumotori-goe is the tougher of the two, climbing continuous (almost 800 meters in elevation gain) over the first 4 kilometers. At Funami-toge pass though, walkers are blessed with a panoramic view of the expansive Pacific Ocean for their efforts.

The Nachi falls is believe to be divine and is an inspirational spot to complete the trek.
Details
Day 1
Tour Outline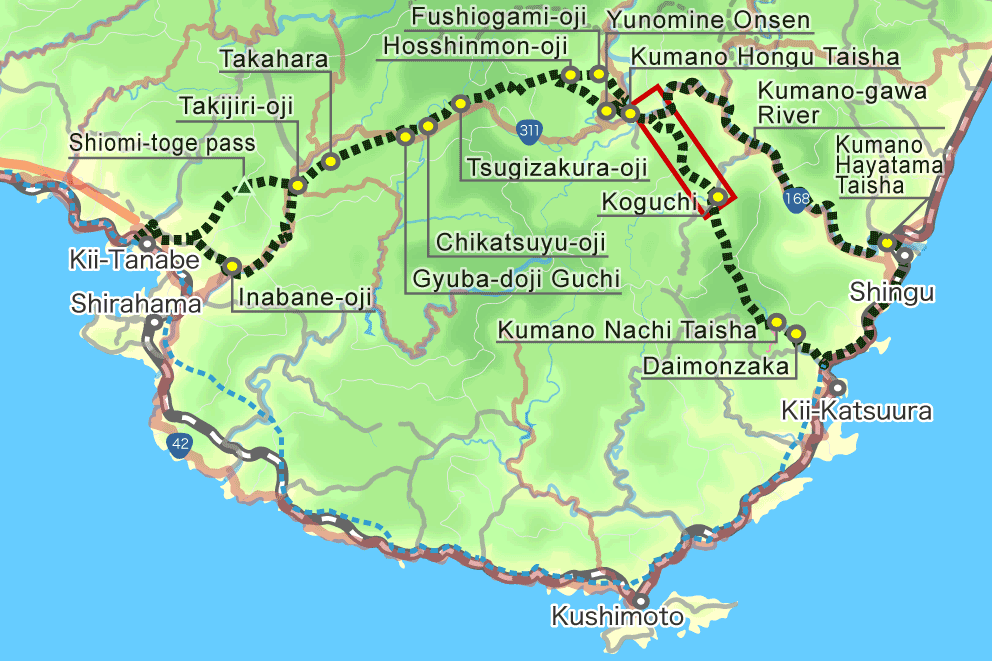 Tour Options


OPTION 1
Meeting Time
9:03
Bus times are Hongu Taisha-mae at 8:40,
Yunomine Onsen 8:50 and Kawayu Onsen 8:58.
End of Tour
~15:00
Day 2
Tour Outline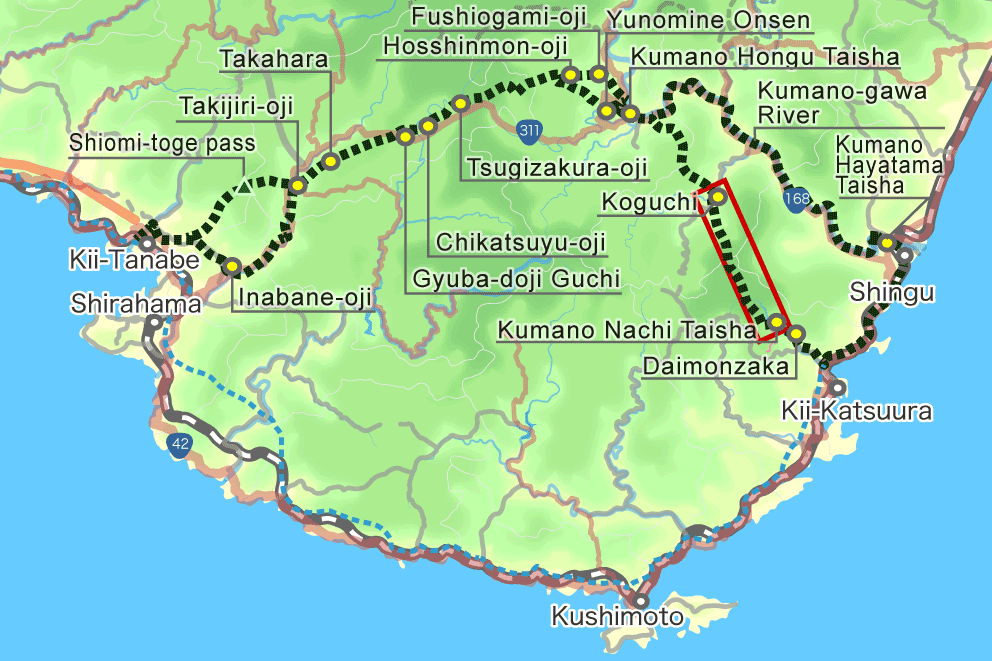 Tour Options


OPTION 1
Meeting Time
7:30
At accommodation in Koguchi.
End of Tour
~15:30
Price Notice
75,600 yen + 9,000 yen~
accommodation for guide
※ Maximum 10 people per tour.
※ Price includes insurance fee.
※ Prices does not included transportation fees or meals for participants, but does include meals and transportation costs for the guides.
Children
Please contact us for pricing for children.

NOTE: Kumano Trek may not accept children on some guided walks.
Access
The best bus to take is from the Kumano Kotsu bus which departs Hongu Taisha-mae at 8:40. This bus pass through Yunomine Onsen 8:50 and Kawayu Onsen 8:58 before arriving at Ukegawa bus stop at 9:03.
Bus timeteble #4
Lunch
It is usually easiest to order your lunch box from the accommodation. Book a lunch box plan to take advantage of this service.
After Tour
Most people choose to spend the night in the Nachi-Katsuura area after their walk.
Mitaki Sanso is a minshuku in Nachisan, and there are more options of places to stay in Katsuura. It is about a 25 minute bus ride from Nachisan to Kii-Katsuura station.
Notes
Please:
● wear appropriate clothing and walking shoes.
● be prepared for rain.
● bring drinks.
Map