Kumano Kodo Walk, Daimon-zaka & Kumano Nachi Taisha
Kumano TREK, English Speaking Guides
Description
Kumano Kodo Walk, Daimon-zaka to Nachi Falls (Kumano Nachi Taisha and Seiganto-ji Temple)

The Daimon-zaka is an ancient stone staircase lined with centuries old trees, leading from the valley bottom to the base of the Kumano Nachi Taisha shrine complex.

This walk climbs these worn cobblestone stairs, visits the Kumano Nachi Taisha, Seiganto-ji temple, and Nachi falls, the tallest in Japan at 133 meters high.

Join us to experience this beautiful cultural landscape firsthand.


Details
Tour Outline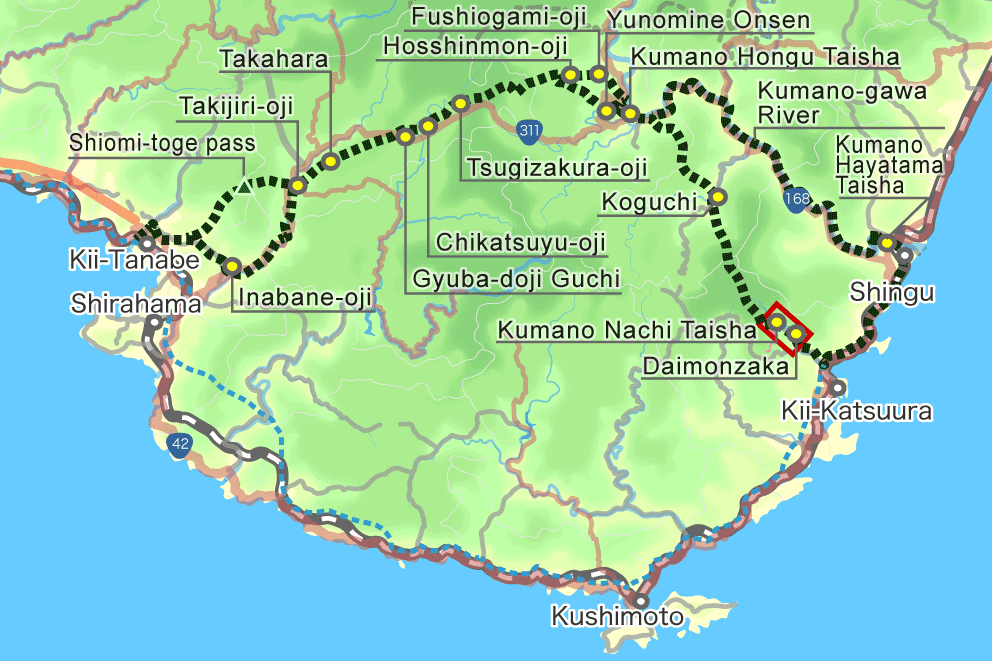 Tour Options


OPTION 1
Bus dep: Kii-Katsuura
8:25
Bus arr: Daimonzaka
8:44
Meet Guide Start Tour
8:45
Finish Tour
11:45
Bus dep: Nachisan
11:46
Bus arr: Kii-Katsuura
12:10
Train dep: Kii-Katsuura
13:00
Train arr: Shin-Osaka
16:50
OPTION 2

Bus dep: Kii-Katsuura
8:55
Bus arr: Daimonzaka
9:14
Meet Guide Start Tour
9:15
Finish Tour
12:30
OPTION 3

Bus dep: Kii-Katsuura
9:30
Bus arr: Daimonzaka
9:49
Meet Guide Start Tour
9:50
Finish Tour
13:20
OPTION 4

Bus dep: Kii-Katsuura
13:05
Bus arr: Daimonzaka
13:24
Meet Guide Start Tour
13:25
Finish Tour
17:00
※ Option 1 is 30 minutes shorter to be able to catch 13:00 train from Kii-Katsuura.
※ Please specify which tour time you would like to join when making the reservation request.
If you would like a different time, please contact us for details.
Price Notice
20,100 yen per group
1~10 people
※ Maximum 10 people per tour.
※ Price includes insurance fee.
※ Prices does not included transportation fees or meals for participants, but does include meals and transportation costs for the guides.
Children
Please contact us for pricing for children.

NOTE: Kumano Trek may not accept children on some guided walks.
Luggage
If you have luggage there are coin-lockers available ata the Kii-Katsuura station.
More information
Lunch
Not included lunch in this tour. Please have a lunch before or after the tour.
Notes
Please:
● wear appropriate clothing and walking shoes.
● be prepared for rain.
Map