Kumano Kodo Walk, Takahara to Tsugizakura-oji
Wakayama Local Guide Association
Description
This walk is from the ridge top settlement of Takahara to the village of Tsugizakura-oji along the Nakahechi route of the Kumano Kodo.
It is mostly on a forested path that climbs up and over a pass.
Price
Standard rate(2024)
1)
36,500 yen
Peak season(2024)
1)
39,900 yen
Year-round(2023)
1)
36,500 yen
Details
Tour Outline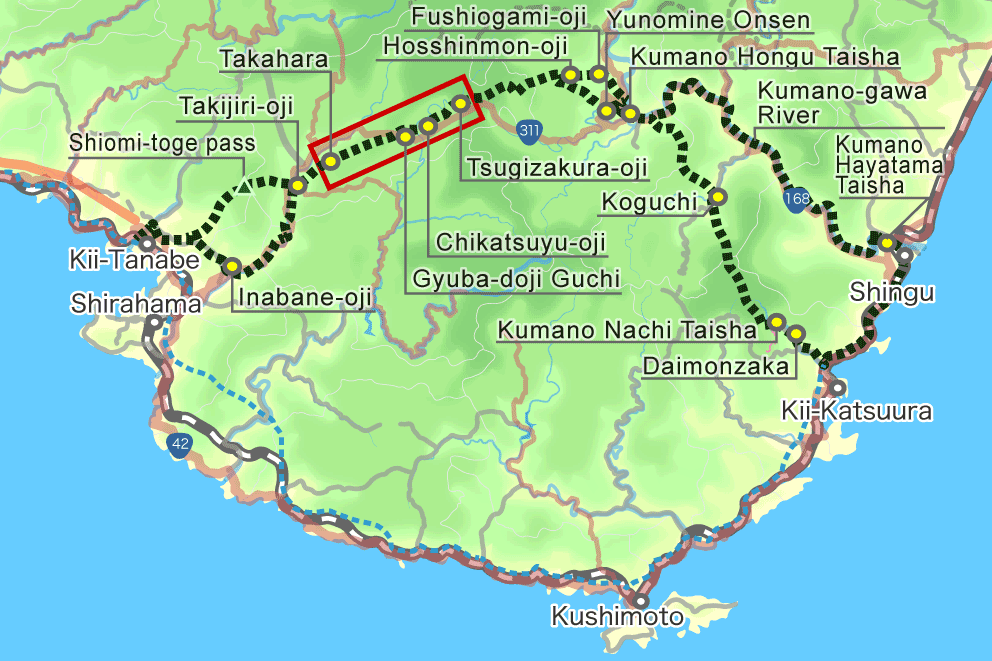 Tour Options


OPTION 1
Meeting Time
8:00
End of Tour
~15:00
OPTION 2

Meeting Time
9:00
End of Tour
~16:00
※ Please specify which tour time you would like to join when making the reservation request.
If you would like a different time, please contact us for details.
Price Notice
※ Maximum 10 people per tour.
※ Price includes insurance fee.
※ Price does not include transportation fees or meals for participants but does include meals and transportation costs for the guides.
children
Please contact us for pricing for children.

NOTE: Wakayama Local Guide Association may not accept children on some guided walks.
Access
● This walk is best for those staying at Takahara.
Lunch
It is usually easiest to order your lunch box from the accommodation. Book a lunch box plan to take advantage of this service.
Notes
Please:
● wear appropriate clothing and walking shoes.
● be prepared for rain.
● bring a lunch and drinks.
Map