Kumano Kodo Walk, Takijiri-oji to Takahara Settlement (Meet at Kii-Tanabe Station)
Wakayama Local Guide Association
Description
Takiriji-oji is one of the main shrines along the Nakahechi section of the World Heritage Kumano Kodo pilgrimage routes and marks the entrance into the sacred realm of Kumano. The walk is mostly uphill (sometimes relatively steep) from the river valley through forest to the Takahara settlement, historically a very popular rest stop for pilgrims. This lovely hamlet is located over 300 meters above sea level and offers beautiful panoramic views.
The guide will meet you at the information center next to the Kii-Tanabe station, and make sure you board your public bus. After re-grouping at Takijiri your tour begins with a brief introduction of the area in the Kumano Kodo Kan Pilgrimage Center before heading out on the trail. Along the way is a rock cave that crawling through represents re-birth. Your guide will introduce this and much more during your walk in the mountains along this spiritual route.
This plan is good for those looking for a smooth beginning to their Kumano Kodo pilgrimage walk. Having a guide for the first day who can introduce you to the infrastructure of the trail, how to use a public bus, etc. is a great way to get your walk starting on the right foot.
Price
Standard rate(2024)
1)
28,700 yen
Peak season(2024)
1)
31,200 yen
Year-round(2023)
1)
28,700 yen
Details
Tour Outline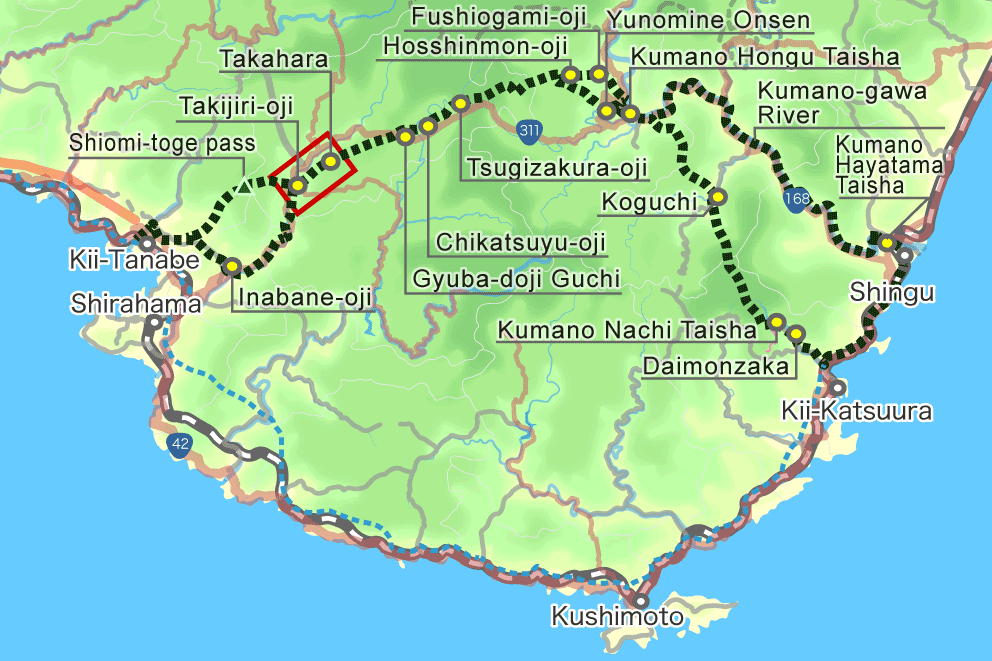 Tour Options


OPTION 1
Meeting Time
7:50
Take 8:02 bus from Kii-Tanabe, arriving at Takijiri at 8:40.
End of Tour
~12:40
OPTION 2

Meeting Time
12:40
Take 12:50 bus from Kii-Tanabe, arriving at Takijiri at 13:28
End of Tour
~17:00
※ Option 2: Please have lunch before meeting guide as there is no time for lunch.
※ Please specify which tour time you would like to join when making the reservation request.
If you would like a different time, please contact us for details.
Price Notice
※ Maximum 10 people per tour.
※ Price includes insurance fee.
※ Price does not include transportation fees or meals for participants but does include meals and transportation costs for the guides.
Children
Please contact us for pricing for children.

NOTE: Wakayama Local Guide Association may not accept children on some guided walks.
Access
Public Bus
Daily busses leave from Kii-Tanabe station and Shirahama for Takijiri. (
Bus timetable #1
)
The Takijiri 滝尻 bus stop is across highway 311 from the Kumano Kodo Kan pilgrimage center.
Taxi
Another transportation option is to take a taxi.
Lunch
Tour Option 1
Bring lunch box with you or eat at the restaurant in Kiri-no-Sato Takahara Lodge after the walk.

Tour Option 2
Eat lunch in Tanabe before the start of the tour. Ask the staff at the TANABE Tourist Information Center for ideas.
After Tour
There are a few options once the tour is complete.

● Stay overnight in Takahara.

● Walk down to Kurisugawa bus stop on highway 311 from here you can:
1. Return to Tanabe or Shirahama
2. Continue onto Chikatsuyu or Hongu (Kawayu Onsen, Yunomine Onsen) to overnight.
Notes
Please:
● wear appropriate clothing and walking shoes.
● be prepared for rain.
● bring drinks.
Map