Kumano Kodo Walk, Hosshinmon-oji to Kumano Hongu Taisha
Wakayama Local Guide Association
Description
This ~7 km walk is a mix of tranquil mountain top villages and forested trails with panoramic views along the way. It is mostly downhill with a few short inclines. The walk begins at the Hosshinmon-oji, one of the most important sites on the Kumano Kodo pilgrimage route marking the outermost entrance into the divine precincts the Kumano Hongu Taisha. Hosshinmon-oji is an important spiritual landmark or gate. "Hosshin" means "spiritual awakening" or "aspiration to enlightenment" and "mon" means "gate". Passage through this gate was a transformational rite marking initiatory death and rebirth in the Pure Land paradise.

From this small shrine the trail goes through the sleepy Hosshimon settlement before entering the forest at Mizunomi-oji. You emerge in the next village called Fushiogami and walk the length of the village to Fushiogami-oji, with its view point into the valley below and Oyunohara. This is the first point that pilgrims can see their divine goal, the Kumano Hongu Taisha. There is a toilet here and a small tea house run by local ladies (variably closed). It is very interesting to see the remote mountain lifestyle in these settlements.

The last half of the walk is in the forest with some viewpoints and ancient cobblestone sections of the trail. The tour finishes with a visit to the austere Grand Shrine, Kumano Hongu Taisha. After the tour it is common to continue to nearby Oyunohara, former shrine ground, and the world's largest Torii gate, to conclude your walk.
Price
Standard rate(2024)
1)
27,900 yen
Peak season(2024)
1)
30,500 yen
Year-round(2023)
1)
27,900 yen
Details
Tour Outline


Course Name
Hosshinmon-Oji to Kumano Hongu Taisha (Oyunohara)
Distance
~7 km
Time
~6.5 hours
(not including bus transport times)
Difficulty
2
What is a difficulty rating of walking trails?
Meeting Place
1. In front of Kumano Hongu Heritage Center. From here we will take a public bus to Hosshinmon-oji (470 yen, not included in tour).
※ If you would like to meet the guide directly
at Hosshinmon-Oji.
※ If you are taking the bus from Chikatsuyu
(or somewhere else),
the guide can adjust the meeting time to your bur schedule.

2. Your accommodation in Hongu area
(Yunomine Onsen, kawayu Onsen, Wataze Onsen etc).
Please let us know your schedule
when making your reservation request.
Tour Ending Place
Hongu village
Maps
Kumano Kodo Hosshinmon~Hongu Taisha, Hongu Map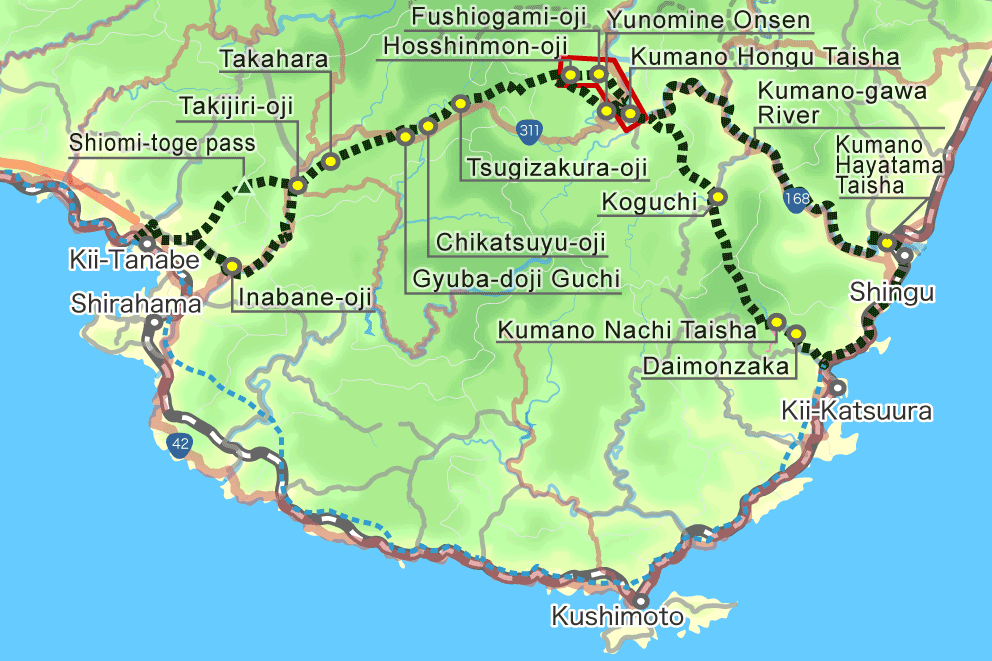 Tour Options

OPTION 1

Meeting Time
8:00
End of Tour
~14:30

OPTION 2

Meeting Time
9:00
End of Tour
~15:30
※ Please specify which tour time you would like to join when making the reservation request.
Price Notice
※ Maximum 10 people per tour.
※ Price includes insurance fee.
※ Price does not include transportation fees or meals for participants but does include meals and transportation costs for the guides.
Children
Please contact us for pricing for children.

NOTE: Wakayama Local Guide Association may not accept children on some guided walks.
Luggage
To store larger bags during the walk, there are coin-lockers next to Ishihara Shop in front of the Kumano Hongu Heritage Center.


Lunch
Not included in this tour.
Are you interested in trying the taste of the Kumano mountains? A popular and delicious "Kumano Kodo" lunch for walkers is offered by Minsyuku Omuraya. This can be delivered to the tour meeting place for you at the beginning of your tour. It contains onigiri rice balls, including mehari-zushi (rice wrapped in a pickled mustard leaf, a local specialty). It includes mushrooms, bamboo shoots, etc.
Book online
After Tour
There are a few options once the tour is complete.
● Stay overnight in nearby Hongu, Yunomine Onsen, or Kawayu Onsen. (recommended)
● Take a bus to Tanabe or Shingu.
Bus timetables
For those wanting to do shorter walks on the pilgrimage route this is a good tour to join.
Please
contact us
if you would like more ideas on how to fit this guided walk into your visit.
Notes
Please:
● wear appropriate clothing and walking shoes.
● be prepared for rain.
● bring a lunch and drinks.
Map
Access Information

Public Bus

● Daily busses leave from Kii-Tanabe station and Shirahama for Hongu (Hosshinmon-oji) (

Bus timetable #1

)

● Daily busses also connect Yunomine Onsen and Kawayu Onsen with Hongu (

Bus timetable #11

)

※ Some accommodation offer free shuttle service toHosshinmon-oji in the morning.


Taxi

● Another transportation option is to take a taxi.


Train

● JR Kii-Tanabe or JR Shirahama to Kumano Hongu Taisha.

Book online

● From Kumano Hongu Taisha to JR Kii-Tanabe or JR Shirahama.

Book online