Minshuku 3rd Place Kumano Kodo
Description
Mountain Farmhouse
3rd Place Kumano Kodo is an old farmhouse in the Nonaka area near Tsugizakura-oji on the Kumano Kodo pilgrimage route. Mr. Tetsuyama has reformed the building while maintaining the authentic charm of the countryside, rich deep browns of aged wood, tatami mats, fusuma sliding doors, and veranda - decorated with antiques.

There are 2 buildings, Main building and Annex. Each of them are for private rental, only two booking per a day.

There is a full kitchen, small bath, toilet, bicycles, and free Wi-Fi; making for a convenient stay.
The congenial Mr. Tetsuyama is passionate about sharing the local mountain culture. He is an organic farmer with the diversity of crops. He would like guests to feel at home -- your personal third place on the Kumano Kodo!


※Sorry, NO SINGLE OCCUPANCY accepted from March to May and November.
※Reservation request can be made by single accupancy only during the periods of June, July, August, December, January, and February.
*In 2020, single accupancy can make a reservation for the entire period.
Go To Travel Campaign
The
Go To Travel Campaign
is an initiative of the federal government of Japan to support the tourism industry which has been hard hit by the Covid-19 pandemic. When you book via the KUMANO TRAVEL Community Reservation System (managed by the The Tanabe City Kumano Tourism) we are receiving the financial support aid on behalf of you and relaying this funding onto the local service providers.
This Campaign in only for Japanese citizens or foreign residence of Japan.
IMPORTANT: Cancellation fees are applied as to the terms and conditions of booking based on the original price plan before the discount.
More information about the Go To Travel Campaign Please read this first before making a reservation request >>
Full Name
Minshuku 3rd Place Kumano Kodo
農家民宿さーどぷれいす熊野古道
Address
2045 Nonaka, Nakahechi-cho, Tanabe City, Wakayama Prefecture, 646-1401
和歌山県田辺市中辺路町野中2045
Rating & Reviews
Guestroom

Baths

Meals

Location

Reception & Service
Price Plan(s)
Minshuku 3rd Place Kumano Kodo
Supper, Breakfast & Lunch box


11,800 yen~
Minshuku 3rd Place Kumano Kodo
Supper & Breakfast


11,200 yen~
Minshuku 3rd Place Kumano Kodo
Minshuku 3rd Place Kumano Kodo
Sanitation and Hygienic Measures
Guestrooms
| | |
| --- | --- |
| Number of Rooms | 6 |
| Maximum Guests | 12 |
Main building
Japanese style rooms: 3
Western style toilet: 1

Annex
Japanese style rooms:3
Western style toilet: 1
Facilities
Television
Air conditioning
Kotatsu heated table
Desk
Amenities
2 in 1 shampoo
Body-wash
Hair drier
Face towel
Bath towel
Slippers
Tea
Coffee
Baths
| | |
| --- | --- |
| Shared Indoor | Yes |
| Shared Outdoor | No |
Note

Can be used anytime.
Meals
Supper
Japanese style, start from 18:00
Breakfast
Western style, served at nearby cafe from 6:30-8:00
● Able to cater to vegetarians on request
● For food allergies, please ask whether we can cater for your request.


※ Meal requests or changes regarding dietary restrictions cannot be accepted at check-in. Please provide dietary requests in advance.
<Breakfast>
Breakfast is generally at a local cafe in Chikatsuyu village.
The owner arranges transportation to and from the cafe.
※ Guests who would like breakfast earlier than 6:30 should make their request in advance in the NOTE section below. Approval is not guaranteed. Thank you for your understanding.
Vegetarian Meals

: Included  : Not Included

: Meat
: Fish & Seafood
: Eggs
: Dairy Products
: Katsuo Dashi (fish stock)

| | | | | | |
| --- | --- | --- | --- | --- | --- |
| Type A | | | | | |
| Type B | | | | | |
| Type C | | | | | |
| Type D | | | | | |
| Type E | | | | | |

Vegetarianism is not common in the Japanese countryside. Please double-check the Vegetarian Type which the service provider can accommodate to make sure that it meets your needs. Often being able to eat trace amounts of the ubiquitous Katsuo Dashi (fish stock) makes it easier to find options.

More Information

NOTE: It is difficult and not culturally sensitive to change meal requests, or make new meal demands, onsite when you arrive at accommodations. Vegetarian types must be confirmed during the reservation process and respected during your visit.
Facilities & Services
Internet

Free Wi-Fi (Guestroom)
Free Wi-Fi (Lobby)

Credit Card

Not accepted

Language

Conversational English

Services

Shuttle service
Luggage storage
Bicycle rental
Notes

● Washing machine (Free)

● Rental Bicycle: Free for 3rd Place guests.

 (500 yen half day, 1000 yen for one day)

● Full kitchen (Free to cook own meals)(Refrigerator, rice cooker, toaster, etc.)

● Free drinks (Japanese Tea・Black Tea・Coffee)

● Possible to stay two or more nights in a row
Access
Access Information

3rd Place is located along the Kumano Kodo pilgrimage route between Chikatsuyu village and Tsugizakura-oji.
● ~40 min walk from Chikatsuyu village
● ~20 min walk from Tsugizakura-oji

The minshuku is located just west of Irorian Minshuku past number 30 signpost.

Busses run daily to Chikatsuyu village and Nonaka Ipposugi bus stop.
● ~1 hr by bus from Kii-Tanabe to Chikatsuyu-oji (bus timetable 1)
● ~1 hr 10 min by bus from Kii-Tanabe to Nonaka Ipposugi (bus timetable 1)
● ~50 min walk from "Nonaka Ipposugi 野中一方杉" bus stop
Nakahechi East Area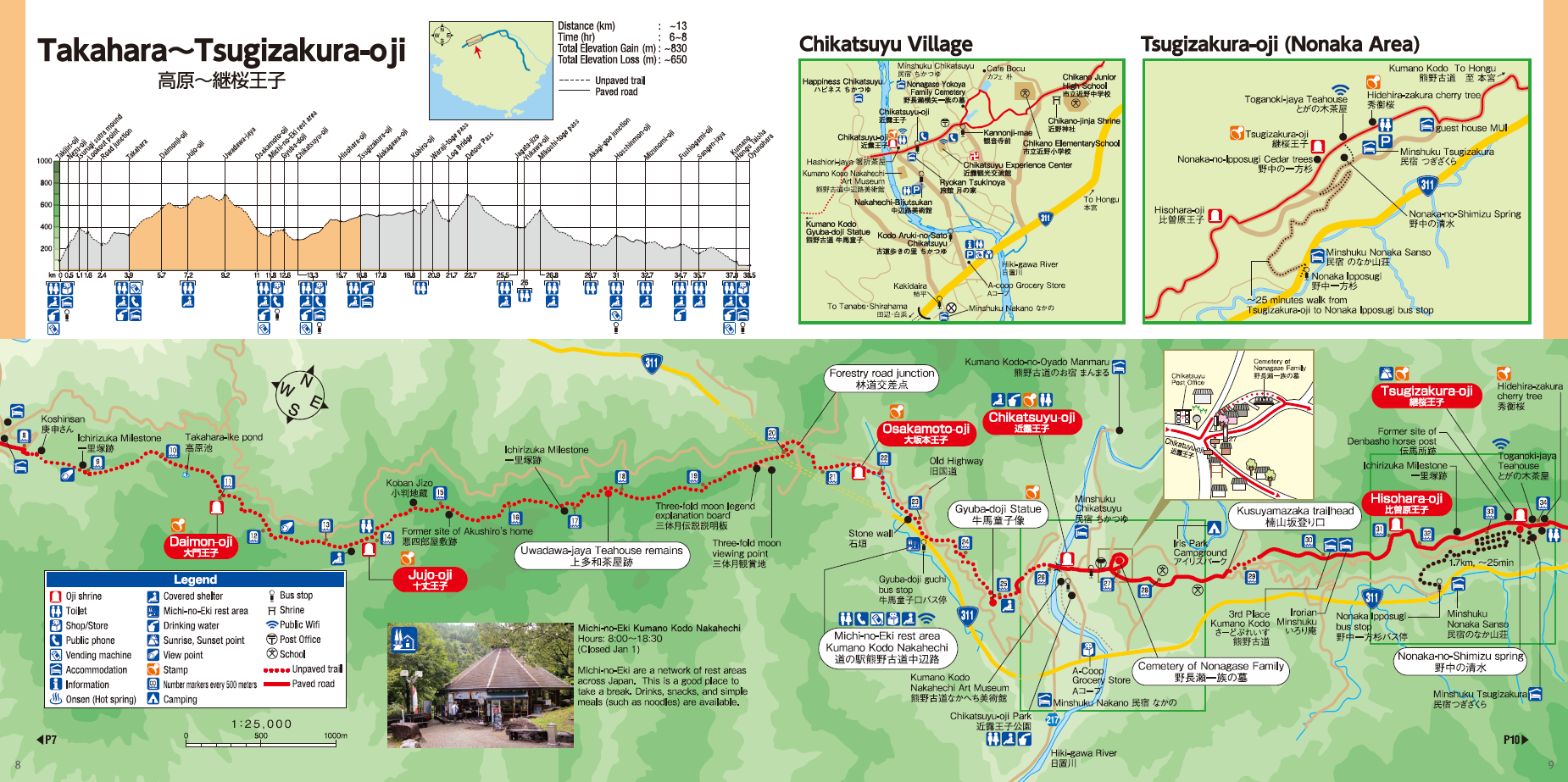 Kumano Kodo Takahara~Tsugizakura-oji Map
Shuttle Service

Shuttle service is available.
Please make arrangements in advance.
Parking

Free parking available for up to 3 vehicles.