KUMANO KODO Highlight Walks - 3 days | Nakahechi, Hongu & Nachi
Description
Journey to Kumano's Spiritual Roots.
This highlight itinerary visits the two Grand Shrines (Kumano Hongu Taisha & Kumano Nachi Taisha) with short and scenic highlight walks.
Overnight at a hot spring village in the mountains (Kawayu Onsen) and on the coast (Katsuura Onsen) while dining on delicious local cuisine.
This itinerary focuses on the best sights and walks in a compact time frame- a great introductory visit to the sacred Kumano region of Japan.

Route:
Kyoto/Osaka | Tanabe | Kawayu Onsen | Katsuura | Hongu | Nachisan | Osaka/Kyoto
Duration:
3 days & 2 nights (2 highlight walks)
Overnight:
Kawayu Onsen, Katsuura
Overall Level:
Shorter walks, beginner.
Type:
Self-guided or guided.
Transportation:
Train, Bus, Walk
Daily Luggage Shuttle:
Available for all days.
Walking Difficult:
Day 2=2, Day 3=1.5
What is walking difficulty?
Recommended For:
Those wanting shorter highlight walks on scenic portions of the Kumano Kodo.
WHAT IS A MODEL ITINERARY?
Model Itineraries are sample travel plans to help you organize your trip, an easy way to add contents to your cart that match your itinerary.

These are not package tours.

You can use them as they are, adjust them to your needs, or contact us for more ideas.
PRICE
Price depends on which accommodations and services you book.

All prices are online for your reference.
This Model Itinerary is available as a Local Package Tour.
DAY 1

Train from Osaka/Kyoto to Kii-Tanabe (~3 hr)

Bus from Kii-Tanabe to Kawayu Onsen (~2 hr)

Stay in Kawayu Onsen
DAY 2

Bus from Kawayu Onsen to Hosshinmon-oji (~30 min)

Walk from Hosshinmon-oji to Hongu Taisha (~7 km, ~3 hr)

Bus from hongu Taisha to Kii-Katsuura (~1.5 hr)

Stay in Katsuura
DAY 3

Bus from Kii-Katsuura to Daimon-zaka (~20 min)

Walk Kumano Kodo Daimon-zaka (~1.5 km, ~1 hr)

Bus from Nachisan to Kii-Katsuura (~30 min)

Train from Kii-Katsuura to Shin-Osaka (~4 hr)
Itinerary Map
Highlights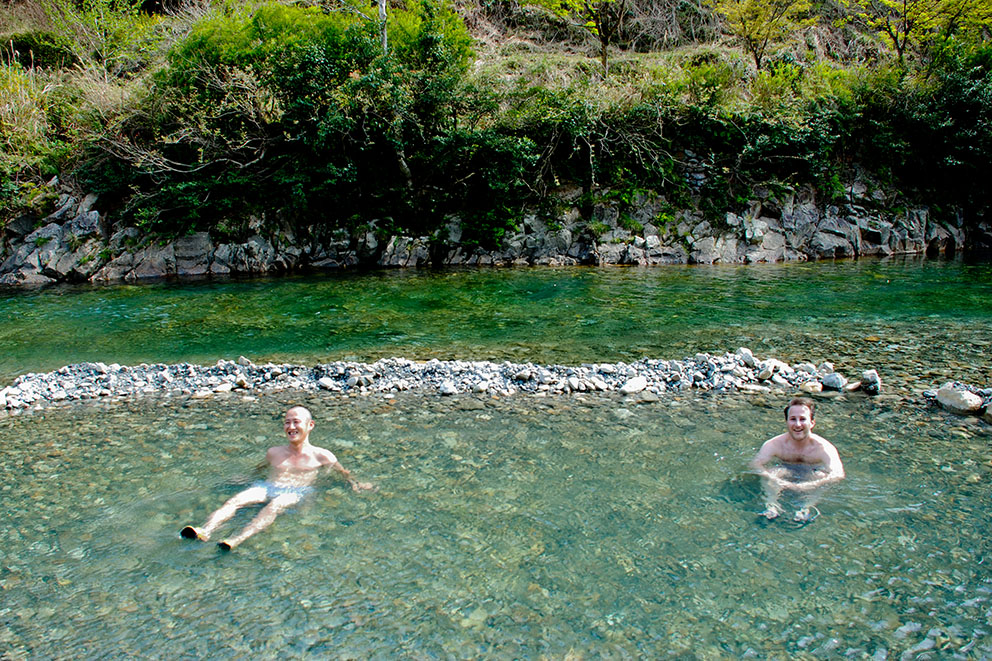 Soak in Kawayu Onsen
A geological wonder: Hot spring in the river!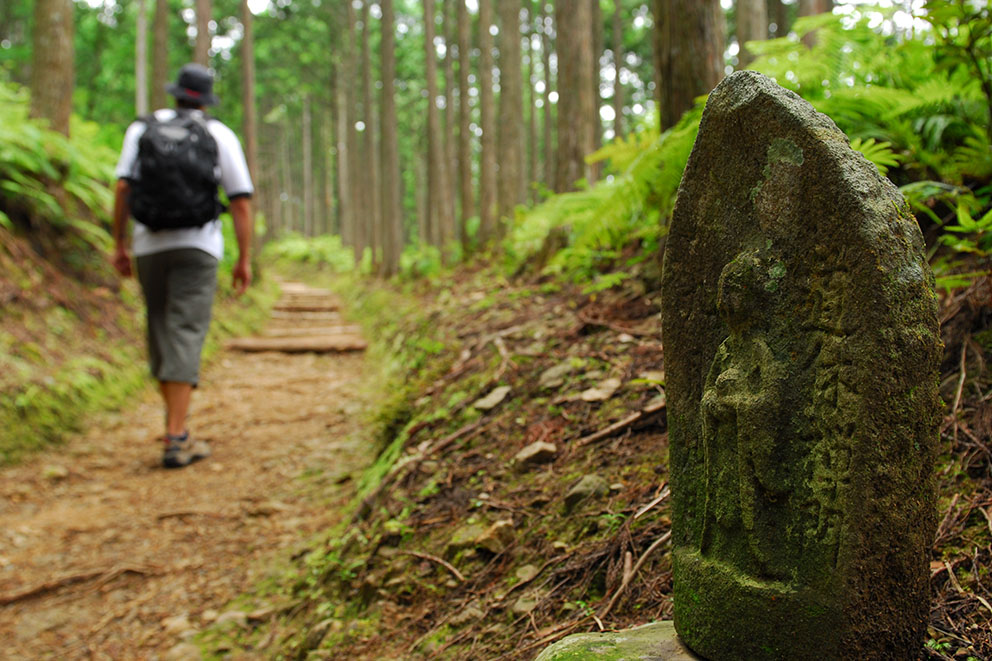 Walk Kumano Kodo
Ancient and sacred pilgrimage route.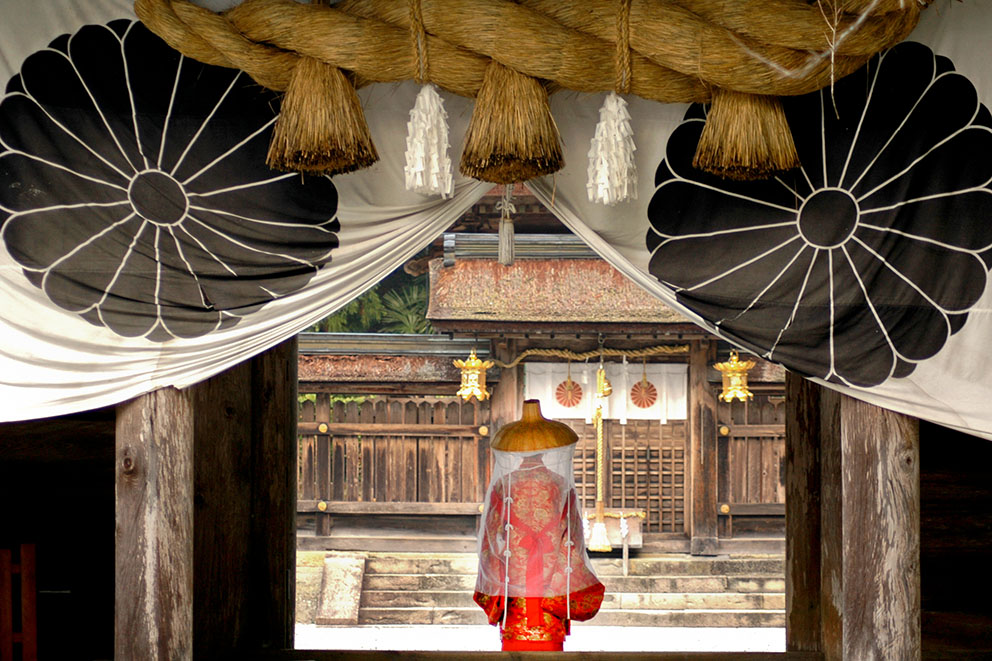 Visit Kumano Hongu Taisha
Austere Shinto shrine with long history.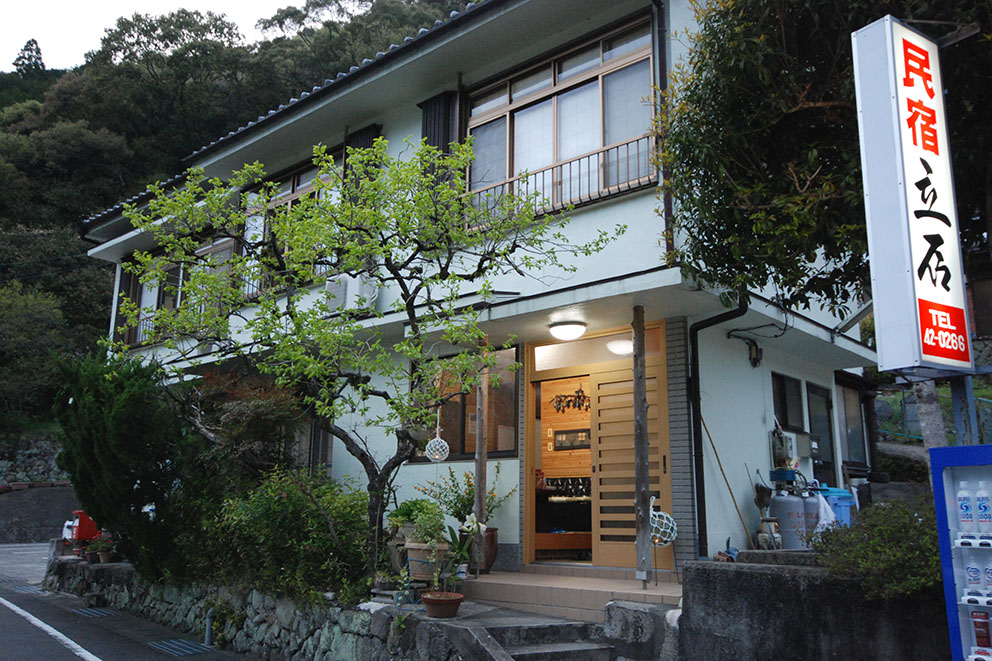 Stay in traditional accommodation
Try a traditional Ryokan inn and/or family run guesthouse.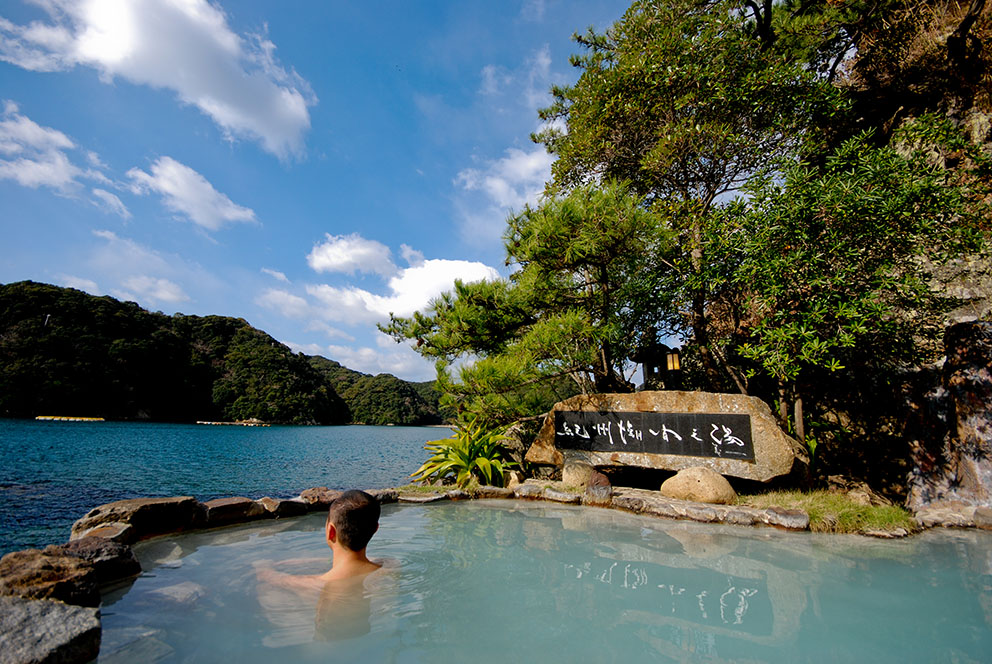 Visit Katsuura Onsen
Hot spring fishing port on Pacific coast.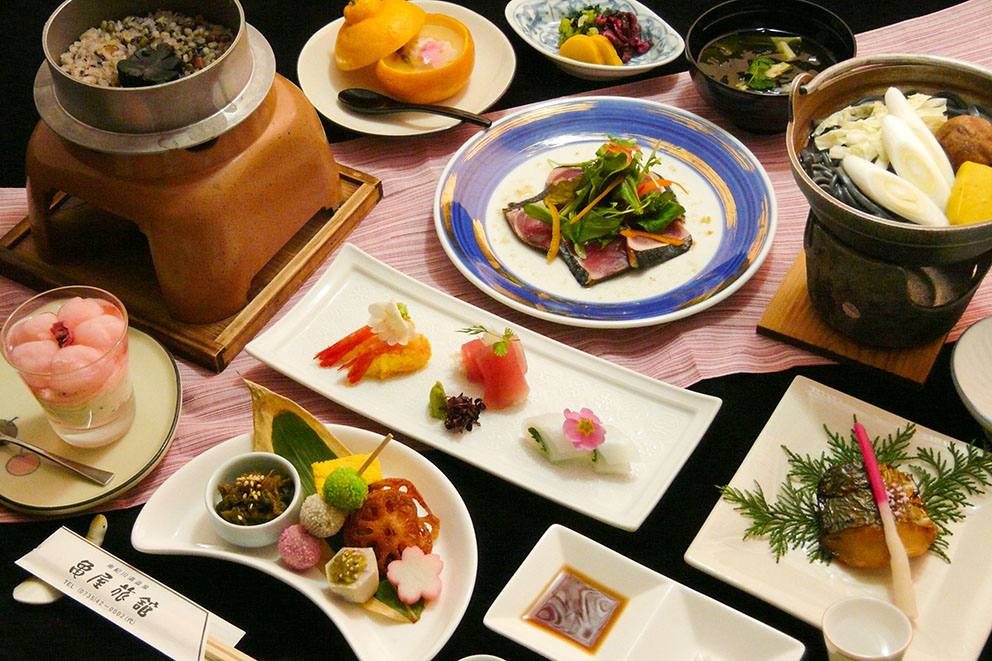 Eat local cuisine
Immerse yourself in Japan's countryside culinary traditions.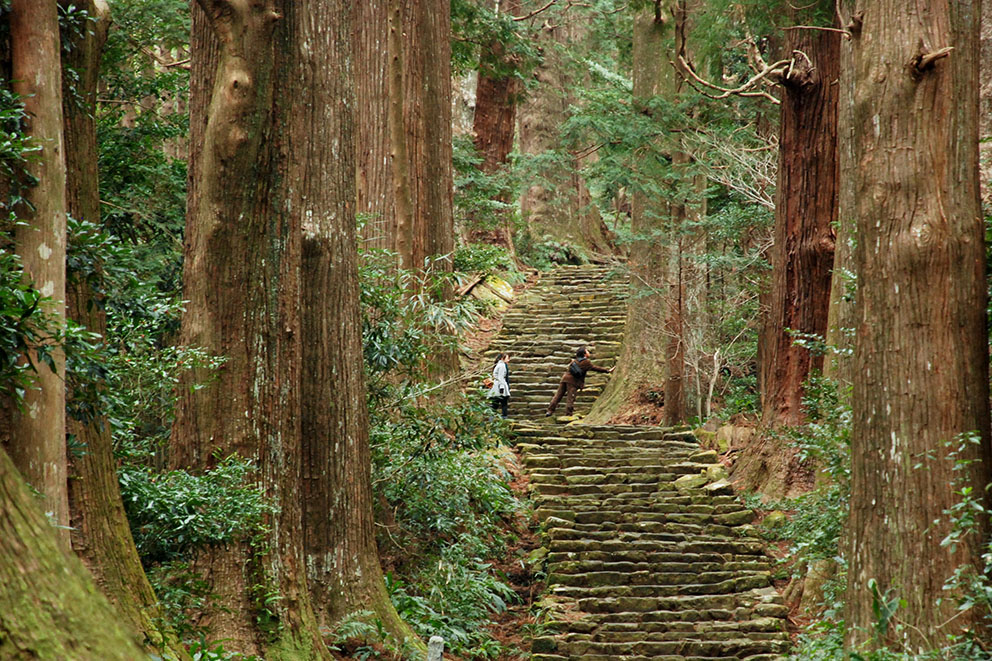 Experience Daimon-zaka
Short but scenic cobblestone staircase lined by ancient trees.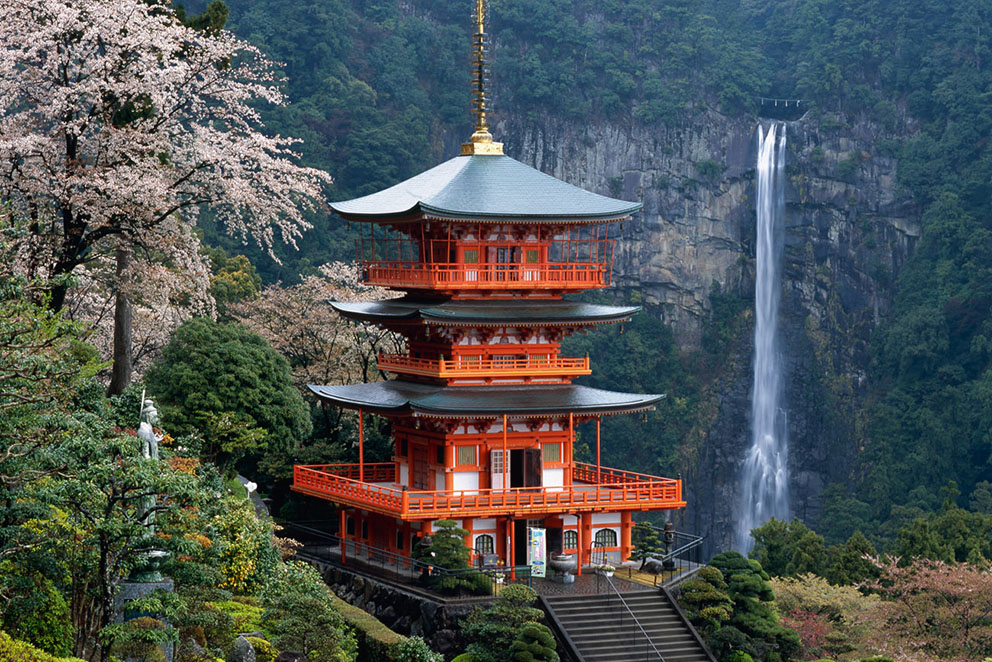 Visit Kumano Nachi Taisha
Home to Japan's tallest waterfall.
Detailed Itinerary
BEFORE YOUR VISIT
PREPARATION

Preparation and planning is the key to a safe trek in the sacred Kumano mountains.

Choose a route that you have adequate experience and physical strength to safely complete.

Wear appropriate clothing and footwear, and carry necessary gear.

NOTE: Details sometimes change, especially bus schedules, so please double-check times before your trip. If you notice something incorrect, please let us know. Thank you!


WHEN TO VISIT

The Nakahechi route is open year round.

Summer can be hot and humid, and winter has a slight possibility of snow at higher elevations (from end of December to end of February) although it usually melts shortly it falls. The winter months have shorter daylight hours.

Japanese national holidays and long-weekends can be busy so best to avoid (especially golden week in the beginning of May and Obon mid-August).

NOTE: It is often best to come mid-week as capacity is limited in smaller villages along the trail.


RESOURCES

There are many useful resources related to the Kumano Kodo pilgrimage routes. Please use these to make the most of your trip.

Maps and Official Guide Book, are available onsite in Tanabe. Online "Pilgrim Packs" including these materials can be mailed in advance.

INCLUSIONS

The itinerary below is a sample.

Only the products and services that you book are included. For example if you would like lunch boxes or daily luggage shuttle, these must be reserved in advance. They are not included unless you book them.

Transportation fees are not included. It is easy to pay transport costs as you go.

GUIDED or SELF-GUIDED

This model itinerary can be done guided or self-guided.

1. Self-guided. Use the detailed information online and onsite to complete your walk independently.
2. Guided. Hire a local guide to have some comradery on the trail while experiencing the region's rich culture.
3. Partly-guided. Or have the best of both! Hire a guide for the first day to get you going and then complete the itinerary on your own.

NOTE: The itinerary below is based on option 1. Self-guided

LUGGAGE OPTIONS

There are a few options for your luggage.

1. Daily Luggage Shuttle. Luggage is transferred to your accommodation everyday (This is often the most popular option. If required, please book when making your accommodation reservations).
2.Luggage Shuttle can be arranged onsite at the TANABE Tourist Information Center.
3. Next-day or Later Luggage Shuttle can be arranged onsite without reservations at local convenience stores.

NOTE: The itinerary below is based on option 1. Daily Luggage Shuttle


MEALS

Immersing oneself in local cuisine is part of the Kumano experience.

1. At Accommodations. Meals are most often served in accommodations in rural areas, as options for eating outside are limited to non-existent. (Eating the set meals at accommodations is the most common and convenient option.)
2. Lunch Boxes. Lunch boxes are provided by most accommodations along the Kumano Kodo (in the Hongu area can be delivered to your lodging in the morning).
3. Special Dietary Needs. Special meal requests such as vegetarian or specific allergies must be made at the time of booking. Vegetarianism is not common in Japan, especially in the countryside, so please double-check to confirm which types of vegetarian meals are available. Often being able to eat trace amounts of the ubiquitous Dashi fish stock makes it easier to find options.

NOTE: The itinerary below is based on meals supplied 1. At Accommodations with 2. Lunch Boxes when available.
DAY 1
Transfer to Tanabe & Kawayu Onsen
Overnight: Kawayu Onsen
DAY 1 OVERVIEW

DAY ONE is a transfer to Kawayu Onsen, a mysterious natural wonder where hot spring water bubbles to the surface of the river.

Enjoy the countryside scenery during the voyage.

TRAIN FROM OSAKA TO KII-TANABE (JR Kuroshio 3)

Depart: 9:01 Shin-Osaka
Depart: 9:21 Tennoji

Arrive: 11:21 Kii-Tanabe


The JR train travels down the west coast of the Kii peninsula.

As you head south the scenery changes dramatically from the large urban centers to agricultural and natural regions, with distinctively less populated mountains.

Watch for terraced orange and ume orchards along the way.TIP: Sit on the right hand side of the train for the best views.

VISIT TANABE TOURIST INFORMATION CENTER


This information center is next to the Kii-Tanabe station as you exit on the left.

There are paper copies of maps and transportation timetables as well as Dual Pilgrim credential to collect stamps along the trail.

This is the best place to get the most up-to-date information before you begin your walk!

LUGGAGE SHUTTLE

Drop your bags off at the TANABE Tourist Informatino Center and they will be delivered directly to your accommodation.

TIP: Daily luggage shuttle is convenient and highly recommended: to be able to walk freely without the worry of your bags.

MEALS

At a restaurant, or buy something to go. Ask at the tourist information center for ideas.


BUS FROM KII-TANABE STATION TO KAWAYU ONSEN (Ryujin Bus)

Depart: 12:50 Kii-Tanabe

Arrive: 14:44 Kawayu Onsen


Busses depart from bus stop two in front of the station.

PRICE:

1930 yen

NOTE: You can buy your bus ticket at the vending machine in the information center.
TIP: There are three bus stops in Kawayu Onsen, so check to see which one is closest to your accommodation.

VISIT KAWAYU ONSEN

Kawayu Onsen is a small settlement along the Oto-gawa River: a geological thermal wonder where hot spring water bubbles to the surface of the river.

On the north side of the river is a collection of accommodations. On the south side of the river is a green forested mountainside.


OVERNIGHT IN KAWAYU ONSEN

There is a diversity of accommodations in Kawayu Onsen such as Ryokan inns, Minshuku lodgings, each with their own hot spring baths.
DAY 2
Walk Kumano Kodo, Hosshinmon-Oji to Kumano Hongu Taisha
Overnight: Katsuura area
DAY 2 OVERVIEW

DAY TWO is an excellent half-day walk on the Kumano Kodo from Hosshinmon-oji, a small subsidiary shrine.

This section is often refered to as the climax route: a wonderful mix of moutain settlements and forested trails, culminating at the austere Kumano Hongu Taisha Grand shrine.

After visit the Hongu area, bus to Katsuura Onsen on the coast.


BREAKFAST

At accommodation.
PICK UP LUNCH BOX

It is usually easiest to order your lunch box from the accommodation. Book a lunch box plan to take advantage of this service.

LUGGAGE SHUTTLE


Leave luggage at accommodation.

BUS FROM KAWAYU ONSEN TO HOSSHINMON-OJI (Ryujin Bus)

Depart: 8:07 Kawayu Onsen

Arrive: 8:37 Hosshinmon-oji


PRICE:

520 yen

NOTE: The Hosshinmon-oji bus stop is just east of the shrine. To visit Hosshinmon-oji walk a short distance west and then return to the bus stop to continue to Kumano Hongu Taisha. Ask the bus driver for directions when you arrive at Hosshimon-oji.
TIP: Many of the accommodations in Kawayu Onsen offer free shuttles to Hosshinmon-oji.


WALK KUMANO KODO - HOSSHINMON-OJI TO KUMANO HONGU TAISHA

Distance: ~7 km
Time: 2~3 hr
Elevation Gain: ~190 m
Elevation Loss: ~460 m

This is a very nice half day walk on the Kumano Kodo pilgrimage route. It goes through a mixture of ridge top settlements and forest trails.

There are some good panoramic lookout spots along the trail.


LUNCH

Picnic lunch along trail or at restaurant in Hongu.

VISIT KUMANO HONGU TAISHA


One of the three grand shrines, Kumano Hongu Taisha stands on a small ridge line in the north of the Hongu village.

The austere pavilions are made of wood with impressive cypress bark roofs; it's architecture style dating back over 800 years.

Watch for the sacred symbol of Kumano, the Yatagarasu three-legged crow.


VISIT KUMANO HONGU HERITAGE CENTER

This visitor center is on the east side route 311 across from the Kumano Hongu Taisha grand shrine.

It has detailed information and exhibits about the area in English.


HOURS: 9:00~17:00 (open year-round)

NOTE: Registration as DUAL PILGRIM takes place here. It takes at least 15 minutes and cannot be mailed out.

Kumano Hongu Heritage Center
Dual Pilgrim

VISIT OYUNOHARA

Kumano Hongu Taisha was originally located at Oyunohara, a sandbank at the confluence of the Kumano-gawa and Otonashi Rivers.

Legend has it that the Kumano deities, in the form of three moons, descended into the branches of a giant oak tree in this clearing.

All of the Kumano Kodo pilgrimage routes lead to this sacred site.

The entrance to Oyunohara is marked by the largest Torii shrine gate in the world (33.9 meters tall and 42 meters wide). It is a formalized gateway that designates the entrance to a sacred area and signifies the division of the secular and the spiritual worlds.

BUS FROM HONGU TO KII-KATSUURA STATION (Kumano Kotsu)

Depart: 15:15 Hongu Taisha-mae (Busses depart from in front of the Kumano Hongu Heritage Center.)

Arrive: 16:14 Shingu Station

PRICE:

1560 yen




Depart: 16:30 Shingu Station (Transfer)

Arrive: 17:09 Kii-Katsuura Station

PRICE:

630 yen




VISIT KATSUURA

Katsuura Onsen is a fishing port on the rugged Pacific coastline.

This coastal village is famous for its hot spring baths and world-class seafood.



OVERNIGHT IN KATSUURA

There are a diversity of Ryokan, Minshuku, and Guesthouses in Katsuura, so with coastal views, and many with hot spring baths.


DAY 3
Walk Kumano Kodo, Daimonzaka, Return to Osaka
DAY 3 OVERVIEW

DAY THREE is a visit in the morning to the Nachi Shrine-temple complex including a short walk on the scenic Daimon-zaka slope culminating at the Nachi waterfall, the tallest in Japan.

In the afternoon transfer next destination.

BREAKFAST

At accommodation.

LUGGAGE STORAGE

Leave luggage at accommodation or in the coin lockers next to the Kii-Katsuura station.

BUS FROM KATSUURA TO DAIMONZAKA (Kumano Kotsu)

Depart: 8:25 Kii-Katsuura


Arrive: 8:44 Daimonzaka


PRICE:

430 yen

NOTE: At Daimonzaka bus stop are toilets and vending machines.

WALK KUMANO KODO - DAIMON-ZAKA

Distance: ~2 km
Time: ~1 hr
Elevation Gain: ~190 m
Elevation Loss: ~460 m

The Daimon-zaka is a short but scenic cobblestone staircase rising out of the valley lined with ancient trees.



NOTE: The distance and time above is only from the base of the valley to the Shrine-temple complex. There is more descent to the waterfall base and Nachi-no-Taki-mae bus stop.


VISIT KUMANO NACHI TAISHA

One of the three grand shrines, Kumano Nachi Taisha is located halfway up Nachi Mountain, about 350 meters above sea level.

It has its religious origin in the ancient nature worship of Nachi-no-Otaki falls.

The branches of a giant camphor shades the roof of the worship hall.


VISIT SEIGANTO-JI

Seiganto-ji temple was founded in the early 5th century and is one of the oldest buildings in the region.

The view from the temple grounds is dramatic, featuring a pagoda with the falls as a backdrop.


VISIT NACHI FALLS

Nachi-no-Otaki is 133 meters high and 13 meters wide - the tallest waterfall in Japan.

It's water source is the surrounding broad-leaf evergreen primeval forest, a sanctuary that has been protected since ancient times, used for ascetic training by mountain monks who practice Shugendo, a mixed religion of foreign and indigenous beliefs.


BUS FROM NACHI TO KATSUURA (Kumano Kotsu)

Depart: 11:44 Nachi-no-Taki-mae
Arrive: 12:08 Kii-Katsuura

PRICE: 630 yen

LUNCH

There are a diversity of small restaurants near the station. Ask at the tourist information office in the Kii-Katsuura station.

TRAIN FROM KII-KATSUURA TO SHIN-OSAKA (JR Kuroshio 24)

Depart: 13:05 Kii-Katsuura

Arrive: 16:49 Shin-Osaka

TIP: Sit on the lefthand side of the train for the best coastal views.

OTHER OPTIONS

There are a few options after the trek including the following:

1. Staying another night in the Katsuura area and visit Kumano Hayatama Taisha in Shingu.
2. Head east up the coast towards Ise and Nagoya.
3. Stay in Kushimoto area to enjoy the rugged coast line.